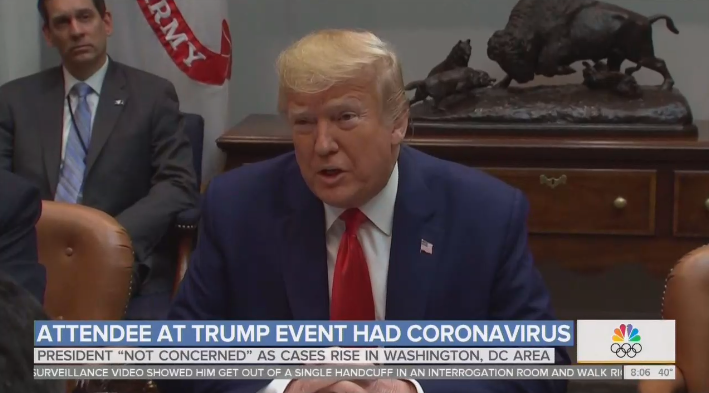 It seems as though nothing can shake the ABC News blackout of any story related to the Conservative Political Action Conference (CPAC) from its news programs. That disinterested played out again during Sunday's Good Morning America despite overnight revelations that a CPAC attendee had tested positive for the coronavirus (COVID-19). Instead of reporting how thousands of attendees were put at risk, they spent almost two minutes (1:57) bashing the Trump administration for "mismanaging" the response to the virus generally.
In contrast, NBC's Sunday Today noted how both President Donald Trump and Vice President Mike Pence were at the conference.
"There is also news that an attendee at CPAC, the conservative action group that met in Washington last month that was attended – this conference, by the President, the Vice President, and administration officials that an attendee tested positive for the virus, bringing it closer to the White House," reported NBC correspondent Hans Nichols.
As for the administration's response to the development, Nichols reported: "The President was asked about this last night, he said he was not concerned. He says his team is doing a great job, not at all worried. And the Vice President told us he personally himself hasn't been tested for the virus."
According to a statement from CPAC organizers at the American Conservative Union (ACU), neither the President nor the VP had any direct contact with the attendee in question. "This attendee had no interaction with the President or the Vice President and never attended the events in the main hall," the ACU wrote.
In addition, the statement said:
The American Conservative Union has learned that one of our CPAC attendees has unfortunately tested positive for coronavirus. The exposure occurred previous to the conference. A New Jersey hospital tested the person, and CDC confirmed the positive result. The individual is under the care of the medical professionals in the state of New Jersey, and has been quarantined.

(…)

The health and safety of our attendees and participants is our top priority.

(…)

Our children, spouses, extended family, and friends, attended CPAC. During this time, we need to remain calm, listen to our health care professionals, and support each other. We send this message in that spirit.
The Media Research Center and NewsBusters had staff that attended the conference.
The transcript is below:
NBC's Sunday Today
March 8, 2020
8:06:23 a.m. Eastern

(…)

HANS NICHOLS: There is also news that an attendee at CPAC, the conservative action group that met in Washington last month that was attended – this conference, by the President, the Vice President, and administration officials that an attendee tested positive for the virus, bringing it closer to the White House. The President was asked about this last night, he said he was not concerned. He says his team is doing a great job, not at all worried. And the Vice President told us he personally himself hasn't been tested for the virus.

(…)