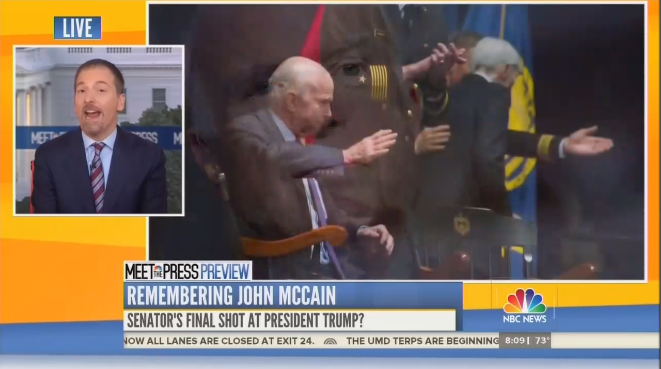 During Saturday's memorial service to the life of Senator John McCain, some of the speakers decided it was a perfect time to get political and take shots at the sitting President. NBC's Sunday Today picked up right where they left off and disturbingly touted their politicized eulogies and Meet the Press moderator Chuck Todd hyped suggestions of them being a "call to arms" against President Trump.
In his report on the memorial service, correspondent Hans Nichols boasted about how the eulogies by former presidents Bush and Obama were "tinged with criticism at President Trump, who wasn't even invited." The network played a clip of Obama pompously declaring that "[McCain] understood if we get in the habit of bending the truth to suit political expediency or party orthodoxy our democracy will not work." That's rich coming from him.
Nichols then seemed to congratulate the late Senator's daughter, Meghan McCain for coming the "closest to directly criticizing the sitting president." "We gather here to mourn the passing of American greatness. The real thing, not cheap rhetoric from men who will never come near the sacrifice he gave so willingly," she said.
"Unscripted moments that weren't entirely unimaginable for a mischievous senator who never shied away from a fight," Nichols quipped.
A short time later, anchor Willie Geist touted how Senator McCain got the last word in his long-running feud with President Trump. "He made the final statement, yesterday, at the National Cathedral (…) Senator McCain didn't write those speeches yesterday but he certainly choreographed a service where that message could come through," he gloated.
Playing off of Geist, Chuck Todd opined about how many people saw last week as a longwinded rebuttal of President Trump:
And that's -- you know, it's interesting. I saw somebody who tweeted and said, you know, "the subtext of the week with John McCain has been about a rebuttal to the Trump style of politics" and then said, "forget subtext, that was the text." Look, that was what -- this was the final message John McCain wanted to send.
With an air of faux despair, Todd tried to suggest that with the death McCain came the death of a greater time for America. "I think the question, Willie, there was part of me yesterday was wondering if we having a memorial service for an era that we can't get back, that we won't get back," he mourned.
But Todd argued that there was still hope! According to him, he spoke to senators who wanted to use McCain's death as a rallying cry against the President. "Or, as I had a few senators that I talked to -- before and after the event who said, 'You know what? Maybe it will be a call to arms,'" he proclaimed.
"Maybe the fact that you had -- think about this. You had spontaneous applause break out for Meghan McCain's eulogy. When was the last time you heard that? Applause at a eulogy," Todd bragged.
"Remains to be seen if anything will change based on it. But certainly, that energy was in the room yesterday in that cathedral," Geist added before moving onto the upcoming Supreme Court confirmation fight.
The transcript is below, click "expand" to read:
NBC
Sunday Today
September 2, 2018
8:03:44 a.m. Eastern [35 seconds]

(…)

HANS NICHOLS: Both presidential tributes tinged with criticism at President Trump, who wasn't even invited.

BARACK OBAMA: He understood if we get in the habit of bending the truth to suit political expediency or party orthodoxy our democracy will not work.

NICHOLS: But it was McCain's daughter Meghan who came closest to directly criticizing the sitting president.

MEGHAN MCCAIN: We gather here to mourn the passing of American greatness. The real thing, not cheap rhetoric from men who will never come near the sacrifice he gave so willingly.

NICHOLS: Unscripted moments that weren't entirely unimaginable for a mischievous senator who never shied away from a fight. The Trump family, represented by Ivanka and Jared.

(…)

8:08:10 a.m. Eastern [1 minute 49 seconds]

WILLIE GIEST: He made the final statement, yesterday, at the National Cathedral. His daughter Meghan, as Hans pointed out, critical of President Trump without mentioning his name. Same from presidents Bush and Obama. Let's listen to a little more of President Obama from yesterday.

OBAMA: So much of our politics, our public life, out public discourse can seem small. And mean. And petty. Trafficking in bombast and in insult. In phony controversies. In manufactured outrage. It's a politics that pretends to brave and tough, but in fact is born of fear.

GEIST: Chuck, Senator McCain didn't write those speeches yesterday but he certainly choreographed a service where that message could come through.

CHUCK TODD: And that's -- you know, it's interesting. I saw somebody who tweeted and said, you know, "the subtext of the week with John McCain has been about a rebuttal to the Trump style of politics" and then said, "forget subtext, that was the text." Look, that was what -- this was the final message John McCain wanted to send.

I think the question, Willie, there was part of me yesterday was wondering if we having a memorial service for an era that we can't get back, that we won't get back. Or, as I had a few senators that I talked to -- before and after the event who said, "you know what? Maybe it will be a call to arms." Maybe the fact that you had -- think about this. You had spontaneous applause break out for Meghan McCain's eulogy. When was the last time you heard that? Applause at a eulogy.

GEIST: Remains to be seen if anything will change based on it. But certainly, that energy was in the room yesterday in that cathedral.

(…)