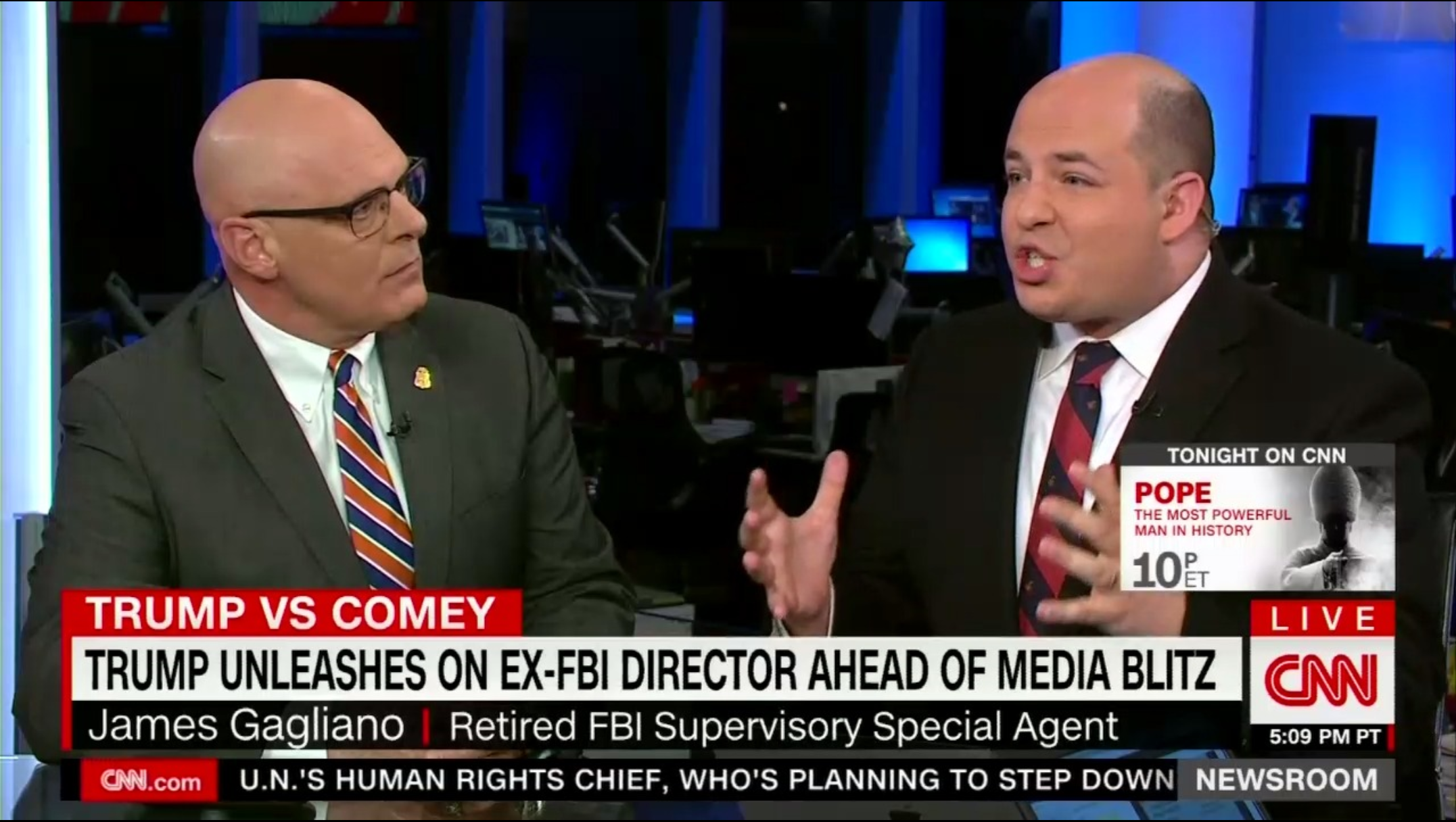 With less than two hours until ABC's highly anticipated interview between George Stephanopoulos and former FBI Director James Comey, the liberal media was abuzz with speculation and admiration. One of Comey's loudest supporters was CNN senior media reporter and Reliable Sources host Brian Stelter.
And amid his lionization of Comey during Sunday night's CNN Newsroom, CNN law enforcement analyst and former FBI Special Agent James Gagliano embarrassed Stelter by calling out Comey for being a "feckless leader."
At the start of the segment, host Ana Cabrera teed up Stelter to hype the juicy tidbits of the Russia investigation and dirt Comey was going to dish on the President. "One of the topics to be detailed tonight in the special it involves Russia and the Russia probe," he said while being excited about seeing all the other interviews in the coming week. "Look for what Comey has to say about Russia and Trump. We've already heard some of it, we're going to hear a lot more."
When it was Gagliano's turn, he slammed Comey and the lavish praise he had received.
"The issue I take with him, and many former agents and those on board, current on boards take this issue, James Comey is still an FBI employee," Gagliano said, explaining why what Comey was doing was against DOJ policy. "He's discussing matters that are relevant and salient to an open or ongoing investigation or case. I.e., the Russia probe. I.e. the Inspector General's probe. I.e., a number of different congressional probes still going on right now."
Gagliano noted that what Comey was doing (and what the media had been praising) in term of chiding and sliming the President both in the book and social media was exactly what they hated about Trump:
This book is a bad look and leaking out the excerpts that have shown him making salacious comments about the President's appearance. Something that we look at the President and say he's beneath the dignity of the office, James Comey has now elected to enter the pig wallow and is doing the same thing.
"But what's worse, Trump world's behavior or someone writing about trying to sound the alarm about it," Stelter whined. "This is nothing to do with that," Gagliano exclaimed. "He held the moral ground, Brian, until he leaking to The New York Times. And then folks like me that defended him last May, you lost our respect."
According to Stelter: "Sometimes people leak because they need to scream from the top of the mountain when there is an emergency happening. I think Comey's trying to scream tonight." But what alarm is Comey ringing and what is he screaming from the mountain tops about when there's already a special counsel investigation underway? He's not being a whistleblower; rather, he's being spiteful.
"He's a feckless leader," Gagliano shot back as he spelled out how Comey couldn't stand up for what was right as Director. He recalled how Comey refused to stand up to former Attorney General Loretta Lynch when she was pushing Clinton campaign talking points or against Trump asking about the Flynn investigation. "He testified in front of the House Intelligence Committee he wished he'd been stronger but he wasn't."
Along with Stelter, the liberal media's lionization of Comey doesn't come from any sort of noble deed being done. It stems from the fact he's going after their mutual target, Trump.
The relevant portions of the transcript are below, click "expand" to read:
CNN Newsroom
April 15, 2018
8:06:54 PM

ANA CABRERA: So, Brian, let's start with you. Do you have any insight as to what Axios is reporting here, that the worst is yet to come?

BRIAN STELTER: One of the topics to be detailed tonight in the special it involves Russia and the Russia probe. I don't know exactly what Comey said but I think that's what Axios is hinting about. Look for what Comey has to say about Russia and Trump. We've already heard some of it, we're going to hear a lot more. You know, Ana, this edit was going on at ABC until this early afternoon. This is a five-hour-long interview, ABC had to cut it down to an hour. So, there was a lot left out. ABC's going to share the rest of that online and then after this interview, there's going to be a week's worth of interviews.

(…)

CABRERA: James, when we hear he could be talking about the Russia investigation. The Russia investigation isn't over. Do you take issue with that?

JAMES GAGLIANO: I do. He has every right as a private citizen to write his memoirs and sell books and to Brian's point, I think an initial run of 850,000 books. Michael Wolff's Fire and Fury started out with an initial run of 150,000. He's going to be a best-selling author. The issue I take with him, and many former agents and those on board, current on boards take this issue, James Comey is still an FBI employee.

The Department of Justice defines an employee as anyone who holds or has held a position of trust in the agency. He's discussing matters that are relevant and salient to an open or ongoing investigation or case. IE, the Russia probe. IE the Inspector General's probe. IE, a number of different congressional probes still going on right now.

He is not just a witness. Not a part of the periphery. A central figure. This book is a bad look and leaking out the excerpts that have shown him making salacious comments about the President's appearance. Something that we look at the President and say he's beneath the dignity of the office, James Comey has now elected to enter the pig wallow and is doing the same thing.

STELTER: But what's worse, Trump world's behavior or someone writing about trying to sound the alarm about it?

GAGLIANO: This is nothing to do with that. The FBI Director's talking about an ongoing probe he's a central witness to. He held the moral ground, Brian, until he leaking to The New York Times. And then folks like me that defended him last May you lost our respect.

STELTER: Sometimes people leak because they need to scream from the top of the mountain when there is an emergency happening. I think Comey's trying to scream tonight.

GAGLIANO: He's a feckless leader, and here's why. To the point of Boris about the former Attorney General Loretta Lynch, he had an opportunity to go to her and say, "Madame AG, I've taken issue with you telling me not to call this an investigation. This investigation was forwarded to us from a House from Benghazi investigation. You're now telling me to call it something that aligns with the Clinton campaign talking points." Feckless. He also had a chance with nine interactions with the President. Nine, on the phone and in person to say, "Mr. President, what are you telling me to do? Are you telling me not to look into Michael Flynn? Are you telling me to ignore investigations? Tell me to do that and I'll go on record with this right now and I'm submitting my resignation." He didn't. He testified in front of the House Intelligence Committee he wished he'd been stronger but he wasn't.

(…)