The 2018 Winter Olympics are in full swing and Kim Yo-jong, the sister of North Korean dictator Kim Jong-un and head of their Propaganda and Agitation Department, had bizarrely become a liberal media darling. Despite the fact her job entailed censorship and glorifying public executions, numerous outlets had touted her for "stealing the show," winning "diplomatic gold," being the "Ivanka Trump of North Korea," and hyping the extremely creepy North Korean cheerleading group.
CNN, who has a history of climbing into bed with murderous regimes (Iraq and Saddam Hussein) to stay relevant, was one of the more notable outlets singing North Korea's praises. On Saturday, three reporters published a disgustingly gooey puff piece about the North Korean gulag queen "stealing the show" at the Olympics.
That was in addition to another piece where CNN ran the headline touting: "North Korea is winning the Olympics --and it's not because of sports." "This time around, however, the North has gotten the kind of publicity money can't buy," reporter Jamie Tarabay gushed. "Her historic visit to the South -- the first of any member of the ruling Kim family -- generated significant media attention, gracing news broadcasts and front pages across the world."
The Washington Post, whose pompous tagline is "Democracy Dies in Darkness," glorified the North Korean censorship head as the "Ivanka Trump" of the regime and "political princess." "Here she was, a political princess, but the North Korean "first sister" had none of the hallmarks of power and wealth that Koreans south of the divide have come to expect," they boasted. "In looks-obsessed South Korea, many 20-something women list plastic surgery and brand-name bags as life goals."
In an article published in The New York Times on Sunday, journalists mocked Vice President Mike Pence for being overshadowed by Kim. "Kim Jong-un's Sister Turns on the Charm, Taking Pence's Spotlight," their headline said. They also highlighted the loony analysis from a radical college professor who claimed: "The fact that he and Mrs. Pence didn't stand when the unified [North and South Korean] team came in was a new low in a bullying type of American diplomacy."
The Associated Press also got in on the pro-North Korean coverage by touting how "At Olympic Games, Kim Jong Un's sister takes VIP seat" (headline). They seemed encouraged by how much Kim would be a pain in the side of the Trump administration. "The trip by Kim Yo-jong is the latest move in an extraordinary show of Olympic diplomacy with Seoul that could prove to be a major challenge to the Trump administration's hard-line Korea policies," they chided.
International media outlet Reuters hyped how "North Korea has emerged as the early favorite to grab one of the Winter Olympics' most important medals: the diplomatic gold." They pushed back on the Trump administration's assessment that the U.S. and South Korea were as close as ever: "Pence cast one of the loneliest figures at the opening event. He remained seated when the joint Korean team entered the stadium, in contrast to Moon who stood along with Kim Jong-un's younger sister, Kim Yo-jong, to applaud."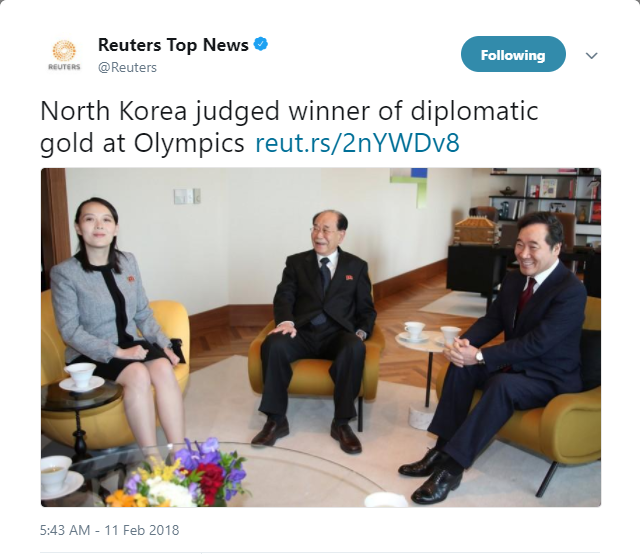 As part of the North Korean delegation to the Games, a massive cheerleading squad numbering more than 200 was admitted. And they too drew the admiration of the media. As ABC News did when they touted the group: "Clad in coordinated outfits of red with white and blue accents, North Korea's throng of more than 200 cheerleaders are stealing the spotlight at the 23rd Winter Olympic Games in South Korea as they chant, sway and dance in unison."
The Washington Post even had some fun translating their creepy chants. "The chorus here (transliteration: "ban gap seup nee da") literally means 'nice to meet you,'" the paper noted. "It's part of a North Korean song performed during meetings between North and South Korean civilians. South Koreans have come to recognize the song as part of the North's routine during cultural exchanges."
But not everyone in the media was keen on giving North Korea such lavish praise and accolades. NBC News' Willie Geist, who's in South Korea, slammed outlets giving them positive coverage. "I can report South Koreans here in Pyeongchang are not as enthralled with Kim Yo-jong and the North Korean cheerleaders as it seems some media are back home," he tweeted. "Something about N.K. killing, starving, & imprisoning its people while threatening South Korea with nuclear annihilation."
"Wait people are still tweeting this crap?" The Huffington Post's Yashar Ali tweeted in response to the New York Times article noted above. His timeline also includes such gems as "I can't with this tweet. Jesus." to CNN's, and "What the hell are you doing Reuters?"