Since Saturday, when Donald Trump first took to Twitter to accuse former President Obama of wiretapping Trump Tower, the morning and evening shows of ABC, CBS and NBC have devoted 107 minutes, 33 seconds to refuting the President's claim.
In contrast, new reports from previous weeks suggesting the Obama Administration did, in fact, initiate surveillance were essentially ignored at the time. For example, when the New York Times initially reported that members of Trump's team were under surveillance before the inauguration, the story only got 13 seconds of coverage and only on the CBS Evening News.
Back on January 19, when President Obama was still in office, the New York Times web site reported as fact that the government was looking at "intercepted communications" between Trump associates and Russian officials. The story appeared the next morning, Inauguration Day, on the front page, above the fold.

Here are the key paragraphs from that Times story, with the crucial information in bold and all caps so it's easy to spot:
"American law enforcement and intelligence agencies are examining INTERCEPTED COMMUNICATIONS and financial transactions as part of a broad investigation into possible links between Russian officials and associates of President-elect Donald J. Trump, including his former campaign chairman Paul Manafort, current and former senior American officials said....

"It is not clear whether the INTERCEPTED COMMUNICATIONS had anything to do with Mr. Trump's campaign, or Mr. Trump himself....One official said intelligence reports based on some of the WIRETAPPED COMMUNICATIONS had been provided to the White House."
<<< Please support MRC's NewsBusters team with a tax-deductible contribution today. >>>
A Nexis search of the networks' January 19 and 20 broadcasts reveals that only CBS picked up on the Times disclosures of intercepted communications involving Trump's associates. The January 20 Evening News report by correspondent Jeff Pegues included 13 seconds on the topic: "CBS News has learned that investigators have obtained information from human sources and are delving into electronic communications between individuals connected to Mr. Trump and Russian officials."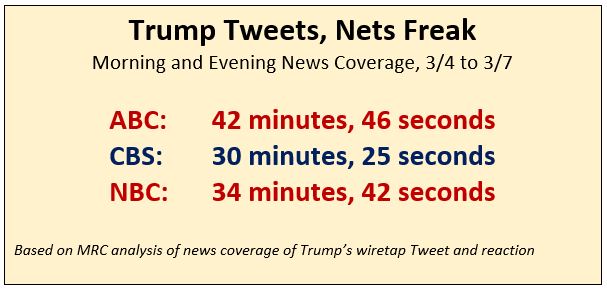 Fast forward to the CBS Evening News on March 6, when anchor Scott Pelley started his newscast by mocking the idea that the Obama administration oversaw eavesdropping targeting President Trump's offices: "No evidence from the White House. The President offers no proof to back up his claim that he was wiretapped by President Obama."
A few moments later, Pelley sniped: "Since his inauguration, Mr. Trump has continually stamped rumors with the seal of the President...."
But a subsequent story by Pegues revisited the information he had originally reported six weeks earlier, including a sound bite from former Bush White House anti-terrorism official Fran Townsend:
JEFF PEGUES: Several Trump associates are under scrutiny, including former National Security Adviser Mike Flynn, one-time campaign chairman Paul Manafort, foreign policy adviser Carter Page, and adviser Roger Stone.

FRAN TOWNSEND: The likelihood that there is a counter-intelligence investigation by the FBI against one or more of those individuals that could, in fact, support a request to the FISA court for a surveillance warrant, I think is pretty good.

PEGUES: In order to listen in on their conversations, the Justice Department must provide a federal judge with enough evidence to warrant a wiretap. Scott, the President cannot legally order the surveillance.
But Pegues himself reported in January that the government was already reviewing "electronic communications" involving Trump's associates, which would appear to confirm exactly the kind of surveillance the media are scoffing at today.
See also:
Mark Levin: 'Schizophrenic' 'Confused' Media 'Can't Even Get Their Stories Straight' On Wiretapping
ABC Spends Weekend Bashing 'Conspiracy-Loving' Mark Levin
Childish: MSNBC's Matthews Mocks Levin, 'That's a Voice to Be Believed'
Mark Levin Fires Back at CNN's Brian Stelter for His 'Ad Hominem Attacks' About His Spying Claims