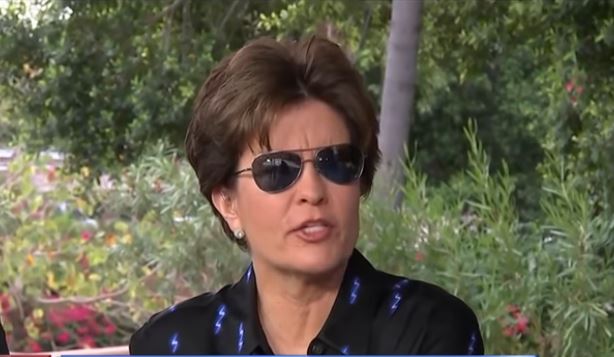 One of the leading tech writers not only chided Facebook for not censoring more but went right after the platform's co-founder and CEO Mark Zuckerberg.
Co-founder of the liberal technology news website Recode and opinion columnist for The New York Times Kara Swisher blasted "white men" who run Silicon Valley, like Facebook's CEO Mark Zuckerberg. She later referred to him as "malevolent" and suggested that he should do more to censor on his social media platform.
The liberal tech journo wasted no time going after Facebook for its free speech stance on content posted on the platform in her recent appearance on the HBO documentary After Truth: Disinformation and the Cost of Fake News:
"Facebook, it's a city without signs and police forces and garbage. That's the city they built. What company wouldn't shut down absolutely provable false information? They create the platform where it gets spread, and then are like, oh, what can we do? They hide behind the First Amendment and they are not the government. They can make choices, they just don't want to."
Swisher also demeaned the Big Tech CEO's performance at a recent appearance before Congress:
"It was just a ridiculous circus, and so, therefore, Mark came off well because he didn't, like, vomit on the desk or something, like, he didn't, like, fall apart."
Swisher even warned of the platform's power, saying: "I don't think they're malevolent people. Mark is lovely. He's polite. He's earnest. He wants to learn. It's just that their basic premise is that this is just a benign platform. These are the most powerful tools in the history of our planet. They are. They just are."
Again discussing removing content from Facebook, Swisher contradicted her previous statement on Zuckerberg, suggesting this time that he is "malevolent":
"If someone who is running the biggest communication system in the history of the world, someone who cannot be fired, someone who has complete control over that system, does not understand what he just said, it's really-- it really struck me as, it was a big uh-oh moment for me. The implication that they aren't malevolent-- he knows they're malevolent, come on. You can take them off. Like, it's okay. He's gonna get flak for it, but he gets paid the big bucks, right?"
This is not the first time Swisher has made this type of clarion call on behalf of the left.
She was furious earlier this year, writing in a New York Times column headlined, "Sorry, Republicans Rule the Internet," that when it comes to the Big Tech battle online, the "GOP tech arsonists are winning, while Dems fiddle."
From tattling on President Donald Trump to Twitter CEO Jack Dorsey to calling the owner of Fox News and The Wall Street Journal Rupert Murdoch "Uncle Satan" to seemingly siding with the former Reddit CEO on suspending Trump from Twitter, Swisher's bias is blatant.