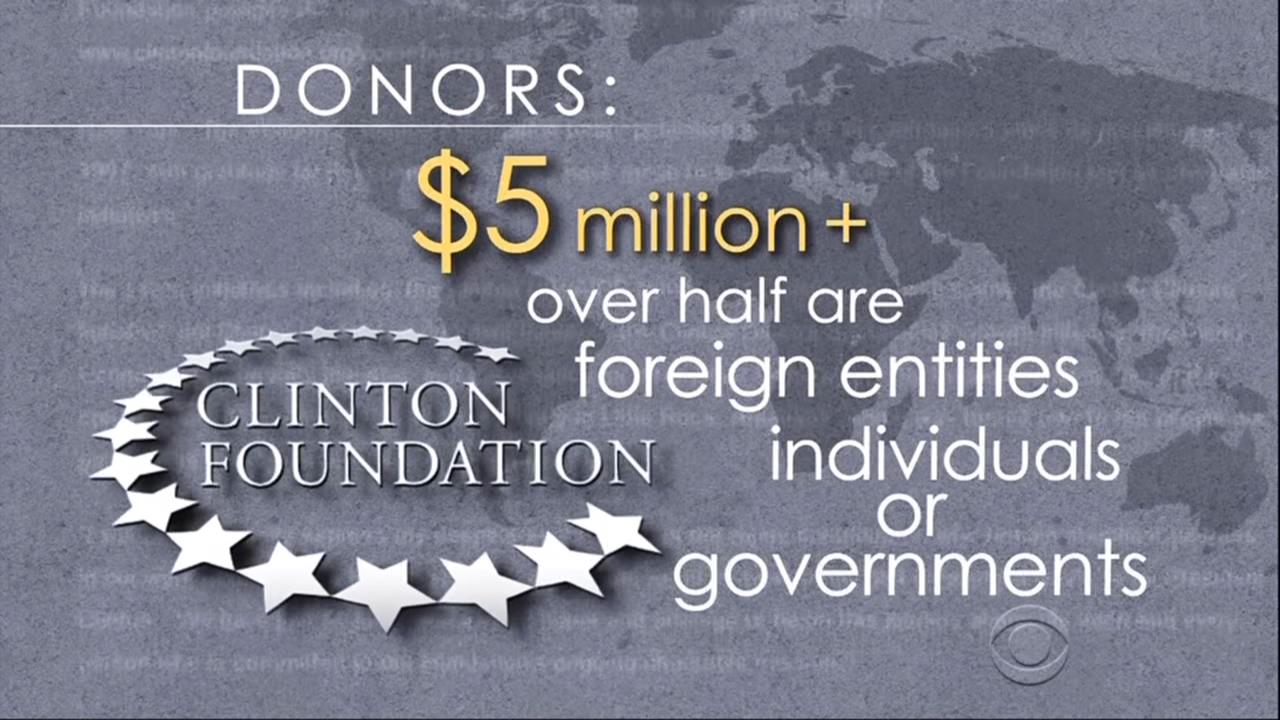 ABC and NBC's evening newscasts on Thursday barely mentioned the Clinton Foundation's announcement that it would stop accepting foreign and corporate donations if Hillary Clinton is elected president.  ABC's World News Tonight set aside 25 seconds of air time to the news at the end of a full report on the Donald Trump campaign preparing for the billionaire's first presidential debate with Hillary Clinton. NBC Nightly News devoted 26 seconds to the story immediately before a minute and half-long segment on the Clinton campaign blasting "conspiracy theories" about the Democrat's health.
CBS Evening News didn't cover the story until Friday. However, unlike its competitors at ABC and NBC, the program aired a full report on the Clinton Foundation's move that lasted one minute and 42 seconds. [video below]
NBC's Lester Holt gave the news brief on the controversial charity:
LESTER HOLT: There is breaking news tonight from the Clinton Foundation, the charity that bears the names of Bill and Hillary Clinton. The foundation tells NBC News should Hillary Clinton be elected president, it will no longer accept foreign and corporate donations — a subject which has been a source of scrutiny during this campaign. Also, NBC News has learned exclusively that Bill Clinton has not given a paid speech since last November, and will not if his wife is elected.
On ABC, anchor David Muir asked correspondent Tom Llamas about the Clinton Foundation news at the end of his report on Trump:
DAVID MUIR: There's also news at this hour, Tom, about the Clinton Foundation?

TOM LLAMAS: David, today, former President Bill Clinton made a major announcement, saying the Clinton Foundation will no longer accept foreign or corporate donations if Hillary Clinton is elected president. This comes as House Republicans have called for an investigation — essentially calling the Clinton Foundation a pay-for-play operation — that they sell access. The Clintons vehemently deny that.
CBS correspondent Julianna Goldman's report the following evening actually gave details about past large foreign donations to the Clinton Foundation.
SCOTT PELLEY: The Clinton campaign is hoping to put a controversy behind it. Julianna Goldman reports that the charitable Clinton Foundation says it will no longer accept foreign or corporate money if Hillary Clinton is elected.

JULIANNA GOLDMAN (voice-over): Of the nearly 40 top donors that have given $5 million or more to the Clinton Foundation, over half are foreign entities, individuals, or governments — including Saudi Arabia and Kuwait.

The donations have led to questions about potential conflicts of interest when Hillary Clinton was secretary of state, and if she were to become president; and it's provided fodder for Donald Trump.

DONALD TRUMP, (R), PRESIDENTIAL NOMINEE (from campaign event): Has Hillary Clinton apologized for turning the State Department into a pay-for-play operation, where favors are sold to the highest bidder?

GOLDMAN: The foundation has raised more than $2 billion over the last 15 years, promoting programs focused on global health and economic development. Clinton stepped down ahead of the campaign, leaving her husband and daughter to run the organization. Under pressure last year, the charity limited donations from foreign governments. If his wife wins, Bill Clinton said he'll also step down. And while he said the changes weren't in response to outside pressure, the move could help neutralize at least one of the central ethical questions hanging over her campaign.

GOLDMAN (on-camera): Because the changes aren't immediate, it still leaves Clinton open to criticism that donors may be trying to curry favor before the election. Scott, a foundation — a foundation official said their priority is to maintain the programs that help millions of people, and to presume the outcome of the election would be premature.

PELLEY: Julianna Goldman in the Washington newsroom tonight — Julianna, thank you.