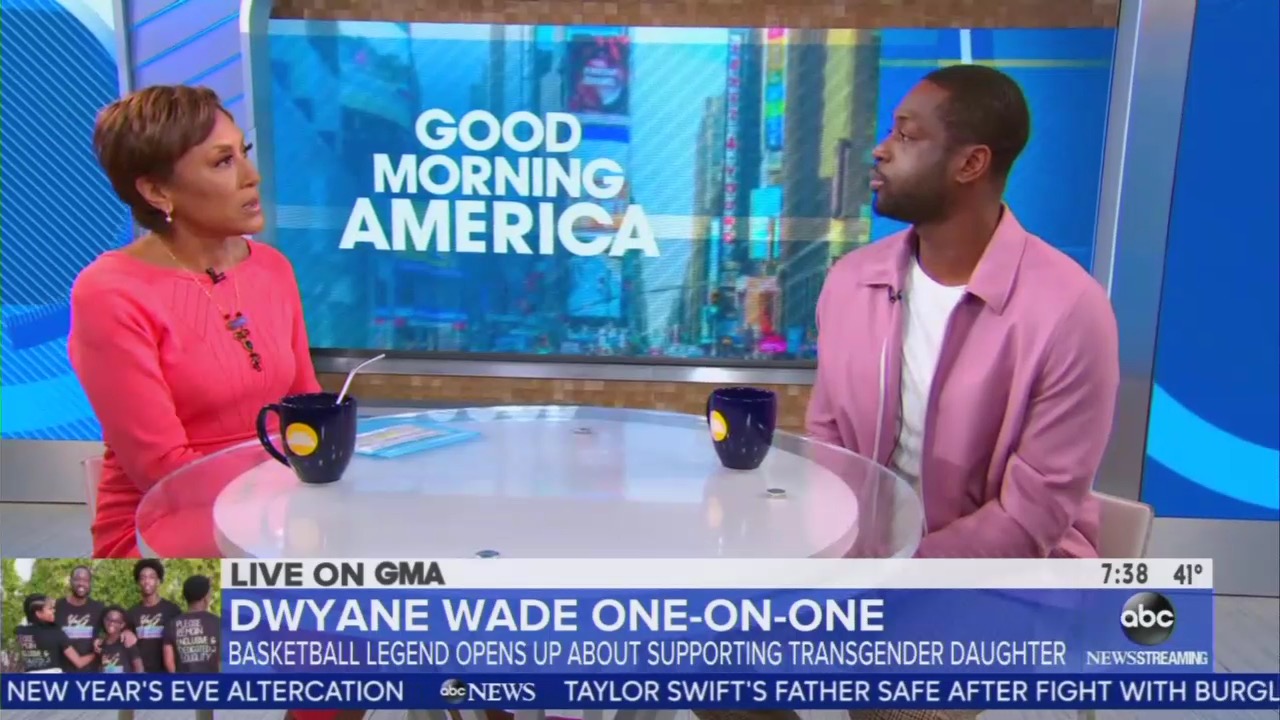 On Tuesday's Good Morning America on ABC, the network celebrated former NBA player Dwyane Wade and his actress wife, Gabrielle Union's decision to transition their pre-teen son into a girl. Co-anchors George Stephanopoulos and Robin Roberts hailed the child's "courage" and "wisdom" while encouraging Wade to share his woke parenting knowledge with less enlightened Americans.
The ABC hosts teased the upcoming interview with the retired NBA star, repeatedly throughout the show. Stephanopoulos described his son changing genders as brave:
"NBA legend Dwyane Wade here live talking about his daughter Zaya's courage coming out as transgender and his new documentary," he praised, while Roberts deemed Wade's story a "powerful message."
As Wade talked with Roberts, he repeatedly referred to his pre-teen child as the "leader" of the family, who "educated" him and his wife, which Roberts treated as normal in her follow up questions.
"Wade says he and his wife actress Gabrielle Union didn't have all the answers when Zaya first approached them and became educating themselves to support their daughter," Roberts said. After playing a clip of "Zaya" talking about how it was going to be difficult for others, the ABC anchor gushed, "She seems wise beyond her 12 years!"
She added, "You said that she helped you and the family have a better understanding and helped you with this. How was she able to do that?"
WADE: Well, she's our leader ...it was a process for us to sit down with our daughter and find out who she is and what she likes and not put something on her because as parents we put our hopes and we put our fears on our kids.

ROBERTS: Right.

WADE: And with Zaya we decided to listen to her and she's leading us along this journey.
Roberts continued treating the celebrity parents like they were the model of parenting. She asked, "What is your advice to a parent who is struggling to accept their child for any reason?"
After that, Roberts asked how he deals with the haters: "How do you protect her...How do you handle those people who are less than supportive?"
Wade admitted nonchalantly that his son knew he was a girl when he was three years old. Roberts only wanted to know if Wade realized his toddler was transgender:
ROBERTS: She's known since she was three.

WADE: She's known since she was three years old. And along the way we've asked questions and we've learned.

ROBERTS: Did you know? Did you know early on?
The Ellen Show and the Washington Post have also glorified Zaya's gender dysphoria as well.
In 2016 ABC ignored a massive petition against Target for allowing "trans" males to enter the women's restrooms.