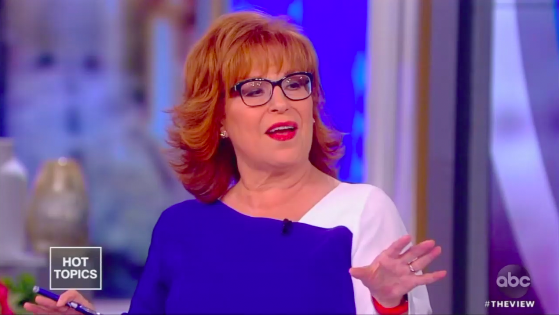 Monday at The View, the hosts heaped praise on 2020 Democrat candidate Mayor Pete Buttigieg for being one of the few Democrats who agreed to do a town hall on Fox News, this past Sunday. Co-host Joy Behar loved that Buttigieg attacked the right-leaning network at one point, and the other hosts commended the Democrat for trying to reach the other side.
After years of near-daily snarks from co-hosts Joy Behar and Whoopi Goldberg mocking the network, it's odd now to see the hosts suddenly realizing the network had some value.
Playing the clip of Pete Buttigieg attacking hosts Tucker Carlson and Laura Ingraham for comments they've made, Whoopi Goldberg took a swipe at Fox: "Isn't his job to plead the other side and make a news network do what they're supposed to do and be a news network?" she asked.
Joy Behar claimed she was always for Democrats going on Fox News:
I have believed from the beginning that Elizabeth Warren and who else was it? Kamala Harris, they were the ones who said they didn't want to go to Fox, I think they should. Because when the Democrats don't show up, they lose. Just like they did in Wisconsin and Pennsylvania last time when Trump got in. They need to show up. That's my philosophy about anything in life, as a matter of fact. Show up! [applause]
Sunny Hostin agreed, bragging about how they engage with different viewpoints every day. Hostin didn't mention that she and her peers tend to shut down or get angry at these same people, as well:
I think he echoed what we said at the table many times.There are people that watch Fox News that do watch it in good faith. They watch it to get their information and to get their news. You can't always speak in an echo chamber. You've got to go into difficult spaces with people that don't agree with you. It's what we do here every single day!
Meghan McCain was less enthusiastic, pointing out Buttigieg was polling at zero percent with black voters, compared to Joe Biden. Behar was just happy that the Democrat had attacked Fox News.
"But it was a major coup to go after Laura Ingraham, and that other nut, Tucker Carlson. Is that his name?" she said, grinning.
An unamused McCain asked if she thought that low poll numbers were unimportant. Behar eagerly claimed that it didn't matter if he won or lost, what was really important was that he "spoke truth" to Fox News:
"It's almost like a side issue whether he's going to win or not win. The guy goes out there and is speaking truth!" she gushed.
Behar added that low poll ratings for Democratic candidates like Buttigieg shouldn't matter because they had other more important goals than winning the election, (which she didn't name.)