"Consulate attackers had ties to al-Qaeda," blares a page A1 Washington Post headline in this morning's edition. "But terrorist group didn't plan assault in Libya, U.S. officials say," the subheader adds.
Yet six paragraphs into his article, Washington Post reporter Greg Miller noted that (emphasis mine) "The intelligence picture assembled so far indicates that militants had been preparing an assault on the U.S. compound in Benghazi for weeks but were so disorganized that, after the battle started, they had to send fighters to retrieve heavier weapons."
---
Miller added that "U.S. intelligence officials said they think the attack was not timed to coincide with the Sept. 11, 2001, anniversary. Instead, the officials said, the assault was set in motion after protesters scaled the walls of the U.S. Embassy in Cairo as part of a protest of an amateur anti-Islamic YouTube video."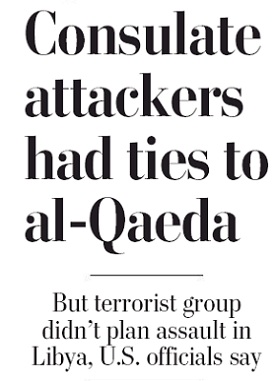 The "emerging scenario," Miller noted, according to an intelligence official was that "extremists in the region had cased out and hoped to target U.S. facilities in Benghazi for some time" and that the protest in Cairo "influenced their timing."
"The staging of the attack, which targeted two separate U.S. compounds, is seen by analysts as evidence of significant pre-planning," Miller noted in his article's penultimate paragraph.
In other words, this was a terrorist-backed attack that went off, intelligence officials believe, before the plan was ripe for execution, not because it was the anniversary of 9/11.
One may be skeptical about that assessment, but even if you buy it, that makes pretty clear that a dopey, obscure YouTube video that insults Islam's Prophet Muhammad had nothing to do with the premeditated violence of the assault itself.
For the Post to say that al Qaeda "didn't plan [the] assault" because it went off earlier than initially envisioned and/or because the extremists who carried it out were affiliated with al Qaeda but not officially in its command structure is spurious hair-splitting that covers for an administration that has been slow to come clean about what it knew within the first 24 hours after the attacks.