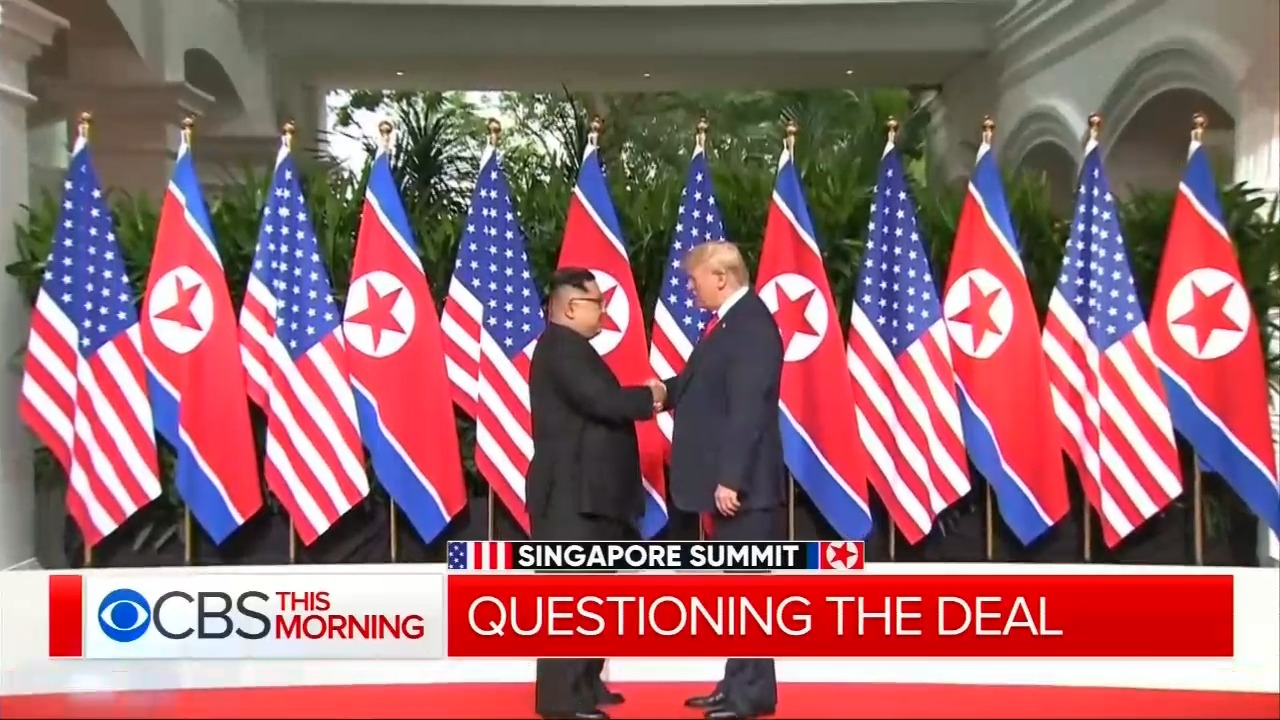 It would be hard to make this up.
On two very different subjects, the liberal media has emerged from the last couple of weeks with not just egg on its face. In fact, it seems like they took an entire carton of Grade A Large and smashed them one by one over themselves.
Can you say "cult"?
Tellingly, there were two very different subjects involved in the media cult's last few days: North Korea and prison reform. Let's start with North Korea.
Remember headlines like these: "Trump promises North Korea 'fire and fury' over nuke threat."
This gem of alarmism was from CNN in August, 2017. Breathlessly it said, among other things, this:
President Donald Trump issued an extraordinary ultimatum to North Korea on Tuesday warning Pyongyang not to make any more threats against the United States or they will 'face fire and fury like the world has never seen,' during a photo op at the Trump National Golf Club in Bedminster, New Jersey.

….Trump's harsh words come as US intelligence analysts have assessed that North Korea has produced a miniaturized nuclear warhead…The escalating threats from the US and North Korea have put North Asia on edge.

Potential for miscalculation…While both the US and North Korea have frequently used strong rhetoric as a strategic messaging tool, analysts warn that verbal escalations pose the risk of causing a catastrophic miscalculation.

'Complicating this delicate game is that we have two inexperienced, impulsive presidents in control of these massive military machines,' Joe Cirincione, president of Ploughshares Fund, a global security foundation, told CNN on Monday.
The CNN story was hardly alone in the liberal media. And by February, after the President's State of the Union, a practically hysterical New York Times editorial board was begging this: "Playing With Fire and Fury on North Korea."
Pleaded the Times:
"It's hard to come away from the State of the Union address without a heightened sense of foreboding about President Trump's intentions toward North Korea. The signs increasingly point to unilateral American military action. To which we say: Don't.

The references to North Korea in the address were worrying enough. Mr. Trump called the country's leadership "depraved." He trumpeted his "campaign of maximum pressure" to ensure that the North does not succeed in perfecting a nuclear-tipped missile that could strike the continental United States. He asserted that "past experience has taught us that complacency and concessions only invite aggression and provocation." He pledged, "I will not repeat the mistakes of past administrations that got us into this dangerous position."

Mr. Trump seemed to be building a case for war on emotional grounds, invoking the case of Otto Warmbier, a University of Virginia student who died last year after being detained by North Korea…"
Again, the Times was far from alone in this hysteria.
And now? Earlier this week President Trump became the first American President to have a face-to-face summit with a North Korean leader. The Singapore sit down was smooth as silk. North Korea's dictator Kim Jong Un and Trump shook hands, smiled for the cameras, had by all accounts very direct talks and emerged with a long way to go but a seeming agreement on denuclearizing the Korea Peninsula. And the reaction from the liberal media - the self-same folks who were near hysteria months ago on the potential of Trump inducing a nuclear World War III?
Here is CNN again, this time on Friday as a newly returned-from-Singapore President Trump joked with the press at the White House. The CNN headline: "Trump jokes he wants 'my people' to 'sit up at attention' like North Koreans do for Kim Jong Un."
Reported the CNN story:
"President Donald Trump said Friday he wants 'my people' to sit up at attention as North Koreans do for dictator Kim Jong Un, later adding that he was joking.

'He's the head of the country,' Trump said of Kim Friday during a live interview on Fox News'
'Fox and Friends.' 'And I mean he's the strong head. Don't let anyone think anything different.'

'He speaks and his people sit up at attention," the President added. "I want my people to do the same.'

Later Friday, Trump told reporters at the White House his remark was a joke. 'I was kidding,' he said. 'You don't understand sarcasm.'
Got that? Last year and early this year the media was desperate for Trump to make nice to North Korea. Then - he does. On a history-making scale. And the reaction? Trump is hanging with a murderous dictator who abuses his people. How could he?
Now let's move on to the not-everyday topic of prison reform.
The other day - with zero publicity (kidding!) - A-List celebrity Kim Kardashian West visits the White House. Her mission: to talk to President Trump about prison reform. She meets with senior advisor Jared Kushner, the President's son-in-law. Jared's Dad, Charles, served some time in federal prison for financial crimes, and thus there has been considerable - and bipartisan - interest in the subject. The inevitable picture of Kim with President in the Oval Office is taken. Notably, while her other half, Kanye West, is a Trump supporter, Ms. Kardashian West is not.
As if on cue, CNN's Jim Acosta takes to his network and says of Kardashian West's appearance and lobbying the President on prison reform:
"She shouldn't be here talking about prison reform. It's very nice that she is here, but that's not a serious thing to have happened here at the White House."
Over at Mediaite, Joseph Wulfsohn did a quick search and - whaddaya know - there was the self-same Jim Acosta interviewing and praising A-List celebrity, musician John Legend - when Legend showed up at the White House a few years back to lobby President Obama….on prison reform.
In short?
In short, to say the least the liberal media is suffering a beyond severe case of Trump Derangement Syndrome. If he is tough with the North Koreans they beg him to play for peace. If he does what they want and initiates a historic summit that by all accounts thus far was successful (albeit with more to come) - they spend their time trashing him for meeting with a murderous dictator.
If celebrity John Legend comes to the White House to lobby President Obama - wow - what a great guy! So smart and compassionate. If fellow celebrity Kim Kardashian comes to do the same with President Trump? The nerve of Trump to meet with her! She has no place at the White House.
All of which is to say, the real "cult" in Washington is the cult of the liberal media. And as President Trump doubtless knew before he got into all of this - you can't please a cult. particularly a cult whose God is Trump Derangement Syndrome.