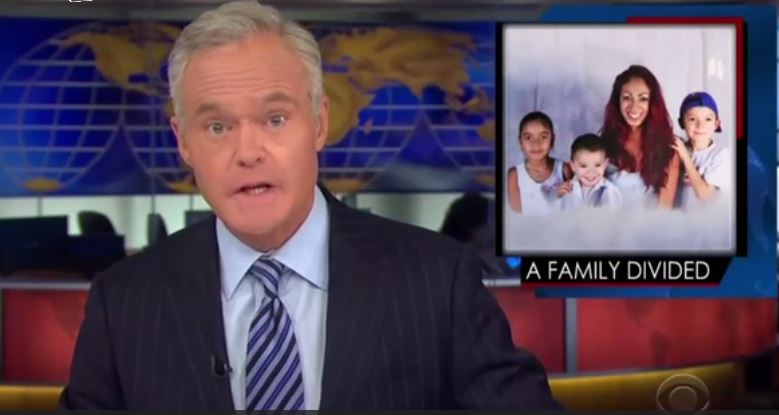 Even before Tuesday's DACA (Deferred Action for Childhood Arrivals) announcement from Attorney General Jeff Sessions, the liberal media have been alarmist in their attacks on any proposed rollback.  On Tuesday's Today show NBC's Kristen Welker warned "President Trump is setting off a bruising immigration battle, deciding the fate of more than 780,000 young immigrants...The expected decision already triggering cross-country protests over the holiday weekend and a blue-state backlash." 
Over the weekend ABC's Martha Raddatz exploited the tragedy of Hurricane Harvey to lobby to keep DACA: "Houston has one of the highest populations of so-called 'Dreamers' in the country. We met one of them. 15-year-old Jasmine Medrano....She said she doesn't know what she's more nervous about the flood or being deported."
Of course, this follows the exact blueprint the media used in 2012 and 2014 as they did all they could do to lay the groundwork for Barack Obama's DACA announcements by filling their stories with unbalanced talking heads and sob stories by those who could be deported.
2012
When President Obama first announced his decision to lift the possibility of deportation to young people who came to America illegally the June 15, 2012 NBC Nightly News offered a one-sided segment that featured six clips of individuals or groups thrilled by the reaction, only two against and one nuanced response by Mitt Romney.
NBC correspondent Pete Williams began his segment by touting, "Young people covered by the new policy cheered the announcement outside the White House." An unidentified woman enthused, "I can't describe it. It's so amazing. I'm so happy." A crowd in front of the White House chanted, "Yes, we did! Yes, we did! Yes, we did! Yes, we did!"
The NBC correspondent's segment was heavily weighted with people who applauded the decision including then-Homeland Security Secretary Janet Napolitano urging: "They've grown up here, they speak the language here, they've stayed out of trouble here. They're getting their education here. They have wonderful talents to contribute to our country." Williams also singled out Jessica Colato, who came from Mexico at age 11: "I want to go to law school to eventually practice immigration law." Only towards the end did Williams feature a clip of a Chicago Young Republican who opposed the President's decision. The reporter also included Arizona Governor Jan Brewer complaining that illegals are "going to be competing with jobs, with people that have come here legally."
Over on the June 15, 2012 edition of ABC's World News, correspondent Pierre Thomas sounded a similar theme: "Outside the White House, jubilation." And the June 15, 2012 CBS Evening  News promoted young Mexicans in America who will have their lives improved because of the decision.
CNN's immediate reaction was similar to the networks, as NewsBusters discovered a staggering disparity in talking heads. 
In the hours immediately after the Obama administration announced it would not deport young illegal immigrants who met certain criteria, CNN invited on a parade of pro-Obama guests who applauded the President's action, including four individuals who entered the U.S. illegally and one lawyer for an illegal immigrant.
In all, from 10:30am until 4pm on June 15, 2012  CNN interviewed eight guests who favored President Obama's new immigration policy, and only one guest who opposed it, Arizona Sheriff Joe Arpaio, who appeared three times. The airtime for guests praising the President (32 minutes, 16 seconds) nearly tripled the time given to Arpaio (12 minutes, 58 seconds).
CNN also provided nine minutes of live coverage of President Obama's address in the Rose Garden on the matter, further tipping the scales toward his side of the argument.
The list of pro-Obama guests included journalist Jose Antonio Vargas who "outed" himself, in 2014, as an illegal and penned Time magazine's latest cover piece on immigration. CNN also brought on a pair of Democrats – New Jersey Senator Robert Menendez and Los Angeles Mayor Antonio Villaraigosa  – to applaud the new policy. While the cable news network did relay the criticism from Republicans such as Representative Steve King, CNN in those hours did not bring on any national GOP official to balance the two Democrats.
2014
In November of 2014, when Obama went against his previous stance that he did not have the constitutional authority to issue an Executive Order on illegal immigration, CBS and NBC carried the water for Obama. On November 19, 2014, CBS and NBC actually promoted the White House talking point that previous presidential actions on immigration gives President Barack Obama the proper legal authority to enact executive amnesty the evening before a primetime address to the nation on the topic. At no point during the coverage on either network did their reporters mention that this justification is being used despite the President's previous assertions that he did not have the proper legal means to carry out any sort of mass-reaching executive order on illegal immigration.
The CBS Evening News with Scott Pelley began its coverage with a report from CBS News chief White House correspondent Major Garrett who noted this White House argument before moving on to the expected specifics of the executive order: "The White House says it has the law and history on its side, that Presidents Kennedy, Johnson, Nixon, Reagan and Bush 41 all used executive actions to protect various immigrant groups."
Over on NBC Nightly News, a story from NBC News senior White House correspondent Chris Jansing blindly pushed much the same narrative:
Both sides are gearing up for a legal fight. The White House argues seven modern Presidents, starting with Dwight Eisenhower, took executive action to deal with immigration problems, though it's never impacted this many people. 
In complete contrast to CBS and NBC, ABC's World News Tonight with David Muir mentioned the President's contradiction on this issue. Anchor David Muir noted to ABC News chief White House correspondent Jonathan Karl that the President will be hearing from Republicans after his speech "because the President himself has said before that he wouldn't take action on his own."
Before President Obama's speech on immigration on November 20, 2014, the major broadcast networks all did their parts to push the arguments in favor of his executive amnesty ranging from a whole segment devoted to a family that would benefit from the President's executive order to promoting one pro-amnesty group.
On the CBS Evening News with Scott Pelley, over two minutes were spent on segment promoting a family of children born in the U.S. with an illegal immigrant mother, who currently is in an Arizona detention center, but now could be allowed to be freed and apply to become a U.S. resident under the President's executive amnesty.
Anchor Scott Pelley introduced CBS News correspondent Ben Tracy's report as "the story of a divided family" to which Tracy introduced the three children, ranging from 16-years-old down to age 10, and how their mother was arrested last year as the family was crossing some railroad tracks in Arizona. 
The woman was subsequently deported back to Mexico, but soon made it back before being sent to the detention center. Conveniently, the family Tracy reported on would fall under "the President's executive action" which will "shield" their mother from deportation. 
In the meantime, Tracy lamented that "the Avilas are being shuffled between family members in the Phoenix area" and mentioned how one of the children wrote "a letter to immigration officials asking them to free her" so she can come watch him play soccer. His report included numerous emotional softball questions sprinkled throughout it as well.
Over on NBC Nightly News, senior White House correspondent Chris Jansing was all too helpful to the pro-amnesty crowd as well and spent the first portion of her report from the Washington offices of the liberal group United We Dream as they were "gearing up to defend President Obama" from Republican criticism.
In the program's tease, anchor Brian Williams declared that there's a "showdown over immigration coming to a head tonight as the President boldly goes where he threatened to go and it's controversial."
ABC's World News Tonight anchor David Muir painted a picture for viewers at the top of the broadcast that, on side of the debate on immigration, there have been children in favor of amnesty: "We've seen the images of the young dreamers with their message, 'immigration reform starts here.'"
On the November 20, 2014 NBC's Peter Alexander warned Republicans against taking any action against the President's Executive Order as he declared: "In many ways, politically, the ball is now in the Republican's court with a heated debate raging within that party about its best response. But it comes with a risk...potentially alienating Latinos in this country."
And of course PBS also chimed in on the President's unconstitutional DACA decision. In a segment on his PBS show on November 20, 2014 Charlie Rose and his guests described the responses from those in the Republican Party as "a bit extreme" and "ludicrous" while also harping on the conundrum that Republican leadership now supposedly faces in dealing with conservatives now that the executive amnesty is announced.
Joined by Karen Tumulty of The Washington Post and Michael Shear of The New York Times, the three discussed the President's executive action in a segment that was taped prior to his speech during the program's first 15 minutes.
On the topic of actions Republican leadership in Congress should take, Tumulty had no issues asserting that the leaders will have a "delicate" job rejecting more conservative members of the party: "The leaders here have a pretty – pretty delicate job on their hands, on the one hand to push back against the President but on the other hand, to tamp down some of their own members." 
Rose also spent time reading the reaction of outgoing Republican Senator Tom Coburn (R-Okla.), who emphasized that this is "a very serious situation" and was hoping there wouldn't be any "but you could see instances of anarchy" and "violence." For simply raising this possibility, Rose was befuddled and declared that it was "a bit extreme, I think."