Editor's Note, 12:25 a.m. Eastern: This post has been updated to include the 11:00 p.m. Eastern cable shows in our county.
------------------------------------------------------------------------
Twitter was set ablaze on Tuesday morning and likely sent ABC to curl up in the fetal position, after James O'Keefe's Project Veritas released a bombshell video of longtime journalist and 20/20 co-host Amy Robach admitting the network quashed her reporting from three years ago that would have helped expose serial pedophile Jeffrey Epstein. 
Not surprisingly, the blindly partisan cable networks CNN and MSNBC have assisted their fellow liberal comrades at the Disney-owned network in refusing to acknowledge the Project Veritas video since its release, which came during the 9:00 a.m. Eastern hour.
So, from 9:00 a.m. to 12:00 a.m. Eastern, there have been 11 different CNN shows totaling 15 hours of programming without a single mention of the ABC News scandal, Epstein, O'Keefe, Robach, or Project Veritas. 
For MSNBC, there were 15 different shows over 15 hours with nothing about this stunning development. During the 2:00 p.m. Eastern hour of MSNBC Live, there was a whole segment devoted to the latest ABC News/Washington Post poll about President Trump's job approval and hypothetical 2020 match-ups, but nothing about Epstein.
A search of CNN.com and MSNBC.com returned a grand total of zero search results on any of the above search terms (as of this story's publication).
Throughout the day, CNN and MSNBC programs invoked ABC to air clips of Secretary Mike Pompeo being pressed on This Week by host and former Clinton official George Stephanopoulos about the impeachment inquiry against the President, but couldn't stomach to pivot to a story that should be rocking the journalism landscape.
While it's likely painfully obvious, it's still worth stating that if this were an undercover video involving Fox News spiking a story alleging sexual abuse of underage women by a conservative or Republican, the impeachment-obsessed liberal media would screech to a halt, cackle like hyenas, and turn its guns towards the destruction of FNC.
Back in reality, a few of our friends helped set the record straight: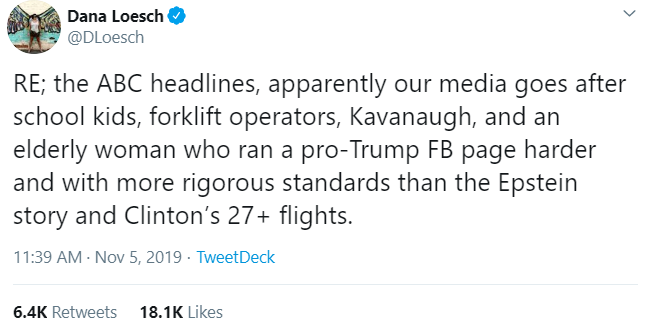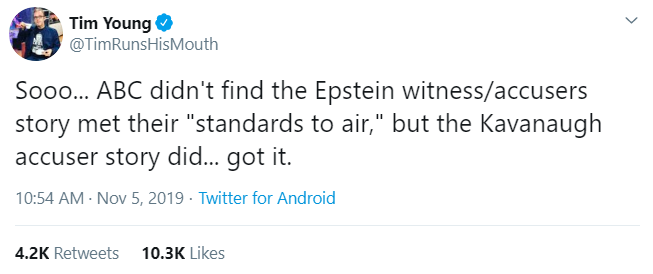 Whether it's their erroneous reporting about the Aurora shooting, Michael Flynn, Turkish military airstrikes, the collective failure with their Kavanaugh coverage, large portions of Brian Ross's career, or even the legal case against the network in the 1990s by Food Lion, ABC News has had a litany of not just blunders, but serious errors. 
Unfortunately for Amy Robach, her admission will live in infamy right alongside those other scandals.