Since news broke on Saturday regarding a string of pipe and pressure cooker bombs being found in New Jersey and New York (with some going off), nearly everyone in the news and political world have been offering their unsolicited hot takes via Twitter on bombs, radical Islam, and terrorism. 
Perhaps the most egregious and mind-boggling was MSNBC's All In host Chris Hayes, who ran into proverbial buzzsaw of outrage when he declared in a tweet that the people of the New York City metropolitan area were "very very lucky that the attackers tried to use explosive rather than guns."
Hayes was instantly met with a criticism and among them featured National Review's Charles C.W. Cooke, who reminded Hayes that now-arrested suspect Ahmad Khan Rahami "shot a cop this morning" with one of his bombs having injured "29 people, and could have been a lot more deadly."
"I just want you to know I'm thinking of you at this difficult time. It must be annoying not to be able to pivot to the NRA," Cooke later half-heartedly added in one tweet with another joking that "[i]t's good to resist getting into arguments after you've said something stupid."
<<< Please consider helping NewsBusters financially with your tax-deductible contribution today >>>
Cooke was also joined by Twitter users in tweeting pictures at Hayes of various terror attacks that similarly did not involve the use of guns with Cooke's contribution being an image of the leveled federal building in Oklahoma City after Timothy McVeigh bombed it on April 19, 1995.
Other pictures sent to Hayes included the Time magazine cover following the 1993 bombing of the World Trade Center and a graphic still photo of a bloodied Boston bombing victim being wheeled away from the scene with portions of his legs missing with bone pieces sticking out with the caption reading "lucky building."
Seeming to have realized what he invoked, Hayes doubled down by complaining: 
Somehow, Hayes was backed up by fellow liberal journalist Sam Stein of The Huffington Post and his assertion that he's glad Islamic terrorist Dahir A. Adan used "knives rather than a gun" in St. Cloud, Minnesota when he stabbed nine people at a shopping mall on Saturday night.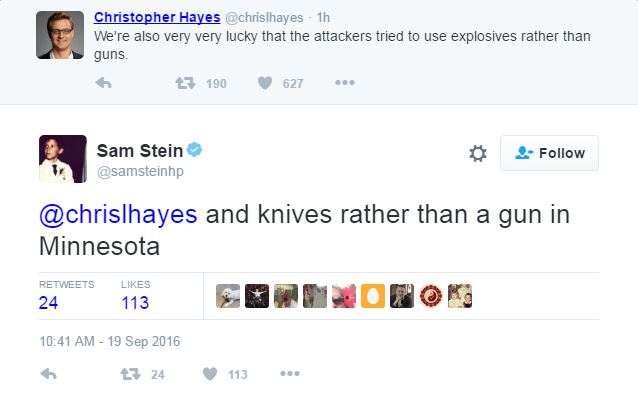 Putting a button on Stein's assertion, a user immediately responded to drop the reminder that "a guy with a gun stopped the bad guy.in [sic] both cases" to which Stein ruled that he's not "disputing" that fact and is "quite happy" the Minnesota situation wasn't any worse.