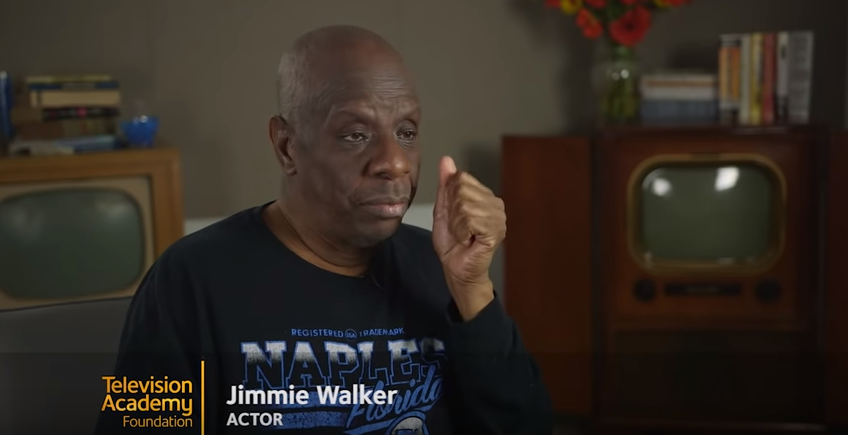 Jimmie Walker doesn't shy away from President Donald Trump in his stand-up act. Only Walker's Trump gags are meant to make people laugh, not inflame half the crowd.
The Good Times alum, 71, says that makes him different than most comics in the Age of Trump.
"I do Trump stuff, but it's not as anti [Trump] as everyone else," Walker says of his left-leaning peers. "They're not even jokes, they're just strong opinions that they hate him ... I'm not in that bag ... a lot of guys feel they can take off from their act for five minutes by saying, 'Trump stinks.'"
"I don't think you'll ever see a pro-Trump comic … it must be anti Trump. That's the law," he adds.
The veteran comic is back with a new stand-up special, "We're Still Here." He's teamed with fellow funny man Michael Winslow of Police Academy fame for a show available Aug. 7 on Amazon, Comcast and other digital platforms.
Walker is a registered Independent, and he's unwilling to mirror his colleagues' political posture.
"There's utter, absolute hate" for President Trump he says, a vitriol that matches the fury he recalls from the Vietnam War era. Walker sees another side to Trump, one reflected in states that chose the reality show star over Hillary Clinton.
"Trump's going to continue," he says. "Hollywood and the big cities, they're completely anti-Trump … but if you go out into the other 40 states, Trump has tremendous support."
Walker is no stranger to bucking conventional wisdom when it comes to politics. In 2012, he told Fox News' Bill O'Reilly why he didnt' support then-President Barack Obama.
"Barack Obama is more like a Tony Roberts type of guy … "You feel real good and happy and everything and then you go home and there's a foreclosure sign on your door," Walker said. "And you just go, 'Wait a minute. I just had this great meeting with this guy. He made me feel real good.' And I don't think he's a bad guy. I don't think he's a good guy for the job we have to do."
Walker began his career on comedy stages before a scouting director caught his act. That connected Walker to television icon Norman Lear, who was casting for a new sitcom about a black family living paycheck to paycheck. The rest is sitcom history, although Walker never gave up the stand-up stage after Good Times left the air in 1979.
Early in his career, most comedians avoided harsh language in their material. He fell right in line, instructing his writing team to keep the gags clean.
Not anymore.
"When I started we never had language like this," he says. "America is very R-rated now, but everybody will tell you they go to church, they have families … but then you listen to the comedy and you go, 'really? You have a family? Wow.'
That isn't the only change he sees within the stand-up world over the years.
"The industry when I started demanded a universality of humor … I'm not sure that's the case these days," he says, adding major agencies and agents can be critical for a new comic's rise.
"In the old days … Johnny Carson could make your career without having an agent or a manager," he says. "Nowadays, you do need those agencies to get going. It's important."
Walker's Good Times character was loud and proud, a firecracker throwing sparks off on a weekly basis courtesy of his CBS perch. Today, the more politically correct crowd wonders if the show embraced black stereotypes, from its impoverished setting to his character's outsized persona.
Walker doesn't agree, but he says scrutiny over the show's image had a lingering effect. Complaints over Good Times image helped stop the flow of predominantly black shows in the sitcom's wake.
That ended with NBC's The Cosby Show, featuring an upper-middle class black family. Walker says cultural pressure has made sure black TV families could make ends meet, unlike his sitcom clan.
Walker is shrewd enough to joke that he's "Still Here," but he understands his fame isn't burning as brightly as it did when he was a wiry 20-something on a smash sitcom.
"I'm not famous … if I was famous things would be much different," he says with a laugh, naming bigger comic stars like Bill Burr, Kevin Hart and Chris Rock." I'm not near that category of guy ... I'm just a grinder, the least expensive known headliner."