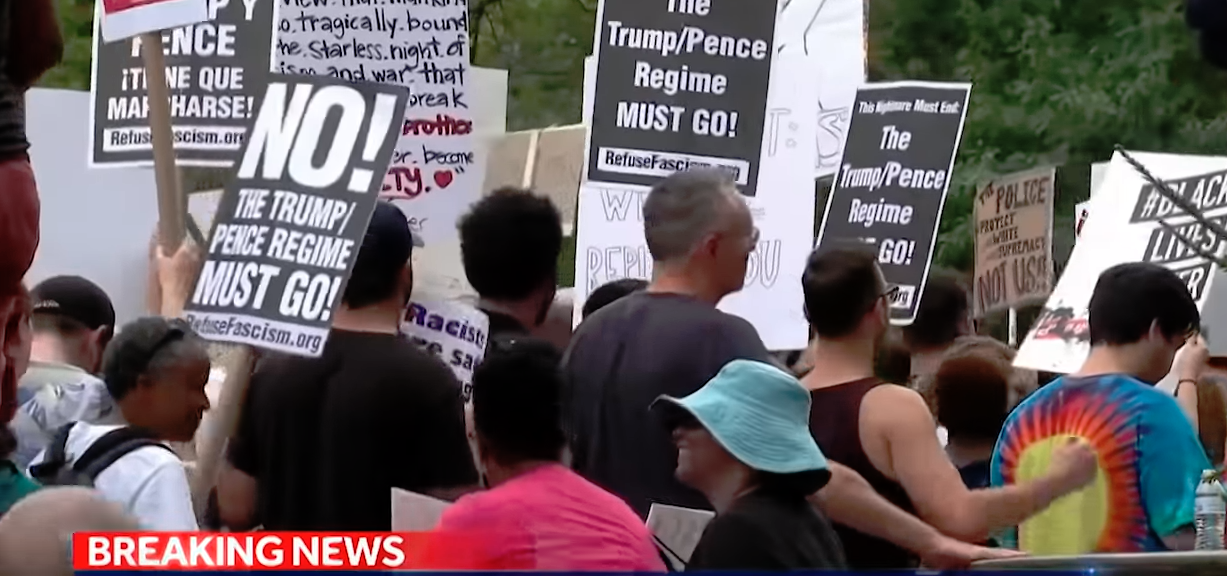 Editor's Note: As of the afternoon on September 25, Smash Racism DC took down their posts from Twitter and Facebook. Their pages are still up, however. 
Twitter and Facebook are eager to take down or block users who violate their terms of service … but only if they swing to the right of the spectrum.
After Senator Ted Cruz (R-TX) was driven from a restaurant in DC by a group called Smash Racism DC, a branch of Antifa, the activists took to Twitter and Facebook to delight in their supposed victory. On both platforms, the radical leftists broke several terms of service -- but so far managed to escape unscathed from the social media police.
On Twitter, the activists posted a lengthy series of tweets: "No -- you can't eat in peace -- your politics are an attack on all of us. You're (sic) votes are a death wish. Your votes are hate crimes." After describing their protest of Ted Cruz, they said,
"While our interruption does not compare in scale to the interruptions his actions as a Senator have had on millions of American lives, we hope that it reminds Cruz and others like him that they are not safe from the people they have hurt. This is a message to Ted Cruz, Bret Kavanaugh, Donald Trump and the rest of the racist, sexist, transphobic, and homophobic right-wing scum: You are not safe. We will find you. We will expose you. We will take from you the peace you have taken from so many others."
The post then gave away Gavin McInnes' phone number, as a doxxing method to protest the founder of Vice Media and host of a show on the Conservative Review. Twitter's safety policies are very clear on this: "You may not publish or post other people's private information without their express authorization and permission." There are no caveats offered — anyone's private information is enough to be a violation.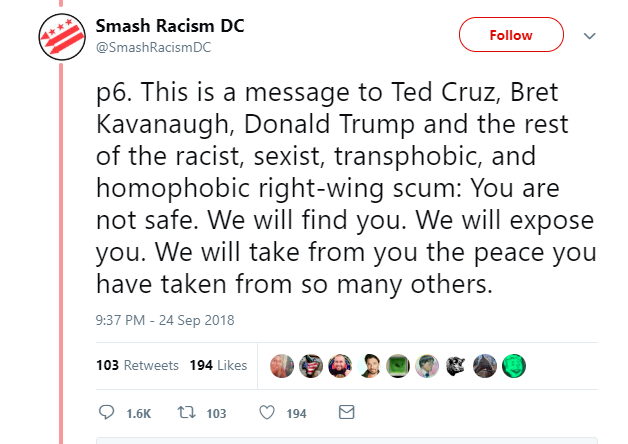 The threats also breach Twitter's rules: "You may not make specific threats of violence or wish for the serious physical harm, death, or disease of an individual or group of people. We will not tolerate behavior that encourages or incites violence against a specific person or group of people. We also take action against content that glorifies acts of violence in a manner that may inspire others to replicate those violent acts and cause real offline danger."
The same posts were made to Facebook. On the Facebook page, the group also made a post about "resisting grand juries" and call for "resistance of state repression." Another statement about Cruz, Kavanaugh, and Trump was made, "We demand a world free of sexual violence and state violence. We want a world without prisons, borders, or capitalism. You should be embarrassed for existing."
Twitter responded to inquiries from the Media Research Center, and requested the page link. Facebook did not respond at the time of publishing. Both pages are still up as of the morning of September 25.
Pages like Antifa and Hamas are allowed to exist in open violation of Twitter and Facebook policies, while conservative figures are shadowbanned and blocked from their accounts.