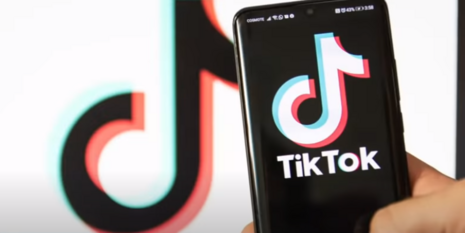 Despite TikTok's hate speech rules, anti-Semitism appears to be flourishing on the platform.
Anonymous TikTok users told The Jerusalem Post that their Jewish heritage has been attacked on the platform. One Jewish TikToker told The Post she began seeing calls to "bring back the Holocaust" and said death threats have nearly become a daily occurrence.
Another Jewish TikToker, who wished to remain anonymous over fear of retribution told The Post that she "wasn't posting anything about being Jewish or Israeli." But because she had an Israeli flag in her bio, she said she received a barrage of increasingly hateful comments. At one point, other users even threatened to reach out to one of her former employers. The Post reported that someone had found the Jewish TikToker's personal information, "and the thought that users might figure out where she lives still makes her uneasy."
Still another Jewish TikToker said she suspected that she was harassed for wearing a Star of David necklace in her videos and because she "had a Star of David emoji in her profile," reported The Post. 
TikTok guidelines about hate speech state that any language intending to "attack, threaten, incite violence against, or dehumanize" an individual or group of individuals on the basis of protected attributes, such as religion, ethnicity or national origin, will be removed from the platform. 
"Hateful ideologies," including "symbols, flags, slogans" and even "music or lyrics" that espouse them, are also not allowed, according to the guidelines. However, BBC reported that TikTok's algorithm "ensured" a video with the lyrics "we're going on a trip to a place called Auschwitz, it's shower time," garnered more than 6.5 million views before it was caught and taken down. Other videos using the song earned another half a million views.    
One anonymous Jewish TikToker began to post videos on Judaism and Israel on the platform in an attempt to combat the anti-Semitic attacks. "Once she started posting content about Israel, however, other users' reactions 'went from flags to death threats,'" The Post reported. 
"Hitler did not kill enough [Jews]" and "Jews worship Satan'' are some of the other anti-Semitic comments one of the Jewish TikTokers said she has seen on the platform.
The Post said that "TIKTOK HAS failed at protecting Jewish users from antisemitism, and the app's content filtering system is often used against Jewish content even when it meets community standards, according to the girls." One of the Jewish users said that "Nazi stuff," or videos of Israeli flag burnings, remain available, however.
TikTok removed more than 380,000 videos and 1,300 accounts in the United States last month for violating its hate speech policy, reported Reuters.
TikTok representatives met with Israel's Strategic Affairs Ministry on On Sept. 8, during which hate speech on the platform was discussed. TikTok's public policy director, Elizabeth Kanter, said, according to The Post, that the company will "not tolerate hate speech on our platform."
Two of the Jewish TikTokers who spoke to The Post remain on the platform, while the third is reportedly taking a break with plans to return. One of them has since made her account private, fearing for her safety after she said she had received "threats all the time." Another said she hopes the platform gets deleted, but will remain because she said it needs "larger and older Jewish creators" to engage with and protect younger Jewish users, The Post summarized.  
Tik Tok has censored posts about Donald Trump and Christianity, banned pro-life organization Live Action (later reinstating the group, citing "human error") and declined to send a representative to testify in the Senate during a hearing on Big Tech security. 
Conservatives are under attack. Contact TikTok at feedback@tiktok.com and demand that the platform provide clarity on "hate speech": Today, hate speech means anything liberals don't like. Silencing those you disagree with is dangerous. If companies can't tell users clearly what it is, then they shouldn't try to regulate it. If you have been censored, contact us at the Media Research Center contact form, and help us hold Big Tech accountable