As additional footage emerges, Planned Parenthood looks more and more like a Clinic of Corpses.
The Center for Medical Progress (CMP) released an 11th video revealing Planned Parenthood's abortion practices on Oct. 27. This time, the camera caught Texas abortionist, Amna Dermish, describing how she will sometimes "switch to breech" for abortions and aims to get "specimens out pretty intact." She laughed over her next goal – to "strive for" baby heads – and smiled while agreeing that aborted baby hearts are "cute."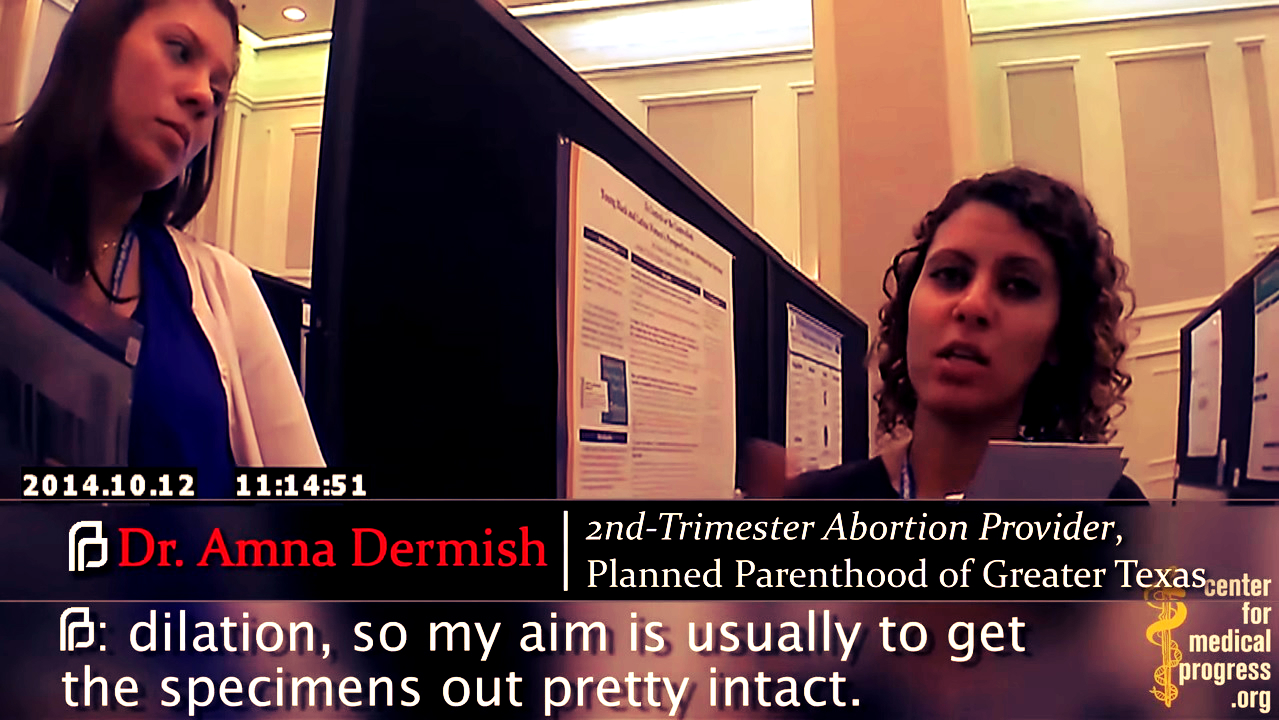 Dermish performs abortions up to 21.6 weeks at the Planned Parenthood clinic in Austin, Texas. She was trained by Planned Parenthood's Senior Director of Medical Services Deborah Nucatola, who appeared in the first CMP video.
In this new video, an undercover camera showed investigators acting as buyers from a fetal tissue procurement company as they met with Dermish and an unnamed representative from Whole Women's Health.
In their exchange, Dermish revealed that her clinic is "increasing to 30" abortions per day, 10 days a month.
"My aim is usually to get the specimens out pretty intact," said Dermish, before admitting, "I can if I need to" convert to breech to get the baby out.
Later in the video, Dermish denied providing specimens for research during her time at the Planned Parenthood clinic in Texas ("little over a year"), so it's unclear why she focused on keeping aborted baby parts intact.
Converting to breech (feet-first) is the first step of a D&E procedure or partial birth abortion, illegal in the United States since 2003.
Dermish confessed that she sometimes moves a 2nd-trimester baby to breech position by using ultrasound guidance. "Especially the 20-weekers are a lot harder versus the 18-weekers," she said, "so at that point I'll switch to breech."
One of the investigators chimed in on the similarity between her and Nucatola.
"That's what Deb [Nucatola] was telling us, was it really makes a difference for tissue collection at PPLA," he said. In the first CMP video, Nucatola described a partial-birth abortion technique to obtain aborted baby parts.
When he brought up harvesting an intact baby brain, Dermish replied, "I haven't been able to do that yet," but then laughed, "This will give me something to strive for!"
The conversation turned gruesome when Dermish described aborting a 20-week-old baby.
"So usually, what I do is, if it's a breech presentational, I'll go for the extremities first," she said, "the lower extremities, and then go for the spine and sort of bring it down that way. She illustrated the motion with her hands clawed in the air, pulling up and down.
At another point, she reiterated, "I always try and keep the trunk intact just by function of always trying to aim for the spine to bring it down."
Instead of seeing the horror in her practice, she and the other representative agreed that the end result was "cute."
"One of our POC [products of conception] persons is really into fetal development," Dermish recalled. "She'll pull out like kidneys, and the heart and like the heart we frequently see at 9 weeks and she always looks for it."
The Whole Women's Health rep called the heart "cute" while Dermish laughed and agreed with a "yes."
"It's amazing," Dermish said, "I have so much respect for development, it's just so incredible."
According to CMP, because Dermish does not use the chemical digoxin while aborting babies before 20 weeks, "her feet-first, intact extraction abortions are done on living fetuses." Citing U.S. law, CMP added that "using ultrasound guidance to manipulate the fetus from vertex to breech orientation before extracting the yet-living fetus is a hallmark of the illegal partial-birth abortion procedure."
CMP Project Lead David Daleiden criticized the findings in his latest video.
"Less than 4 miles away from the Texas state capitol, Planned Parenthood routinely practices barbaric partial-birth abortions on living, late-term fetuses," he began, before calling for action. "State-level criminal investigations must press charges, and Congress' new select committee must pursue a deep and comprehensive accounting of Planned Parenthood's atrocities against humanity."
Texas recently moved to end state Planned Parenthood funding from Medicaid, citing fraud and abortion-related crimes.
In addition to the above video, CMP also posted the unedited footage of the exchange with Dermish.
Planned Parenthood History
Planned Parenthood received more than $528 million in taxpayer funding during the fiscal year 2013-2014. That amounted to more than $1.4 million per day, through government grants, contracts and Medicaid reimbursements.
According to the Charlotte Lozier Institute, the U.S. ranks second in the world for the number of abortions performed each year. The research arm of the Susan B. Anthony List also found that, "If Planned Parenthood were included for comparison, it would rank sixth in the world in number of abortions carried out annually."
Media History
Since the release of CMP's first video on July 14, the broadcast networks have proven hesitant to publicize the story – and when they did, they refused to even utter the word "baby."
Two months after the first video's release, MRC Culture found that ABC, NBC and CBS had aired a mere 0.13% of the CMP footage during their news shows – or 1 minute, 13 seconds of more than 16 hours.
In early October, MRC Culture discovered that the networks spent more time combined airing Cecile Richards' defense of Planned Parenthood during a congressional hearing than showing the actual videos themselves.
From the beginning, the liberal media raced to defend Planned Parenthood. In the first 9 hours and 30 minutes of news shows broadcast after the story broke, ABC, NBC and CBS, spent only 39 seconds on the first video. It took more than 24 hours before all three covered the story. In the week after the first video, the networks gave a mere 9 minutes and 11 seconds to the story (in contrast, the nets devoted more than three times that to the Susan G. Komen controversy, when the charity temporarily decided to defund the abortion giant).
ABC, NBC and CBS prioritized animals over aborted babies, by covering the shooting of Cecil the lion more in one day than they did these videos in two weeks and in their reporting on birth of the National Zoo's panda cubs.
Not only that, but also they refused to cover the tens of thousands of Americans speaking out against Planned Parenthood during nationwide rallies held in late August – except as a side note when CBS tried to connect the event to arson.
Citing information from MRC studies, both Sen. Mike Lee (R-UT) and members of Congress led by Rep. Louie Gohmert (R-TX) have slammed the media for their lack of coverage on the videos.
The media similarly stayed silent on the case of Philadelphia abortionist Kermit Gosnell. Gosnell's trial, in which witnesses described baby abortion survivors "swimming" in toilets "to get out," attracted a scant 12–15 reporters. Only after 56 days, multiple letters from members of the House of Representatives and a public outcry, did all three broadcast networks report on Gosnell.