As Antifa and BLM continue their sixth month of mob rule over our cities without any pushback from "decent" Democrats, lefty celebrities like Alec Baldwin have the nerve to refer to President Trump as an authoritarian leader who deserves a gravestone with a "swastika" carved into it. 
The Saturday Night Live Trump impersonator and Glengarry Glen Ross star focused more ire toward his political nemesis on the weekend of November 15, outright condemning President Trump as a "Nazi" who deserves to lie in a Nazi grave.
"Bury Trump in a Nazi graveyard and put a swastika on his grave," Baldwin tweeted to his one million Twitter followers on Sunday. Ouch. That's quite the slander, but not surprising from the angry, vengeful actor who has acquired notoriety for rough treatment of his own daughter. 
Baldwin added that the apparent election results, which position Joe Biden as the president-elect, showed that Americans made the right choice. He tweeted, "The majority of Americans made the right choice. Trump is a maniac." 
The irony of Baldwin praising Biden supporters and calling Trump Hitler as lefties bludgeoned Trump supporters in D.C. streets on the night following a peaceful Trump protest is enough to make your head spin.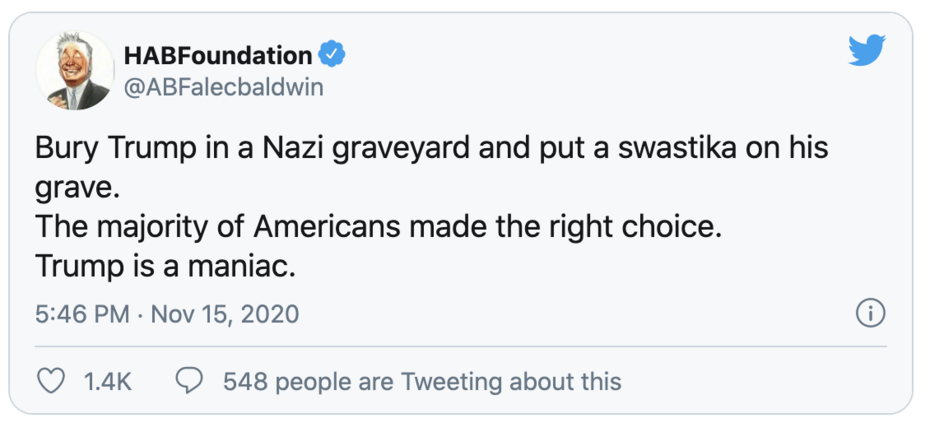 Still, Baldwin wasn't done verbally accosting Trump supporters online. In response to video of ABC interviewing pro-Trump rally attendees, the actor insinuated that Trump supporters were clinically insane and, for good measure, took the name of the Good Lord in vain while doing so.
He tweeted, "In the name of the Father, the Son and the Holy Spirit, get these people some mental care." This is rich coming from the 30 Rock star who has been arrested for violent altercations with pedestrians in the past. Though, perhaps he knows exactly what poor mental health feels like.
This isn't the first time Baldwin has referred to Trump as a Nazi or his supporters as psychos. In April, the actor claimed that anyone who voted for Trump's re-election was "mentally ill." In February he made a direct comparison between the bloodthirsty leader of the Third Reich and the current president. 
He wrote, "You wonder how Hitler took control of a once great country. For those of you too young to recall the War or its aftermath, simply watch how this GOP-controlled Senate behaves..." Ah, yes, Hitler committed genocide and Trump tweeted too much. BUT both men had people who helped their respective agendas. It seems that alone makes their likenesses uncanny, right?
Nope, not at all. Even though Trump has been all but destroyed by Joe Biden in the minds of these Hollywhackos, our prediction is that they'll beat the dead horse of his "evil" for years to come. Baldwin may be done playing Trump on SNL, but it seems he'll never let go of him completely.