If aliens were to come to earth this week and witness firsthand the gloating going around Twitter over the president and his wife contracting coronavirus, they'd probably leave and never come back. In fact, they might want to drop a few planet-killing payloads and put us all out of our misery.
After President Trump announced that he and his wife had tested positive for the China Virus in the early morning of October 2, Hollywood went nuts, to say the least. Offering simple condolences or well wishes for the man they hate with a burning passion was impossible for too many lefty celebs. 
Most hailed the perceived irony that he carelessly let the virus spread and now has it himself. A few others even said it served him right and wished the suffering upon him. 
Law and Order: SVU actor Chris Meloni appeared to rejoice over Trump's positive Covid test. Responding to news that controversial right winger Jacob Wohl was in hot water with the law over voter suppression, Meloni tweeted, "I mean, this AND trump infected with Covid.... hey Friday, where ya been, baby." Oh yeah, glad he's having a good one.
Comedian Chelsea Handler tweeted a boastful "I told you so" on Friday morning, writing, "Blatant disregard for science and basic disregard for facts...leads to COVID." Ok, sure. But what about all the beloved Hollywood actors who caught COVID early? Handler would never speak to Tom Hanks or Idris Elba like that, would she?
Trump nemesis Rosie O'Donnell had a positive view of Trump's diagnosis, which only applied if Trump passed away that is. The former TV personality tweeted a supposed exchange with her seven year-old daughter: "dakota - mom did u hear trump has covid? me - yes honey  dakota - maybe he will get nicer in heaven #AmericaOrTrump." Well that's the great leftist hope isn't it? But more so the part that he leaves this world.
Good Will Hunting actress Minnie Driver thought insulting a sick U.S. president was a great way to greet the day. She tweeted, "Extraordinary that a virus would want to use ANOTHER virus as a host? #TrumpHasCovid #TrumpCovid." 
The Princess Bride actor Cary Elwes tweeted a short and nasty dig at Trump and his supporters over the news, asking, "How fake is it now?" Good one. Though we thought the left was mad when Trump admitted to Bob Woodward he knew how "dangerous" the virus was back in February. 

Comedian Kathy Griffin said she would say a prayer for the First Lady and President Trump, on a couple wicked conditions however. She tweeted, "Ok fine. I'll pray for him and the wife on one condition. NOT mild symptoms. And they each go on a ventilator, for at least 5 days. That's my best and final." Wow. Though that is generous for the lady immortalized in a photo holding up the bloody, decapitated head of a Trump effigy. 
West Wing actor Bradley Whitford blamed the president's diagnosis on his own failings. He tweeted, "The President's arrogant, cynical, irresponsible denial of the deadly disease he now has is the most devastating self own in human history." 
Whitford also used the opportunity to call Trump a "white nationalist" and make another indictment against racist America, writing, "Whole bunch of our most vulnerable citizens, disproportionately communities of color, have been dying of this disease.  Now that a While Nationalist has it, maybe we'll take it seriously."
When Harry Met Sally director Rob Reiner quipped, "That damn hoax." Of course this referenced that media lie that Trump had called the virus itself a hoax. Again, CNN gloated over  audio of him telling Woodward he knew it wasn't a hoax, and regardless, Trump was using "hoax" to describe Democrats' politicizing and accusations that he wasn't working to prevent the virus.
Prior to news of Trump contracting COVID from White House Staffer Hope Hicks, Cheech and Chong character Tommy Chong actually wished that Hicks (who was positive at the time) would give the virus to the president. In a since-deleted tweet, Chong wrote, "Hope Hicks has the virus! She tested positive and has been closer to the president than any one else! Now what? Will Trump get it? Alright!"
And excited Chong added, "Quit smiling! And cheering! Stop celebrating! Stop it!" Disgusting. Perhaps Chong should go "chill out."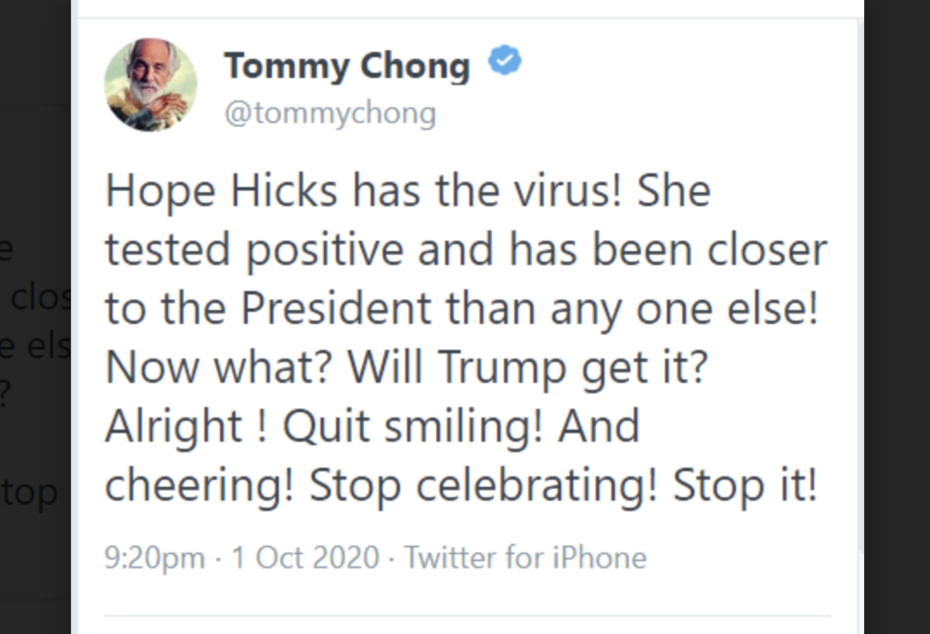 Lion King actor Billy Eichner lashed out at people criticizing lefties for gloating about the president's misfortune. In an unhinged paragraph, Eichner practically yelled, "This man let over 200,000 Americans die in the last 6 months, INTENTIONALLY withheld life saving information from us, lied and downplayed the virus until hundreds of thousands of innocent people were DEAD."
So no, Eichner wasn't going to be nice. He concluded, "Fuck these monsters. Blood on their hands forever. VOTE THEM OUT!!!"