Sadly, not even lung cancer diagnoses are enough to escape the bitter taste of partisan politics.
Only a couple of short hours after legendary conservative talk radio host Rush Limbaugh revealed his diagnosis of an advanced stage of lung cancer, media publications and media figures began to get their digs in on the man because of his massive decades-spanning conservative influence.
New York Daily News took a subtle approach to sliming Limbaugh, essentially calling him an idiot for smoking cigars for years. Now, everyone knows it's bad for you, but it's still in poor taste to prattle on about one's vices mere moments after they reveal a life-threatening disease.
The lefty outlet published an article criticizing Limbaugh for denying the "health risks of smoking" and summed up his ignorance in the piece's Twitter caption. It stated, "Limbaugh had denied second-hand smoke danger, said smokers take 50 years to catch cancer — and that society should thank smokers for tax money on the products." Sure, he was flippant on smoking. Do we have to do this this early?
Upon first reporting Rush's devastating diagnosis, the same outlet described Mr. Limbaugh as "the loudmouthed conservative radio host." Real sensitive, guys.
Daily Wire commentator Ryan Saavedra tweeted a not-so-flattering paragraph from The Washington Post's piece on the news. In the blurb, the paper told readers that Limbaugh "once accused actor Michael J. Fox of faking his symptoms of Parkinson's disease."
The paper also brought up that he supposedly "was widely rebuked in 2012 for describing a Georgetown law student, Sandra Fluke, as a 'slut' for advocating for mandatory insurance coverage for contraceptives." It added, "These comments sparked a brief advertiser boycott of his program." Yes, this should encourage fond reader responses.
NBC "Late Night Writers Workshop'' member, theater writer, and comedian Nick Jack Pappas composed an insensitive tweet upon hearing the news. He wrote, "I'm so sorry for lung cancer, no one deserves Rush Limbaugh. I wish him the best medical care he's worked on denying to others." Classy.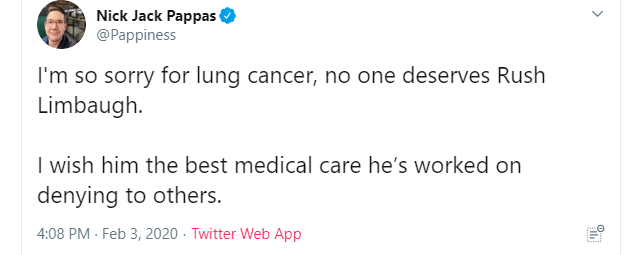 Pappas followed it up with a post taunting folks annoyed with his disgusting comment, writing, "In this thread: Fans of Rush Limbaugh who are suddenly upset about mean words." Oh, the people who don't approve of mocking Limbaugh's cancer are insufferable, huh?
Former CSI actor and occasional political commentator John Fugelsang gave Rush a rude shout out as well all because Rush didn't approve of socialized healthcare. He tweeted, "I wish Rush Limbaugh a safe and rapid recovery; which also includes a secret Empathy Transplant. May his pre-existing condition, and the pre-existing conditions of all the Americans he fights to keep from being covered for pre-existing conditions, never return." Wow, how kind. Imagine being the type of person who makes fun of lung cancer sufferers just because of political disagreements.