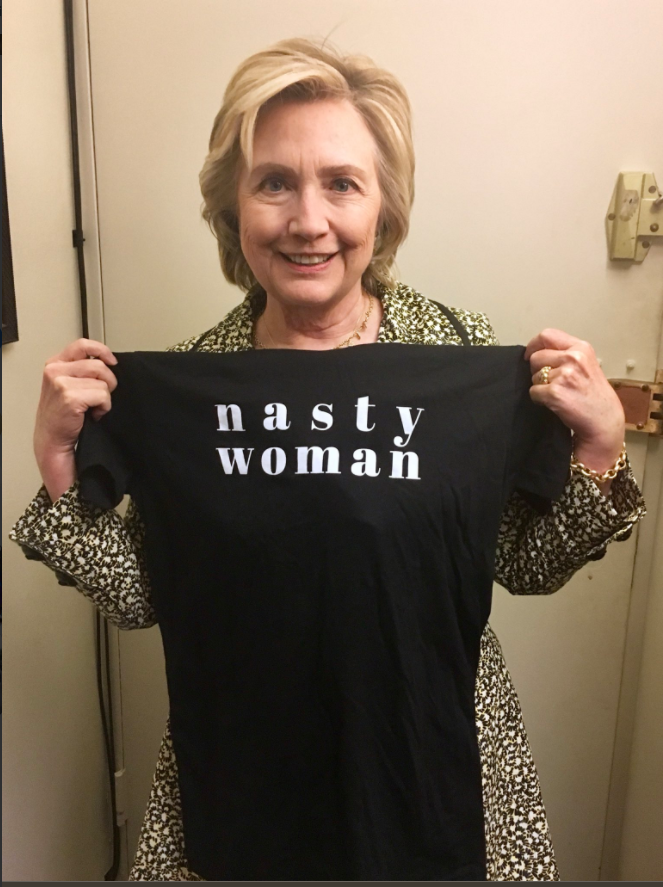 Hillary Clinton was, in the words of Donald Trump, the original "Nasty Woman." And she's apparently proud of it.
The former Democratic presidential candidate used a picture to publicize her support of Samantha Bee and her "Nasty Woman" products. The photo, shared on Clinton's twitter page, shows Clinton holding the 'Nasty Woman' shirt up to herself as she smiles into the camera.
A picture is worth a thousand words, and this statement is nothing but irony. Recently, Samantha Bee's Full Frontal producer on TBS just protested that the show was "not party-affiliated." However, Samantha Bee and her producers have frequently admitted that they would have preferred Hillary to be president over Trump, and argued that if Hillary were in office, they would "be able to tell a diverse range of stories."
Bee has plunged into liberal agenda, drowning her audience in incessant jabs at Trump and anyone who identifies as right wing. She has mocked the right-wing media, calling them ignorant, and compared their style to Nazi fashions.
Clinton, the hero of the left, has been spending her time during the Trump administration doing very important liberal activities. She has given speeches supporting Planned Parenthood, during which she compared the United States to the world of The Handmaid's Tale. In addition, she's given interviews, delivered a commencement address at Wellesley, and has done very little else besides attack Trump, Spicer, and the current administration, while the networks cheer her on.
Guess she has to pay the bills somehow.