On Monday's CNN Newsroom With John Berman and Poppy Harlow, co-anchor John Berman questioned former Congressional Budget Office Director Doug Elmendorf about the upcoming CBO figures of the Republican Party's replacement of ObamaCare. However, the CNN host failed to ask about the same office, under Elmendorf's watch, having inaccurately projected the financial impact of President Obama's health care law in 2009.
---
Back in March, in the runup to the final ObamaCare vote in the House, the establishment press was thrilled when the Congressional Budget Office issued a report estimating that ObamaCare would, in the CBO's words, "produce a net reduction in federal deficits of $138 billion over the 2010–2019 period as result of changes in direct spending and revenue." At the time, NB's Brent Baker noted how positively giddy Katie Couric at CBS News was over the CBO's estimate. Couric even claimed: "The price tag certified."
If only. It turns out that the key word in the CBO statement was "direct."
On Friday, CBO head Doug Elmendorf made a presentation (HT Jed Graham at IBD) at the Schaeffer Center of the University of Southern California entitled "Economic Effects of the March Health Legislation." In it, as shown below, he revealed a pesky and significant indirect effect of the legislation. In the process, he also introduced us to a new economic disease (my name) -- ObamaCare Withdrawn Labor Syndrome, or "OWL":
---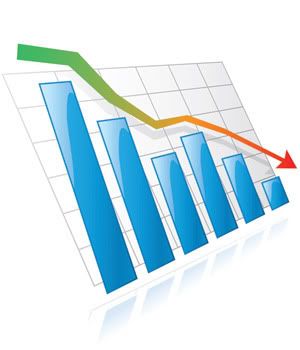 White House Budget Director Peter Orszag and Congressional Budget Office Director Doug Elmendorf have a problem: They can't revise their budget estimates quickly enough to account for the continued bad news about tax collections arriving daily from the Treasury Department. Luckily for them, but unfortunately for taxpayers, an establishment media obsessed with PDS (Palin Derangement Syndrome), TDS (Tebow Derangement Syndrome), and TPDS (Tea Party Derangement Syndrome) isn't paying any meaningful attention to the problem.
Back in August of last year, the CBO guesstimated that collections during fiscal 2010 will amount to $2.264 trillion. That guesstimate assumed a 7.5% increase over the $2.105 trillion collected in 2009, and clearly depended heavily on a revival in private-sector economic growth and employment.
Well, economic growth has occurred. The problem is that it's the government that has grown, while the private sector has shrunk. Additionally, according to the Establishment Survey published by Uncle Sam's Bureau Labor Statistics, seasonally adjusted total employment has continued to fall.  
Thus, CBO dropped its estimate of fiscal 2010 receipts in projections it released in late January to $2.175 trillion. The collections guesstimate in the Obama administration's budget is actually a bit lower:
---