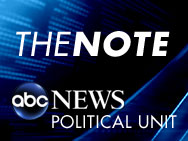 As NewsBusters reported Wednesday, ABC News's political director Mark Halperin made some stunning statements about liberal media bias on Tuesday's O'Reilly Factor on Fox News. In the introduction, O'Reilly referred to an Internet posting entitled, "How the Liberal Old Media Plans to Cover the Last Two Weeks of the Election." This was written by Halperin and some of ABCNews.com's "The Note" gang on Monday, and outlined a twelve-point strategy for the media to use in the next two weeks leading up to the elections.
It was pointed out by NewsBusters on October 19 that the folks at "The Note" like to use sarcasm to prove their point concerning bias. As such, this pre-election media strategy is likely somewhat tongue-in-cheek. However, given Halperin's statements to O'Reilly on Tuesday, one has to wonder just how much truth is buried in the seeming satire:
1. Glowingly profile Speaker-Inevitable Nancy Pelosi, with loving mentions of her grandmotherly steel (see last night's 60 Minutes), and fail to describe her as "ultra liberal" or "an extreme liberal," which would mirror the way Gingrich was painted twelve years ago.

2. Look at every attempt by the President to define the race on his terms as deluded and desperate; increasingly quote Republican strategists saying that the President is hurting the party whenever he enters the fray.

3. Refuse to join the daily morning Ken Mehlman-Rush Limbaugh conference calls, despite repeated invitations. LINK

4. Imbue every Democratic candidate for whom Bill Clinton campaigns with a golden halo.

5. Paint groups that run ads or do turnout for Republican candidates as shadowy, extreme, corrupt, and illegitimate; describe their analogues on the left as valiant underdogs, part of a People's Army (with homage to Rich Lowry).

6. Care more about voter disenfranchisement than voter fraud.

7. Take every Republican quote expressing some trepidation about the outcome and banner it.

8. Drop any pretense of covering good news from Iraq (uhm&.) or good news about the economy, including some upcoming positive macro numbers (Quick, Note readers: name the current Secretary of the Treasury.). LINK

9. Amplify Obama-mania as a metaphor for the Democratic Party being the party of excitement and the future.

10. Fail to follow Bob Novak's analysis of the difference between Democratic and Republican oppo plants. LINK

11. Lock in the CW (which, shockingly, could be wrong) that the winner of two out three Senate races in Virginia, Tennessee, and Missouri will control the Senate.

12. Carefully document what appears to strategists in both parties to be the case — while a few incumbent Republicans are clawing their way back into contention (including and especially, perhaps, Tom Reynolds), the number of endangered Republican-held seats is growing, not shrinking.