On Monday's "Anderson Cooper 360," CNN's Anderson Cooper related his visit to a Hezbollah-controlled section of Beirut where he was supposed to photograph certain damaged buildings, part of the terrorist group's strategy of generating news stories about Lebanese civilian casualities caused by Israeli bombs.
But instead of merely transmitting Hezbollah's unverified and unverifiable claims to the outside world, Cooper — to his credit — exposed the efforts by Hezbollah to manipulate CNN and other Western reporters. It's
quite a contrast
from the much more accommodating approach taken by his colleague, Nic Robertson, in a report that aired on a variety of CNN programs (including AC360) back on July 18, a report that Robertson himself
has now conceded
was put together under Hezbollah's control.
Unlike Robertson, Cooper was explicit about how Hezbollah's operatives had set all of the rules: "Young men on motor scooters followed our every movement. They only allowed us to videotape certain streets, certain buildings," he explained. He countered Hezbollah claims that Israel targets civilians by pointing out that the group based itself in civilian areas and that Israel's air force drops leaflets warning of attacks.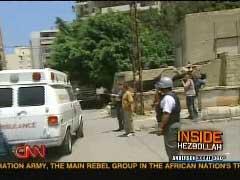 Cooper exposed for CNN viewers that the sight of speeding ambulances, sirens blaring, was just a phony play staged by Hezbollah: "One by one, they've been told to turn on their sirens and zoom off so that all the photographers here can get shots of ambulances rushing off to treat civilians....These ambulances aren't responding to any new bombings. The sirens are strictly for effect."
CNN showed cameramen from other news organizations dutifully photographing the ambulances as they went by.
Cooper had left Lebanon and was stationed in Haifa, Israel for Monday's broadcast. His report on his trip "Inside Hezbollah" appeared at about 10:40pm EDT Monday (6:40am Tuesday, local time), the first hour of his two-hour program.
"We'd come to get a look at the damage and had hoped to talk with a Hezbollah representative. Instead, we found ourselves with other foreign reporters taken on a guided tour by Hezbollah. Young men on motor scooters followed our every movement. They only allowed us to videotape certain streets, certain buildings. Once, when they thought we'd videotaped them, they asked us to erase the tape. These men are called al-Shabab, Hezbollah volunteers who are the organization's eyes and ears."

Gesturing to racks of music CDs in a building that had lost at least one of its walls, Cooper remarked, "You see their CDs on the wall still."

He continued: "Hezbollah representatives are with us now but don't want to be photographed. They'll point to something like that and they'll say, 'Well, look, this is a store.' The civilians lived in this building. This is a residential complex.

"And while that may be true, what the Israelis will say is that Hezbollah has their offices, their leadership has offices and bunkers even in residential neighborhoods. And if you're trying to knock out the Hezbollah leadership with air strikes, it's very difficult to do that without killing civilians.

"As bad as this damage is, it certainly could have been much worse in terms of civilian casualties. Before they started heavily bombing this area, Israeli warplanes did drop leaflets in this area, telling people to get out. The civilian death toll, though, has angered many Lebanese. Even those who do not support Hezbollah are outraged by the pictures they've seen on television of civilian casualties."

As the video showed a group reporters and photographers interviewing a single woman on a blanket, Cooper explained, "Civilian casualties are clearly what Hezbollah wants foreign reporters to focus on. It keeps the attention off them — and questions about why Hezbollah should still be allowed to have weapons when all the other militias in Lebanon have already disarmed.

"After letting us take pictures of a few damaged buildings, they take us to another location, where there are ambulances waiting.

"This is a heavily orchestrated Hezbollah media event. When we got here, all the ambulances were lined up. We were allowed a few minutes to talk to the ambulance drivers. Then one by one, they've been told to turn on their sirens and zoom off so that all the photographers here can get shots of ambulances rushing off to treat civilians. That's the story that Hezbollah wants people to know about.

"These ambulances aren't responding to any new bombings. The sirens are strictly for effect."

Cooper concluded: "Hezbollah may not be terribly subtle about spinning a story, but it is telling perhaps that they try. Even after all this bombing, Hezbollah is still organized enough to have a public relations strategy, still in control enough to try and get its message out."