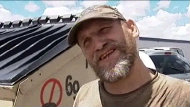 If you haven't seen any reports about this matter, let me introduce you to Gustus Bozarth, a homeless man that last week rescued a downed American flag from a severe rainstorm in El Paso, Texas.
His story has touched people across the nation, as his great deed was caught on tape by outdoor surveillance cameras at a federal contractor where the incident occurred.
The following is the television report that first brought attention to Bozarth's selfless act of patriotism (video follows with quotes from KFOX14's article published July 4 along with heartwarming updates):
There is typically an American flag that flies high in front of METI Inc., a federal contractor in East El Paso. But instead, the flag is lying flat inside and the flag pole is on the ground outside after a storm last Sunday.

"The wind and the rain knocked over the flag pole, causing the flag pole to lie on the parking lot overlooking Boeing Drive," said Rebecca Orozco with METI Inc.

But it is the condition in which employees found Old Glory that shocked everyone, until they checked their surveillance video.

"After watching the surveillance videos we noticed that it was a good Samaritan who we suspect was a homeless man that came to the rescue of the flag around 1:40 in the morning," Orozco told KFOX.

In the surveillance video you can see the homeless man in driving rain and wind carefully folding up the American flag military style and then placing the flag pole off to the side. [...]

KFOX found the man who didn't turn his back on the flag. His name is Gustus Bozarth.

"It's a small respect, folding the flag like that," said Bozarth. 
In this day and age when patriotism is being shunned by so many, it certainly brings a tear to the eye, doesn't it?
But the story gets better, for on Friday, a trust fund was set up for Bozarth. KFOX14 reports:
Soon after the airing of KFOX's story which originally aired on the 4th of July, offers from $5 to $1,000 poured in for the man many considered a patriot. [...]

Like KFOX, METI Inc., was inundated with emails and calls from people who want to help Bozarth. Through the Teresa Montoya PR firm, a trust fund was set up.

If you would like to help, the name of the account is: "In trust for Gustus Bozarth." it is being managed by Wells Fargo, 6175 Gateway Blvd. West, El Paso, Texas 79925. The account number is 7913692971. 
Also on Friday, KFOX14's weekend anchor that first reported this incident (Daniel Novick) shared some e-mail messages with America's unlikely hero:
Novick: "We got e-mails from all over the country. This one is from Brent Thurman in Louisville, Kentucky, he said, 'I almost cried when I watched that video and it made me so proud.

"This one is from a staff sergeant, retired from the United States Air Force, his name is James Knight, he said 'I was touched by the video of him and the flag.' He's a 100 percent disabled veteran.'

"Let me read another one for you. This one is from Army Forces Command in Fort McPherson, Georgia. They said, 'What an amazing, true American. Thank you so much for doing this story on this hero. It brought tears to my eyes, but they were proud tears of how happy I felt inside, of what this gentleman had done. Such a simple act of kindness and a heart that is saying I am proud to be an American. Again, thank you.'"

Novick: "What do you think about that?"

Bozarth: "It's interesting."

Novick: "How does it make you feel?"

Bozarth: "Feels good, making military feel good, making military feel good, that's the best thing making anybody feel good." 
In case you think patriotism is dead in this country, I give you Gustus Bozarth. 
Exit question: will Bozarth's act eventually live alongside Rick Monday's marvelous flag-save at Dodgers Stadium in 1976?