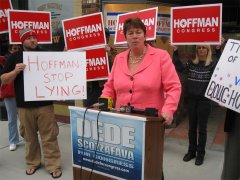 (New poll update at bottom.)
Chris Cillizza at the Washington Post has written a story in his Morning Fix political news analysis that is sure to cause conniption fits over at the Daily Kos which endorsed "Republican" Dede Scozzafava in the New York 23rd CD race that has now grabbed the attention of the political world. The political news that Cillizza has reported looks great for Conservative Doug Hoffman, bad for Scozzafava, and very depressing for the Daily Kos (and Newt Gingrich):
The Iowa caucuses may be more than two years from now but a series of moves by potential Republican presidential contenders has turned a special election in New York's 23rd district into an early test of conservative bona fides.

In the last week three GOPers with an eye on 2012 -- former House speaker Newt Gingrich (Ga.), Minnesota Gov. Tim Pawlenty and former Alaska governor Sarah Palin -- have weighed in on the race with Tpaw and Palin throwing their support behind Conservative Party candidate Doug Hoffman and Gingrich endorsing state Assemblywoman Dede Scozzafava.

(Polling and conversations with those close to the contest on both sides suggest it is now a two-person race between Hoffman and Democrat Bill Owens with Scozzafava fading badly.)
Besides Scozzafava another apparent loser in the NY-23 race seems to be Newt Gingrich who sent an e-mail to Cillizza pleading a bit too desperately the reasons for his support for the quickly fading Scozzafava:
Gingrich, for his part, insisted in an e-mail to the Fix that the special election was not -- and should not be interpreted as -- a conservative litmus test, and explained that his endorsement of Scozzafava was entirely about respecting local party leaders.

Gingrich noted that Hoffman had run against Scozzafava for the Republican nomination and lost at a series of county meetings; he warned of the "grave danger of establishing the precedent that every faction can run a third party candidate if they lose a primary or a convention," adding that such a strategy is "the road to re-elect [President] Obama and make [Nancy] Pelosi speaker for life."
Give it up, Newt. When you are on the same side as the far left Daily Kos, you know you have problems. And speaking of the Daily Kos they are currently in the process of playing down the lastest Club For Growth poll showing Hoffman surging into the lead. They are basically saying something like: "Please don't believe that Club For Growth Poll because it has a conservative agenda. You should believe our own outdated poll with a leftwing agenda."
Even the Democrat candidate Bill Owens isn't buying the Daily Kos premise that Hoffman is still far back in the pack as Cillizza noted yesterday:
Need more evidence of Hoffman's relevance? The Democratic Congressional Campaign Committee, after spending several hundred thousand dollars bashing Scozzafava, switched its ad traffic over the weekend to a new commercial hitting Hoffman.

The ad, which was produced by the firm of former DCCC executive director John Lapp, paints Hoffman as a millionaire who is out of touch with the economic hardships of many in the district. "Millionaire Doug Hoffman has a waterfront island home...even a classic car collection," says the ad's narrator. (Hellooooo class warfare!)
Your humble correspondent will be looking intently at the surest sign over the next few days that the Daily Kos doesn't believe in its own flawed poll if they end up switching their endorsement from Scozzafava, who now appears to have almost no chance to win, to the Democrat in the race.
One thing we can all agree on (with possible exception of Gingrich and the Daily Kos) is Cillizza's final observation yesterday about this campaign:
No matter the outcome, the viability of Hoffman's candidacy makes proves -- yet again -- the unpredictability of electoral politics. Man this stuff is fun.
UPDATE: A new Neighborhood Research poll has just come out showing the following results: Hoffman 34.1%, Democrat Bill Owens 29.2%, and Scozzafava 13.9%, with a ±4.8% margin of error. Among definite voters, it's Hoffman 37.5%, Owens 28.4%, and Scozzafava 13.5%, with a ±5.6% margin of error. Daily Kos switching its endorsement to the Democrat in 5... 4... 3... 2... 1...