This week, demonstrating why they're so despised by so many, the press created headlines out of thin air that Senators Bob Corker of Tennessee and Jeff Flake of Arizona, each of whom has announced that they will not run for re-election in 2018, "won't rule out" presidential runs in 2020.
In each instance, the Senators' statements leading to headlines weren't volunteered, but were instead created as a result of deliberate "news-creating" questions from journalists.
Getting a "won't deny" or "won't rule out" headline is a classic, pathetic, lazy journalistic trick designed to create a story where no genuine story exists.
The excerpts below indicate that neither man has given an iota of thought to the idea of running for President. But once asked, each man knows that "You never say never" in politics, especially if you're a conservative or a Republican — because if you change your mind after saying "never," reporters will make sure to call you a liar in their first campaign stories about your presidential campaign. (Democrats like Barack Obama, who promised during his 2004 Illinois Senate campaign that he would serve a full six-year term if elected and then announced his presidential run just two years later, get a pass.)
In the case of Flake, Julia Manchester at The Hill appears to have been so eager Wednesday morning to push the "won't rule out" meme that at one point she got the Senator's name wrong:
Flake won't rule out 2020 presidential bid

Sen. Jeff Flake (R-Ariz.), who announced his retirement and ripped President Trump during a speech on the Senate floor on Tuesday, did not rule out a presidential bid during an interview early Wednesday.

"That's a long time away, and we'll deal with that when it comes to it," Flake told ABC's George Stephanopoulos, when asked if he was ruling out a 2020 campaign.

"I'm focused on my next 14 months in the Senate, making sure we get some good policy. There are some things I want to accomplish in the short term," he said.

"That is not on my radar," Scott said on CNN's "New Day" when asked about challenging President Trump in 2020.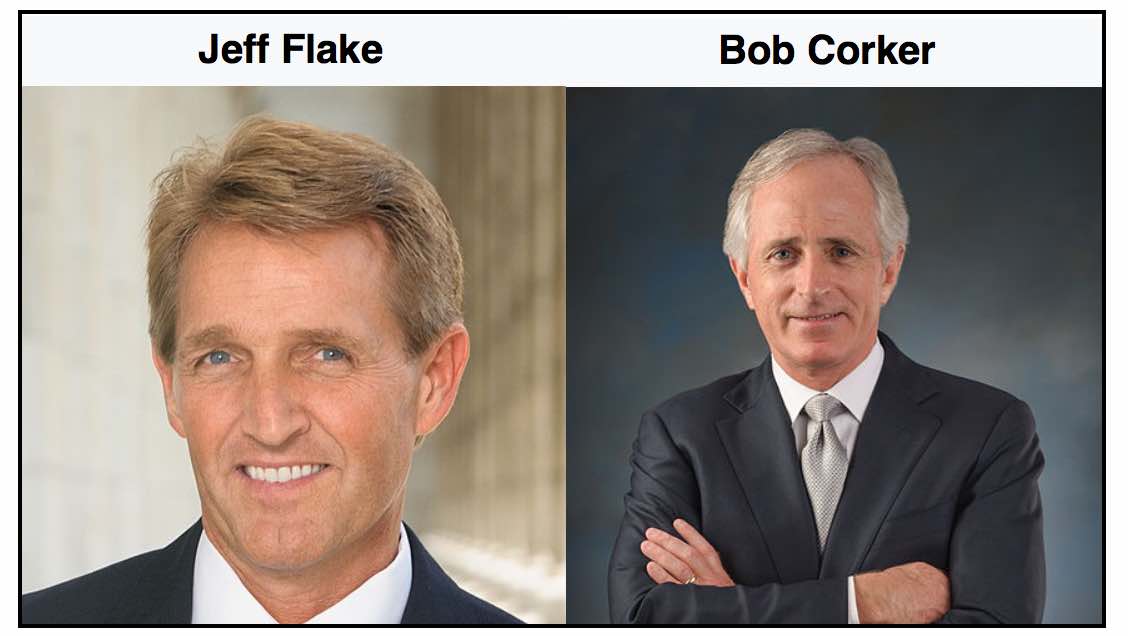 Uh, Julia, who in the world is "Scott"? Whoever he is, his name doesn't appear in CNN's related "won't rule out" story.
Friday, it was Corker's turn, as reported by Jonathan Mattise at the Associated Press in an early Saturday morning dispatch:
Corker: Possible 2020 run against Trump not ruled out

Sen. Bob Corker of Tennessee did not rule out a run in 2020 against President Donald Trump when asked about it by reporters Friday, saying he's focused on the next 14 months of his term and isn't thinking that far ahead.

The noncommittal response came as Corker doubled down this week on criticism of Trump, calling him "utterly untruthful" and responsible for "the debasement of our nation."

"You know, I don't know what I'm doing next Sunday," the senator responded when reporters asked about a potential presidential bid.

Corker said it was far too soon to say if he would want a strong Republican primary challenge of Trump, whether by him or someone else.
In each instance, there's absolutely nothing of substance present that anyone besides the press pack cares about. But the press, as is its longtime habit, created two stories out of nothing and pushed them out to the public as if they also care. We don't.
One other likely motivation: The Trump-despising press wants to see Trump challenged and perhaps weakened a bit before the general election campaign against the person nominated by Democrats. This doesn't seem particularly likely to accomplish much, given that Trump went from being considered a laughingstock to trouncing 16 GOP challengers last year.
Cross-posted at BizzyBlog.com.