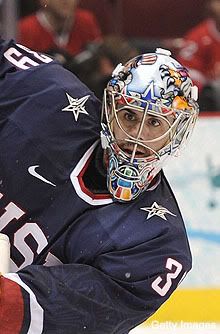 Although yours truly emphatically does not approve of the stunt, I have to acknowledge that whoever pranked MSNBC's "Morning Joe" co-host Willie Geist Friday by pretending to be Team USA hockey goalie Ryan Miller (pictured at right) did the nation two small favors:
First, he embarrassed a network that seems incapable of being embarrassed by much of what its hosts and guests say on a daily basis.
Second, he kept Chris Matthews off the air for a precious few minutes, as Geist interrupted "Hardball" to conduct a brief make-up interview with the real Ryan Miller.
Chris Ariens
has a brief story
 about the incident and Geist's real Miller time at Media Bistro's TV Newser site:
There was an embarrassing turn of events in Vancouver tonight.

MSNBC interrupted "Hardball" so that MSNBC's Willie Geist could do a phone interview with Ryan Miller, the goalie of Team USA hockey. The reason: Geist had done an interview earlier this evening with a man who was claiming to be Miller. The interview caught the attention of friends and fellow NHL players when the fake Ryan Miller had predicted USA would win gold Sunday.

Geist: First and foremost, Ryan, please accept our apology. It's a mistake that never should have happened. We misrepresented your name. We regret it deeply and I personally feel terrible about it.

Miller: No problem. I appreciate a good prank. But I do try to keep my reputation intact... I just want to clear up I will not be guaranteeing a gold medal. I look forward to a great game to compete for a gold medal, though.

Later, Miller told Geist he's "pretty laid back" and wouldn't have predicted such a thing.

.... "Well, I thought it sounded fishy at the time," said Geist. I'm sorry I didn't stop it sooner than we did." Geist then tossed back to Chris Matthews who continued with "Hardball."
Those who wish to indulge in the further guilty pleasure of seeing what the Miller impostor had to say can go to the transcript at Yahoo! Sports, where post author Greg Wyshynski observes that the caller's voice "sounds everything like a cast member from 'Jersey Shore' and pretty much nothing like Miller's, outside of being that of a male."
Cross-posted at BizzyBlog.com.