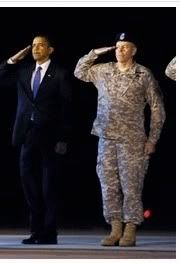 The Washington Post's Anne Kornblut (saved here in case her report is modified or disappears) captured a comment Obama made to U.S troops at Osan Air Base in South Korea while heading back to Washington after his Asian trip.
I believe that the comment (bolded) could be seen as shining a less than flattering light on the president's mindset:
Obama arrived on the base 3:19 p.m. local time (1 a.m. Eastern Standard Time), and received a rousing welcome from 1,500 troops in camouflage uniforms, many holding cameras or pointing cell phones to snap pictures.

"You guys make a pretty good photo op," the president said.
Does anyone think that a similar comment by Bush 43 would have escaped establishment media criticism? Let's see if this Obamism slides by without criticism.
Earlier in the report, Kornblut noted that Obama's Afghan dither continues:
President Barack Obama will not announce his decision on sending more troops to Afghanistan before the Thanksgiving holiday, senior aides said on Thursday.

..... Obama and his top military and diplomatic aides have been deliberating for months over how to proceed in Afghanistan, where the United States and its partners have sought for eight years to defeat the Taliban and deny al-Qaeda a safe haven from which it can plan and launch attacks.

Gen. Stanley A. McChrystal, the top U.S. and NATO commander in Afghanistan, has stated that without the deployment of up to 40,000 additional of troops within the next year, the mission "will likely result in failure." But some aides are arguing for a much smaller troop increase, and the U.S. ambassador in Kabul, Karl W. Eikenberry, has questioned whether the Afghan government can be a reliable partner.

Obama said in interviews Wednesday that he would reveal his decision within the next several weeks. On Thursday, aides clarified that there would be no announcement before Thanksgiving, one week away. Senior administration officials said Obama intends to meet with his national security team again before going public with his plans.
My cynical and admittedly speculative take on the "photo-op" comment is that Obama's far more cynical "senior aides" actually discussed the president's visit to our soldiers as a photo-op. The president (to their probable horror) picked up on it, thinking that using the term would be cute. If so, the slip, if you will, is quite revealing.
Possible comment fodder: As to Afghanistan, hasn't it been almost 100 days, if not longer, since General McChrystal made his request? And if I recall correctly, it was for 40,000 troops, not "up to" 40,000 as stated by Ms. Kornblut, which would give readers the impression that significantly fewer boots on the ground might be okay. I don't think so.
Photo above is the right portion of an AP original found here.
Cross-posted at BizzyBlog.com.