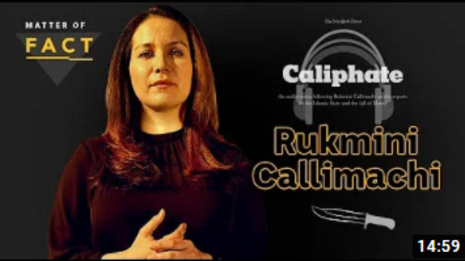 The New York Times has a massive egg on its face as a prize-winning audio series has collapsed under a weight of falsehoods. David Rutz of Fox News reported their 12-part series "Caliphate" heavily relied on a serial fabulist who claimed to have been a member of the Islamic State (ISIS) terrorist organization. Reporter Rukmini Callimachi drew a Pulitzer Prize finalist citation and brought the newspaper its first Peabody audio award.
The first five episodes of the series told the (phony) story of one Abu Hufayzah, the alias of Canadian citizen Shehroze Chaudhry. In September, Canadian authorities arrested Chaudhry, accusing him of concocting terrorist activities in media interviews, including those he described on "Caliphate."
Times executive editor Dean Baquet confessed to NPR media reporter David Folkenflik that the appeal of getting a "terrorist" to talk was too tempting:
"We fell in love with the fact that we had gotten a member of ISIS who would describe his life in the caliphate and would describe his crimes," Baquet said. "I think we were so in love with it that when we saw evidence that maybe he was a fabulist, when we saw evidence that he was making some of it up, we didn't listen hard enough."

An internal investigation has led to the lead reporter on the story, Callimachi, getting reassigned to a new beat. Callimachi also had two editor's notes placed on past stories from 2014 and 2019 that contained reporting errors.

"She's going to take on a new beat, and she and I are discussing possibilities," Baquet said. "I think it's hard to continue covering terrorism after what happened with this story. But I think she's a fine reporter." 
Baquet claimed "this failing wasn't about any one reporter. I think this was an institutional failing." But this isn't the kind of generosity the Times would show to a politician who intentionally or unintentionally perpetrated a hoax. An extensive correction blamed broader processes at the newspaper:
From the outset, "Caliphate" should have had the regular participation of an editor experienced in the subject matter. In addition, The Times should have pressed harder to verify Mr. Chaudhry's claims before deciding to place so much emphasis on one individual's account. For example, reporters and editors could have vetted more thoroughly materials Mr. Chaudhry provided for evidence that he had traveled to Syria to join the Islamic State, and pushed harder and earlier to determine what the authorities knew about him. It is also clear that elements of the original fact-checking process were not sufficiently rigorous: Times journalists were too credulous about the verification steps that were undertaken and dismissive of the lack of corroboration of essential aspects of Mr. Chaudhry's account.
This whole fiasco is an embarrassment for a paper whose motto is "The truth is more important now than ever."