You might know you're on The Huffington Post when you find an article headlined "My Son Wore a Dress for Halloween." The author was Kelly Byrom, an "Art Director for HLN-TV and CNN." Her son "Twirl" (a pseudonym) knocked on doors as the Disney fairy Silvermist.
Like a good liberal, she fears that her son will be pressured to change: "My biggest worry is the same as C.J.'s mom, who so eloquently wrote, "I don't want my boy to want a boy costume." I don't want my son to want a boy costume just because he is afraid to be himself. If he truly wants the boy costume, no big deal, but if he is doing it out of fear or shame, then that will be a problem."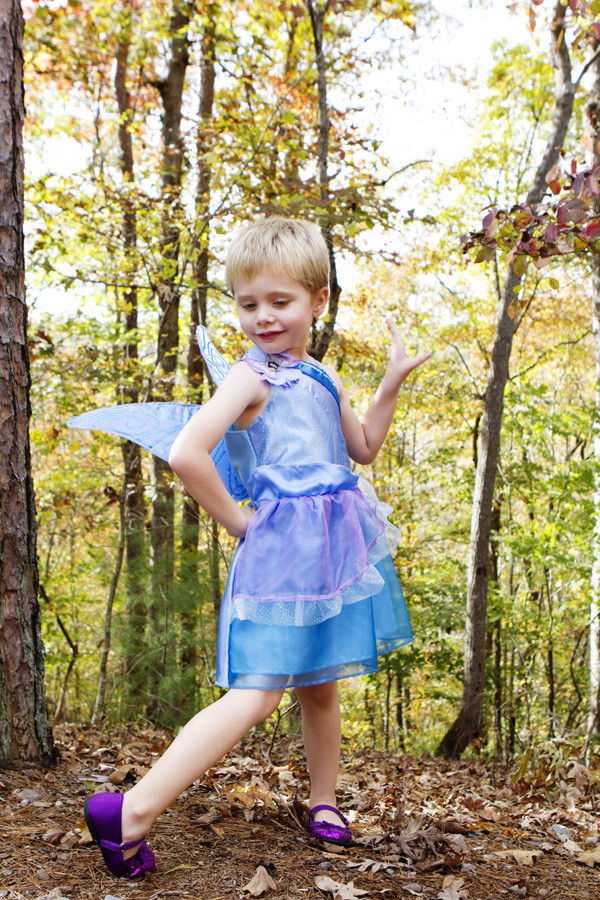 Byrom thought it a little funny that she didn't want the skirt too short on her son's costume, so "he decided on Silvermist, the blue fairy who has a longer, blue dress with a little purple in it. I knew he didn't have any shoes to wear with it, and his pink Converses weren't exactly going to complement that outfit, so we went to the shoe section, and he picked some glittery, purple Mary Janes. He was so excited to try them on, and they are without a doubt his favorite part of the costume."
One complication was the weather:
It was colder on Halloween this year, so as we started to get ready, I told Twirl that he would need to wear some of [his sister] Firecracker's tights and leggings. "I don't want to!" he replied. "People will laugh at me for wearing girl tights." I was thrown a bit by this, because I am not sure why he thought they would notice the tights before they noticed the fairy dress that he didn't seem hesitant to wear. I told him that just like any other time, people may ask questions and may laugh, but they're wrong, not him. I asked him if he would be happier going as something else or if he would rather take his chances. He smiled and grabbed the tights.
Naturally, the mother was ready to claw into anyone who suggested disapproval of this transvestite routine in any way:
About 12 houses in, an older man answered the door, started handing out candy and said to me and my husband Cory, laughing, "I'm not even going to ask about that." Twirl had already received his candy and was walking past me by the time the words were out of the man's mouth. I was instantly angry. Cory and I just looked at each other and carried on; Twirl and Firecracker were on a mission, and were already near the next house.

Later that night I asked Cory what he thought about that man's comment, and he remarked that although it was not a good way to put things, he was likely just pointing out the uniqueness of the situation. This might be true, or it might not be true. He may be a jerk, or maybe he isn't. But I do like Cory's way of not blowing up the situation. My instinct is to pounce, and I am learning that that is not always necessary. I don't really care what that man thinks; I just wanted to have a good Halloween night. And thanks to cooler heads, that's exactly what we had.
The Byrom family also celebrated Autumn by taking "Twirl" to his first Pride parade.
[HT: Dan Gainor]