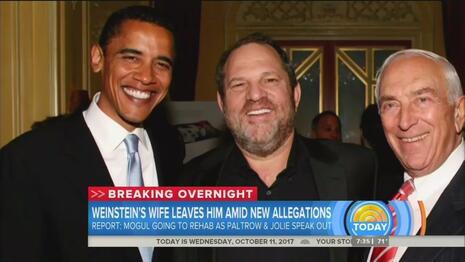 Four years ago this week, Hillary Clinton and Barack Obama were reeling from their connection to the monstrous Harvey Weinstein, the now-disgraced Hollywood mogul who has been convicted of sexual assault. But you wouldn't know just how deeply entwined the Clintons and Obamas were to the sex offender because the press was suppressing it.
On October 11, 2017, ABC, CBS and NBC finally covered Obama's eventual denouncement of Weinstein, allowing a total of 58 seconds to the ex-President belatedly getting around to condemning the man who donated over $40 thousand to him personally and over one million to Democrats.
Good Morning America managed a scant five seconds. At the end of a report on the Hollywood mogul, journalist Linsey Davis briefly noted, "And Weinstein has been condemned by the Obamas, by Hillary Clinton, by his friends."
Over on the Today show, reporter Stephanie Gosk mentioned the pertinent detail that Obama allowed his daughter to intern for Weinstein in 2017.
Former President Obama, who has received political donations from Weinstein and whose daughter once interned for the Weinstein Company, says, "Any man who demeans and degrades women in such fashion, needs to be condemned and held accountable, regardless of wealth or status." Hillary Clinton also spoke out after days of pressure. Like Obama, she received campaign donations and is friends with Weinstein, now saying she is shocked and appalled by the allegations.
It's easy to see why this is so awkward for the Democrats and their supporters in the media. Jericka Duncan on the October 11, 2017 CBS This Morning quickly allowed, "Weinstein hosted numerous Hollywood fund-raisers over many election cycles for President Obama and then-Democratic nominee Clinton. One fund-raiser at Weinstein's home in 2013 brought in over two million dollars."
Don't ever let the media lie to you: Harvey Weinstein was a favorite of the Democratic Party and very cozy with the news media. Here he is with CBS Mornings co-host Gayle King and CBS Evening News anchor Norah O'Donnell.
For more examples from our flashback series, which we call the NewsBusters Time Machine, go here.