When new Democratic Representative Rashida Tlaib ranted that Congress needs to "impeach the motherf***er" Trump, all three networks covered it. But when the Michigan representative was seen posing and meeting with a pro-Hezbollah activist who thinks Israel has no right to exist, ABC, CBS and NBC were silent. 
As reported by the Washington Examiner's Philip Klein, Tlaib appeared with Abbas Hamideh who tweeted, "I was honored to be at Congresswoman @RashidaTlaib swearing in ceremony in #Detroit and private dinner afterward with the entire family, friends and activists across the country. #Palestine."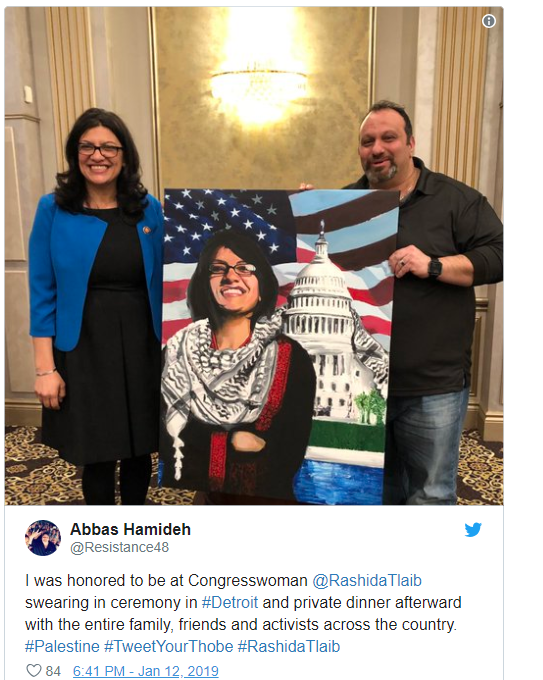 Who is Hamideh? As Klein noted, he has praised Hezbollah leaders and said this on November 19, 2016: "Israel does not have a right to exist. The terrorist entity is illegal and has no basis to exist other than a delusional ISIS like ideology." 
ABC, CBS and NBC have skipped this story since it surfaced on Saturday.  
When Tlaib on January 3 used a vulgar profanity against the President, CBS hyped it instead as "Republicans pouncing." NBC dubbed it as having caused a "barrage of Republican backlash" and journalists laughed about her simply "coming in real hot" against Trump.
These same networks rightly singled out and hammered Republican Congressman Steve King last week wondering, "White nationalist, white supremacist, Western civilization — how did that language become offensive?" 
Yet, silence on Tlaib's seemingly condoning anti-Semitism. It's not as though this is the Democrat's first brush with bigotry accusations either. As Jonathan S. Tobin wrote in Monday's New York Post, she made some ugly claims earlier this month (emphasis added) : 
Far more important was a statement Tlaib made days later about a debate in the Senate about a bill seeking to prevent those who do business with the federal government from complying with boycotts of Israel and its citizens. Tlaib tweeted that those who are supporting the bill "forgot what country they represent."

The implication was clear. Tlaib's accusation reeked of the classic anti-Semitic trope of dual loyalty, which smears Jews as seeking to manipulate the US against its interests. It also evoked decades-old -libels, like "The Protocols of the -Elders of Zion," since it framed broad support for the Jewish state in the US as a nefarious conspiracy rather than an -expression of the common values that unite the two democracies.
If Congressman King's disturbing remarks deserve coverage — and they do — the same networks need to investigate any potential anti-Jewish sentiment coming from Congresswoman Tlaib. In November, CBS and NBC celebrated the victory of Congresswoman Ilhan Omar of Minnesota, also accused of anti-Semitism.