Apparently, MSNBC's Stephanie Ruhle isn't aware that American presidents call and congratulate world leaders upon winning, even if those victories are disputed or if the individual involved has bad ideas, weird ideas or un-American beliefs. On Wednesday, the host bashed Donald Trump for congratulating Brazil's new president, Jair Bolsonaro. This, apparently, is a coded message to the "far right."
Ruhle warned, "President Trump publicly congratulated Brazil's far, far right populist candidate Jair Bolsonaro who was just elected as Brazil's president." She added, "I invite our audience to look into President Trump's support of Bolsonaro of Brazil. The average person reading the President's tweets probably don't realize what the President of Brazil represents."
Then came the through-the-looking-glass conspiracy theories: "But you know who realizes what he represents? People in the far right who are homophobic, who are against equality. When they see the president say something like that, it's a dog whistle where he says, 'I'm on your team.'"
Here is the entirety of Trump's dangerous message of support: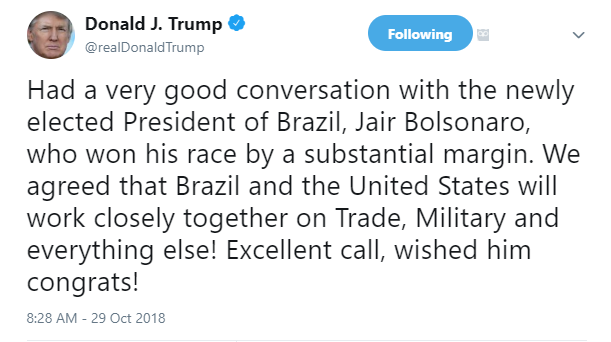 Fairly standard stuff. Is Ruhle not aware that this is what presidents do? How did she feel about Barack Obama's call of congratulations to Vladimir Putin? The Obama White House archives recounted the March 9, 2012 call:
President Obama called Russian President-elect and Prime Minister Putin to congratulate him on his recent victory in the Russian Presidential election. President Obama highlighted achievements in U.S.-Russia relations over the past three years with President Medvedev, including cooperation on Afghanistan, the conclusion and ratification of the START agreement, Russia's recent invitation to join the World Trade Organization (WTO) and cooperation on Iran. President Obama and President-Elect Putin agreed that the successful reset in relations should be built upon during the coming years.
Is this some sort of coded message from Obama?
A transcript is below:
MSNBC Live
10/31/18
9:42am

STEPHANIE RUHLE: German Chancellor Angela Merkel shaking up the world when she announced she would not seek reelection in 2021, asking Germans and the rest of the world to prepare for her departure. This comes after, just one day after President Trump publicly congratulated Brazil's far, far right populist candidate Jair Bolsonaro who was just elected as Brazil's president. He' is a lawmaker known for divisive rhetoric and he has made offensive remarks against women, gay people Brazilians of color and even democracy. Both moves highlighting a shift from traditional global focused leaders to the ones who favor a far right nationalist extremism. Ron and Governor O'Malley, I want to go back to exactly what you were saying earlier. People are asking for civility, decency, moderation. That's what you're saying people are asking for when candidates knock on their door. But it's not what people appear to be voting for around the world.

MARTIN O'MALLEY: Yeah. The challenge here is that there are so many forces coming together creating such a rapid pace of change on climate and what that does to immigration, on a changing economy, you know, a third industrial revolution, or some would call it a fourth. This coming together of automation that seems to be wiping out jobs. There's a fear out there that people are about to become worth less, that me and my children are about to be worthless. And in that climate it is easy for the scapegoating, the blame the others, "let's erect a wall, pull up the drawbridge, let's keep what's ours." But the better path and the course that Progressive leaders have to dial up is that winning story of the future that people can see their own family succeeding in. There's a — you know, Hillary Clinton was wrong when she said that, you know, all of Trump supporters were deplorable. They weren't deplorable. They were scared.

A lot of them still are. A lot of folks in Brazil are scared and a lot of people in the far right that are voting for candidates across Europe are. But I think Macron offers a way forward for progressive leaders. And that is that you have to lead with the democracy reforms. You know, constitutional right to vote. Making sure our governments are actually open and transparent, we measure performance, show people whether we're doing what we're doing. The great challenge to democracy is western democracy itself, it's efficacy, its ability to solve problems and its ability to give our kids a better shot at a better future.

RUHLE: Ron, when Mike Bloomberg talks about global trade and relationships, he said it is about building floors, not about building walls. It's about creating partnerships of stability. Angela Merkel is considered, especially for market participants, from investors, a symbol of stability in Europe. Without Angela Merkel there, what kind of instability could we expect, especially if she's replaced by a far more extreme right wing candidate?

RON INSANA: The far right is gaining ground in Germany. Even as it has in other countries, Brazil as you mentioned where the new president sees a greater role for the military in the government, along with --

RUHLE: And Germany, one could argue, they have a significant immigration issue.

INSANA: We don't have an immigration issue, we have an immigration shortage, we've talked about this on several different occasions, particularly for low, medium and high scale jobs, doesn't matter whether it's legal or illegal, we're keeping them out of the work force.

RUHLE: We should also just remind people that that caravan the president talks about, there is zero evidence there are gang members on that trail.

INSANA: They're refugees. One could argue that Merkel and other leaders in Europe may have mishandled or misread the severity of the migrant crisis they had, particularly when it comes to what's happening in Syria and the Middle East and they might have planned or tried to plan better for it. It doesn't, however, give license for people to, you know, suddenly decide that a shift to the far right makes sense because they're threatened by people who are literally refugees, not terrorists.

This is an argument that the president promulgates here in the United States. What's interesting to me, Stephanie, this move to the far right, unlike what happened in the 1930s in the inner war years, is occurring during a period of relative prosperity around the world. You have pretty strong economic growth. And not that it's understandable what Germany did in the 1930s, but they were paying war reparations. they were beaten in World War I, resentments that came out of rather large scale global events. We don't have that today, and yet you see the same type of feeling of disenfranchisement. And I agree with the government. The one big policy failure in the United States is that our government is so out of sync. The policy is out of sync with progress.

RUHLE: Especially in technology.

INSANA: Those people left behind have not been retrained or reeducated to be part of a rapidly advancing work force.

O'MALLEY: It's almost as if we within the politically figure out a way to help out workers when the whole economy changes. And that's what makes people despair when the economy changes. We keep saying the economy is better. The economy is better. Yes job growth is better.

RUHLE: For a portion of Americans.

O'MALLEY: For a lot of Americans they feel they're working harder. That's a story where a congressman comes home and he crows in a town hall how we've created more jobs, and a woman in the back of the hall says tell me about it, I've got three of them now. That's the great problem.

...

RUHLE: I invite our audience to look into President Trump's support of Bolsonaro of Brazil. The average person reading the President's tweets probably don't realize what the President of Brazil represents. But you know who realizes what he represents? People in the far right who are homophobic, who are against equality. When they see the president say something like that, it's a dog whistle where he says, "I'm on your team."