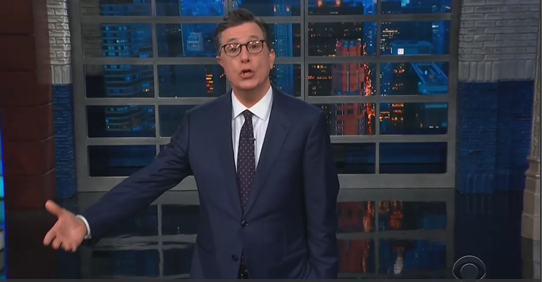 The Late Show host Stephen Colbert devoted his opening monologue Wednesday night to trashing Attorney General Bill Barr. Throughout the course of the monologue, Colbert referred to Barr as a "political call girl" and praised the Democrats on the Senate Judiciary Committee for their questioning of Barr earlier in the day.
Colbert summarized Barr's testimony before the Senate Judiciary Committee as "incredibly frustrating to watch, filled with legalistic hair-splitting and political ass-covering." Colbert continued, "I'd say it'd make me want to wring his neck but I would need like five more hands." Colbert had previously insulted Barr's physical appearance by showing a picture of the Attorney General frowning and referring to him as "man trying to hold in his burp until the elevator door opens."
Colbert also suggested that Special Counsel Robert Mueller should have sent Barr a text saying "this summary is poop emoji, poop emoji, poop emoji." The late night host summarized the exchanges on Capitol Hill by saying the Senators "asked the 'Qs.' And what he lacked in 'A,' he made up in hole."
Colbert proceeded to play a clip of Barr testifying that Mueller did not think his four-page summary of the report was inaccurate but complained that "the press reporting had been inaccurate, and that the press was reading too much into it." Colbert scoffed at that premise: "Yeah, the press was reading too much into it. You're not supposed to actually read Barr's memo, just sort of squint at it, like it's a…dolphin with a sack of crap."
After playing a clip of Barr describing Mueller's letter critiquing him as "a bit snitty," Colbert responded: "your four-page summary was a steaming pile of snit."  Reacting to a clip of Barr describing his March 24 letter as "not a summary of the report but a statement of the principal conclusions," Colbert surmised "it was a statement of the principal conclusions," the same way that Bill Barr has not proven himself to be a political prostitute, he is a political call girl."
Colbert went on to praise Democrats on the Senate Judiciary Committee, beginning with Senator Mazie Hirono; praising her for taking whacks at Barr's "piñata of perjury." During her remarks, Hirono listed Rudy Giuliani and Kellyanne Conway as "people who sacrificed their once decent reputation" for President Trump. Before praising Hirono again for "tearing into Barr," Colbert took issue with part of her statement: "Madame, how dare you imply that Kellyanne Conway ever had a decent reputation. Wrong!"
Colbert closed his opening monologue by praising Senator Kamala Harris as "the true star of the Barr bashin.'" After playing a clip of Harris asking Barr if President Trump "suggested," "hinted," or "inferred" that he wanted him to open an investigation, Colbert mocked the exchange by reading aloud synonyms for "suggested" from a thesaurus. This segment proves that the Democratic Party, the media, and late night TV have become synonyms; as they all read from the same script when it comes to trashing and discrediting Attorney General Barr.
A transcript of the relevant portion of Wednesday's edition of The Late Show is below. Click "expand" to read more.
The Late Show With Stephen Colbert

05/01/19

11:38 PM

 

STEPHEN COLBERT: Well, ladies and gentlemen, welcome to The Late Show. I'm your host, Stephen Colbert. First of all…

(CHEERS AND APPLAUSE)

COLBERT: Thank you very much. Happy Bill Barr day, everybody. I got you the traditional gift: a bucket of lies. Because, of course, today was the Senate Judiciary grilling of Attorney General and man trying to hold in his burp until the elevator door opens, William Barr. The hearing…I don't know about you. Did anybody…did any of you get a chance to watch any of it today? It was incredibly frustrating to watch, filled with legalistic hair-splitting and political ass-covering. I'd say it made me want to wring his neck but I'd need like five more hands. The hearing was always going to be contentious, we knew that, because after Barr got the Mueller report, he released that four-page memo trying to sell his spin that Mueller gave Trump "complete and total exoneration."

(LAUGHTER)

COLBERT: But then we read the report and, surprise…realized on further analysis, "No, he didn't." And last night…here's the big thing. The Washington Post reported that three days after Barr's four-page summary, Mueller wrote Barr a letter complaining that Barr "did not fully capture the context, nature, and substance" of Mueller's work. "Context, nature, and substance."

(LAUGHTER)

COLBERT: That is, uh…that is everything.

(LAUGHTER)

COLBERT: That's like saying, "I really like you did with this, you know, car, except the wheels, the engine, and the car."

(LAUGHTER)

COLBERT: Apparently, Mueller was just as upset with Attorney General William Barr's characterization of the Trump-Russia report as many Americans were. You know what? It's nice to know that Mueller is as mad as we are. It's like when the nicest girl…

(APPLAUSE)

COLBERT: Yeah, that's nice to know. It's like when the nicest girl in your friend group finally admits she can't stand Chelsea's new boyfriend, either.

(LAUGHTER)

COLBERT: "Chelsea, you're too good for him. Also, I have this weird feeling that Chad's trying to undermine democracy."

(LAUGHTER)

COLBERT: Stupid Chad! Again, Mueller sent his letter of complaint to Barr on March 27. But on April 10, in Senate testimony, under oath, Barr said this.

(BEGIN VIDEO CLIP)

SENATOR CHRIS VAN HOLLEN: Did Bob Mueller support your conclusion?

WILLIAM BARR: I don't know whether Bob Mueller supported my conclusion.

(END VIDEO CLIP)

COLBERT: Yes, you do! "I don't know whether he supported my conclusion. I mean, what is knowledge? Can we really know anything? I mean, I know Mueller sent me a letter, but what is letter? Who is Mueller? Where am I right now? Full disclosure: I drank a large amount of ayahuasca tea before the ceremony, and I am on a journey into the infinite. I seek the great deer! Mother love, show me your face!" And…a couple of ayahuasca fans here tonight. And we know Barr read Mueller's pissed-off letter, because one day after Mueller sent his letter to Barr, the two men spoke by phone for about 15 minutes. 15 minutes. Mueller should have just sent him a text: "Bill, U eggplant. This summary is poop emoji, poop emoji, poop emoji."

(LAUGHTER)

COLBERT: So…poop emoji. So can I say eggplant on CBS? Can I say…I can. So, Barr had plenty of splainin' to do to Congress. But, first, he released his opening statement ahead of time. And guess how long it was. Four pages! Four pages is evidently the perfect length to say nothing. "Okay, class, I want you to read Moby Dick tonight, then do a four-page summary of what you wish the book was about. Put some sex in there. Maybe some vampires. Sexy vampires." Then the Senators began the Q&A. They asked the "Qs," and what he lacked in "A," he made up in hole.

(LAUGHTER)

COLBERT: Because according…

(CHEERS AND APPLAUSE)

COLBERT: According…quality. Quality family joke right there. According to Barr, Mueller wasn't mad about Barr's summary. He was mad at the fake news.

(BEGIN VIDEO CLIP)

BARR: I called Bob and said, you know, "what's the issue here?" Are you…and I asked him if he was suggesting that the March 24 letter was inaccurate. And he said no, but that "the press reporting had been inaccurate," and that the press was reading too much into it.

(END VIDEO CLIP)

COLBERT: Yeah, the press was reading too much into it. You're not supposed to actually read Barr's memo, just sort of squint at it, like it's a…like a magic eye poster. It's like a…is it a sailboat? Nope. Nope. It's a dolphin with a football. Nope. I got it. It's a sack of crap! There you go. Yeah, a dolphin with a sack of crap.

(APPLAUSE)

COLBERT: Barr explained that no matter what Mueller felt, who cares what Mueller felt.

(BEGIN VIDEO CLIP)

BARR: Bob Mueller is the equivalent of a U.S. Attorney. His work concluded when he sent his report to the Attorney General. At that point, it was my baby, and I was making a decision as to whether or not to make it public.

(END VIDEO CLIP)

COLBERT: That's an odd metaphor.

(LAUGHTER)

COLBERT: Why wouldn't you want to make your baby public?

(LAUGHTER)

COLBERT: Do we have a picture of Barr's baby?

(LAUGHTER AND APPLAUSE)

COLBERT: There you go. I understand.

(CHEERS AND APPLAUSE)

COLBERT: Now, for the record, Barr has his own critique of Mueller's letter critiquing him.

(BEGIN VIDEO CLIP)

BARR: The letter's a bit snitty, and I think it was probably written by one of his staff people.

(END VIDEO CLIP)

COLBERT: I can imagine Mueller was a bit snitty, because your four-page summary was a steaming pile of snit.

(LAUGHTER)

COLBERT: Then Barr took us down to Supercuts for some cheap hair-splitting. He said that Mueller couldn't have been mad at his summary, because it's not actually a summary.

(BEGIN VIDEO CLIP)

BARR: The March 24 letter was not a summary of the report but a statement of the principal conclusions.

(END VIDEO CLIP)

COLBERT: It wasn't a summary. It was a "statement of the principal conclusions," the same way that Bill Barr has not proven himself to be a political prostitute. He is a political call girl. It's classy. Okay? Barr even split hairs about his own hair-splitting. When he was last in Congress, days after he received Mueller's letter, he told them this.

(BEGIN VIDEO CLIP)

REP. CHARLIE CRIST: Reports have emerged recently, General, that members of the Special Counsel's team are frustrated at some level with the limited information included in your March 24 letter, that it does not adequately or accurately, necessarily, portray the report's findings. Do you know what they're referencing with that?

BARR: No, I don't.

(END VIDEO CLIP)

COLBERT: Spoiler: Yes he did. Here's how Barr explained that today.

(BEGIN VIDEO CLIP)

SENATOR PATRICK LEAHY: Why did you testify on April 9 that you didn't know the concerns being expressed by Mueller's team when, in fact, you had heard those concerns directly from Mr. Mueller two weeks before?

BARR: Well, as I said, I talked directly to, to Bob Mueller. I talked directly to Bob Mueller, not members of his team.

(END VIDEO CLIP)

COLBERT: So you didn't talk to the people who wrote the Mueller report, just Bob Mueller? "I've never met anyone in Bon Jovi. I just talk directly to Jon Bon Jovi." That's why I give law a bad name. Now, Senator…Senator…

(CHEERS AND APPLAUSE)

COLBERT: ♪ I give law a bad name ♪ Wooo! Now…

(APPLAUSE)

COLBERT: Thank you. Senator Ben Sasse asked Barr about how foreign spies are using sophisticated new ways to try to contact presidential campaigns.

(BEGIN VIDEO CLIP)

SENATOR BEN SASSE: In a digital cyber era, you don't need a, a bar and a hooker anymore. You can surround people digitally much easier.

(END VIDEO CLIP)

COLBERT: The President, however, I'm guessing, still very interested in that bar-hooker scenario.

(LAUGHTER)

COLBERT: "What's that? What's that? I like that. I'll be in the bar."

(APPLAUSE)

COLBERT: After lunch, Hawaii Senator Mazie Hirono took her whacks at this pinata of perjury.

(BEGIN VIDEO CLIP)

SENATOR MAZIE HIRONO: Mr. Barr, now the American people know that you are no different from Rudy Giuliani or Kellyanne Conway, or any of the other people who sacrificed their once-decent reputation for the grifter and liar who sits in the Oval Office.

(END VIDEO CLIP)

(CHEERS AND APPLAUSE)

JON BATISTE: Cold-blooded! Woo-hoo!

COLBERT: Madame, how dare you imply that Kellyanne Conway ever had a decent reputation!

(LAUGHTER)

COLBERT: Wrong! Hirono kept tearing into Barr.

(BEGIN VIDEO CLIP)

HIRONO: Being Attorney General of the United States is a sacred trust. You have betrayed that trust. America deserves better. You should resign. I have some questions for you.

(END VIDEO CLIP)

(LAUGHTER AND APPLAUSE)

COLBERT: That was…that's…that was a quick pivot. "This dinner is a disgrace, this restaurant is one giant health code violation. You should be fired. It should be burned to the ground and bulldozed into a quarry. I would like to see the dessert menu. Bring the cart around." But the true star of the Barr bashin' was California Senator Kamala Harris. She started…

(CHEERS AND APPLAUSE)

COLBERT: Her family is here tonight, evidently. Harris started by pressing Barr on whether Trump had pressured the Justice Department to investigate Hillary Clinton.

(BEGIN VIDEO CLIP)

SENATOR KAMALA HARRIS: Has the President or anyone at the White House ever asked or suggested that you open an investigation of anyone? Yes or no, please, sir.

BARR: Um... The President or anybody else... I'm, I'm trying to grapple with the word "suggest." I mean, there have been discussions of, of matters out there that…they have not asked me to open an investigation, but…

HARRIS: Perhaps they have suggested?

BARR: I don't know. I wouldn't say "suggest."

HARRIS: Hinted?

BARR: I don't know.

HARRIS: Inferred?

(END VIDEO CLIP)

(LAUGHTER, CHEERS AND APPLAUSE)

COLBERT: "Advanced, advised, advocated, counseled, implied, indicated, offered, proposed, prompted, propounded, recommended, reminded."

(LAUGHTER)

COLBERT: "Sir, I've got a thesaurus, and I'm not afraid to use it."