The NBC/MSNBC/Telemundo panel that questioned the first 10 Democratic 2020 candidates spent most of Wednesday night's debate cuing up liberal talking points and rarely confronted the contenders with the idea that their hard-edged leftism might drive away middle-of-the-road voters.
A Media Research Center analysis finds 39 of the questions at the debate echoed liberal talking points or were framed around a liberal world view, vs. only five that challenged liberal/Democratic assumptions. Another 15 questions were framed in a neutral fashion, or were neutral follow-ups to previous questions.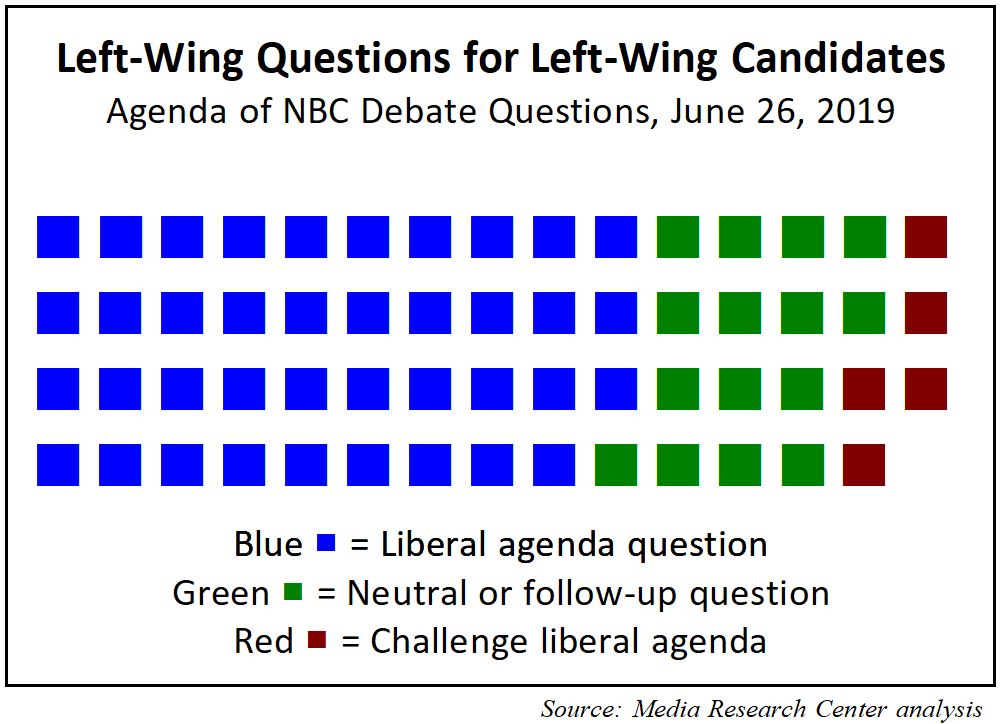 An earlier post by NewsBusters' Associate Editor Scott Whitlock outlined the panel's undisguised liberal advocacy when it came to gun control, climate change and the need to overcome Senate Majority Leader Mitch McConnell in order to implement a left-wing program.
But that wasn't all: NBC also asked the candidates if they would favor jacking up the top marginal tax rate to 70%, using government power to dictate the pay of men and women in the workplace, using government power to "address income inequality," as well as the radical idea of entirely abolishing private health insurance. [A complete list of the questions can be found here.]
Of the paltry five questions that actually challenged Democratic talking points, four of those came from Today co-host Savannah Guthrie. She asked Senator Elizabeth Warren if her grandiose plans for a myriad of new government programs "could be risky to the economy" that 71% of Americans think is "doing well."
Later, she asked Senator Amy Klobuchar to castigate her more left-wing colleagues: "Are the government programs and benefits some of your rivals are offering giving your voters, people, a false sense of what's actually achievable?"
But Guthrie's colleagues — NBC Nightly News anchor Lestor Holt, Meet the Press moderator Chuck Todd, MSNBC host Rachel Maddow and Telemundo anchor Jose Diaz-Balart, stuck to an almost perfect liberal agenda.
When NBC last hosted a debate for Republican candidates (CNBC in October 2015), those journalists forcefully attacked the ideological assumptions of the candidates (as well as took a number of personal shots). This time around, the game plan is apparently to coddle the candidates by reinforcing their liberal worldview, and avoiding any hint of their personal controversies.
Will Night Two be as skewed as Night One? We'll be watching.