In a speech on Iraq policy delivered Monday at George Washington University, Democratic presidential candidate Hillary Clinton recalled facing "sniper fire" on her 1996 trip to Bosnia to visit U.S. troops on a peacekeeping mission. But reporters traveling with the then-First Lady made no reference to any "sniper fire" at the time, and pictures of Clinton arriving at the main air base in Tuzla (see attached video) don't show anyone ducking or covering.

Here's how Clinton began her speech:
Good morning. I want to thank Secretary West for his years of service, not only as Secretary of the Army, but also to the Veteran's Administration, to our men and women in uniform, to our country. I certainly do remember that trip to Bosnia, and as Togo said, there was a saying around the White House that if a place was too small, too poor, or too dangerous, the president couldn't go, so send the First Lady. That's where we went.

I remember landing under sniper fire. There was supposed to be some kind of a greeting ceremony at the airport, but instead we just ran with our heads down to get into the vehicles to get to our base. But it was a moment of great pride for me to visit our troops, not only in our main base as Tuzla, but also at two outposts where they were serving in so many capacities to deactivate and remove landmines, to hunt and seek out those who had not complied with the Dayton Accords and put down their arms, and to build relationships with the people that might lead to a peace for them and their children.

A Nexis search found hundreds of stories on the election-year trip, but no mention of any hostile fire or snipers. A CBS report did mention that the First Lady was required to wear a flak jacket for her safety; a report by Sharyl Atkisson for the March 25 CBS This Morning showed Mrs. Clinton arriving at the main air base at Tuzla not running with her head down, but smiling and walking alongside daughter Chelsea.
As for a lack of a ceremony at the air base, Atkisson reported Clinton was greeted by the acting President of Bosnia and "an eight-year-old Bosnian girl who says she can't remember a time before the war and by a class of seventh-graders who have been pen pals with the children of US troops."
The little girl was shown telling Clinton: "Thank you, because you've given us a lot of help, and I want all the best in Bosnia." Nobody was covering their heads or hiding.
The AP's Ron Fournier noted that Mrs. Clinton was "protected by sharpshooters" when she traveled beyond the Tuzla Air Base, but made no mention that they were needed in his report on Clinton's next stop:
Protected by sharpshooters, First Lady Hillary Rodham Clinton arrived by Black Hawk helicopter in a military zone Monday to deliver a personal "thank you" to U.S. soldiers. "They're making a difference," she said of the 18,500 Americans working as peacekeepers in Bosnia.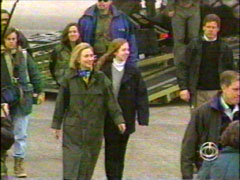 None of the stories mentioned the drama of landing under fire that Clinton referred to on Monday. So either Hillary faced "sniper fire" — and no one at the time thought shots fired at the First Lady were newsworthy — or she is exaggerating the dangers of her Bosnia trip to bolster the image of herself as a potential commander-in-chief. Either way, reporters who were on the trip should make the reality of the situation clear.
Sinbad, who joined Mrs. Clinton on the trip, doesn't remember anything especially dangerous. "I think the only 'red-phone' moment was: 'Do we eat here or at the next place,'" he told the
Washington Post
.
As for the trip itself, in the March 26, 1996 New York Times, reporter Mike O'Connor asserted that Hillary "charmed American troops" and quoted the enthusiastic reaction from one New York-area soldier: "She's the greatest First Lady we've ever had! I'm ready to spend another year here now."
But O'Connor also found soldiers who were less than enamored with Hillary Clinton: "Asked what he would like to tell Mrs. Clinton about his assignment, Specialist Ingersoll, of Williston, N.D., said, 'I wouldn't talk to her, because I'd probably say something rude."
Excerpts:
Hillary Rodham Clinton charmed American troops at a U.S.O. show here, but it didn't hurt that the singer Sheryl Crow and the comedian Sinbad were also on the stage.

In her appearance at Tuzla Air Base, the First Lady told a couple of thousand of the 19,300 Americans serving in Bosnia that they were using military power to advance United States interests and values. She said they were part of "the kind of peacekeeping mission every American should be proud of and support."

"I just hope you have some feeling of how proud and grateful all America is," she said.

Today's visit came as some troops, living uncomfortably and often dangerously, continue to wonder about the value of their mission.

During her daylong visit to American forces at three bases in northeast Bosnia, Mrs. Clinton repeated that the United States had a genuine interest in keeping Europe stable. In addition, she said, the effort to stop the war here is the moral and right thing to do.

Among the troops, reaction to the visit ranged from great enthusiasm to only mild interest....

Sgt. Errol Kennedy, from New York City, whooped to his friends: "She's the greatest First Lady we've ever had! I'm ready to spend another year here now."

But two soldiers next to him said they would just as soon go home now and let Sergeant Kennedy do their work....

Some soldiers, especially those living in the worst conditions or those whose duties do not allow them to see many of the Bosnians who benefit from their efforts, say they do not fully understand the objective here.

"I joined the Army to defend my country," said Sgt. Michael Tucker, one of the friends of Sergeant Kennedy. "There's no one threatening America here, and we don't have a fight here."

Some feel they are exposed to unreasonable discomfort and risk compared with the likelihood of a permanent end to the war.

Two soldiers, Specialist Brent Ingersoll and Specialist Grant Johnavan, both of the Third Squadron, Fifth Cavalry, based about an hour and a half's drive northwest from Tuzla, were talking about the impending visit last Friday. They were not impressed.

Asked what he would like to tell Mrs. Clinton about his assignment, Specialist Ingersoll, of Williston, N.D., said, "I wouldn't talk to her, because I'd probably say something rude."

"Unless she can get us sent back home, there's not much she can do for us," he said, wiping rain from his face. "When she leaves, she'll go back to her family, maybe have a drink, and relax. We can't do any of that."
Audio also available here (37 seconds | 177 kB).
Additional NB Coverage:
March 20:AP, FNC's Hume Pick Up Hillary's Bosnia Fib; Will Rest of Media Follow?
March 25: CBS Reports Clinton's Bosnia Gaffe Six Days After NewsBusters
March 25: After Week of Silence, TV Morning Shows Pounce on Hillary's Fib
April 9:  CBS Reporter: NewsBusters Prompted Story on Bosnia 'Sniper Fire'