Even though Hillary Clinton has not yet announced her presidential ambitions for 2016, she is still the subject of many online postings -- some of which are flattering, while others are ... not so much.
On Thursday, the former secretary of state's memoir, Hard Choices, became the first entry in MSNBC's new book club, which led many posters to call the group a Hillary Clinton "fan club" instead. Meanwhile, she was also the target of a Mad Magazine satire comparing the "Dead Broke" Democrat to a waitress in the CBS TV situation comedy 2 Broke Girls.
The staff of the Twitchy website responded quickly to the announcement from the "Lean Forward" channel: "Book club? More like fan club" since MSNBC's latest "Hillary-swoon" is "the hackiest ever" because the new organization was introduced "just in time for Hillary Clinton's book release!"
"Coincidence?" they asked. "You decide."
It wasn't long before @Matthops82 tweeted regarding the excitement from Clinton supporters: "Settle down there, fan club."
"Will it be called the 'Least Trusted Book Club'?" @SAINTofSIN84 asked. "You know, because your [sic] the least trusted news network. Just wondering..."
@MisouTD hammered MSNBC for yet another example of its liberal bias: "U can't even pretend to be impartial. U & @nytimes r poor excuse 4 news organizations. Sad 4 America."
The memoir is "fair and balanced," @mquintos stated sarcastically, and @JoeBOBaHead accused MSNBC of "peddling out liberal propaganda in the form of a 'book club.'"
@MunMan715 agreed, noting that what "little journalistic integrity u had just left the building."
While @UriBlago provided a simple response -- "I made the 'easy choice' not to buy her book." -- @SteveHausner had a different point of view: "Can't wait to here about #Benghazi & how they were 'dead broke' after making $400,000 as Pres!"
That financial blunder from the former New York senator also caught the attention of the editors at Mad Magazine, who posted an illustration in which her head is superimposed over the body of a waitress from 2 Broke Girls under the title "Hillary Clinton's Ridiculous New Sitcom."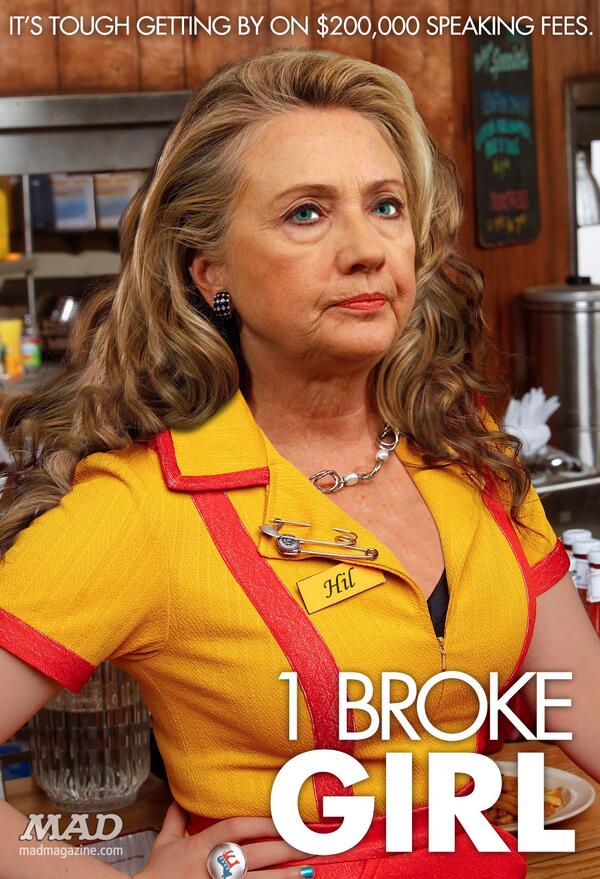 Listed under the "Feeling Like a Million Schmucks Department," the illustration for 1 Broke Girl contained the phrase: "It's Tough Getting by on $200,000 Speaking Fees."
The editors explained their illustration:
In a recent interview with ABC News, Hillary Clinton stated that she and Bill were "dead broke" when they left the White House. They even had trouble paying the mortgages on their houses. (Plural!)
Luckily, like so many of America's poor, she was able to scrape by, thanks to an $8 million book advance and six-figure speaking fees.
"Still, the next time you see Hillary Clinton in rags on the street," they noted, "make sure to put a dollar in her Styrofoam cup -- you never know how close she and Bill are to abject poverty!"
As expected, the graphic drew many comments from tweeters like @Coondawg68, who declared that "Mad is on a roll" after an earlier parody of Saving Private Ryan entitled Trading Private Bergdahl in which Barack Obama was hammered for trading "five Taliban leaders" for "one deserting weasel."
@JimmyPrinceton stated that "Mad Magazine strikes again," and those satires led posters like @GayPatriot to ask if libertarian billionaire brothers Charles and David Koch had bought out the long-running humor magazine. @theofficialjmg expressed a similar thought, noting that Mad "is sorta killing it lately."
However, @tvxvoodoo presented a different point of view: "no offense, but I stopped reading Mad back in 1974, when I was 12. Isn't 12 the max age for them?"
@JimmyPrinceton agreed that "they've been off my radar since I was a kid, too," but suddenly, "they're doing political memes!"
The Twitchy staff concluded the column by stating: "They're back on our radar now" as well.
It must be hard times for the Democratic Clinton and Obama families to become the targets of humor in a publication aimed at boys in their early teens. Still, we can be sure of at least one thing: Mad Magazine will never be part of MSNBC's new "book club."