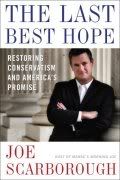 Updated below.
Your humble correspondent feels obligated to warn you about the article you are about to see. It is a harsh but brutally honest review written by Brian Maloney of The Radio Equalizer about Joe Scarborough's new book, The Last Best Hope: Restoring Conservatism and America's Promise. Certain members of the reading audience may experience a strange tingling sensation while reading the review. Should you require require medical assistance while looking at the review, a registered nurse is standing by in the lobby:
Over the past several weeks, this site has been tracking the attempt by MSNBC's Joe Scarborough to make money bashing his former friends in any and every available public venue. With a new book to peddle, could attacking onetime colleagues from his conservative days fuel sales? New data from the publishing world, as well as radio and TV, provide the answer.

To promote the release, the former GOP congressman turned radio and TV host appeared on left-leaning television shows such as The View and did interviews with the New York Times and Newsweek. Each time, he was quick to bash Rush Limbaugh, Karl Rove, Newt Gingrich, and other key conservative figures.

In recent years, Scarborough has found that turning against fellow Republicans could be good for the pocketbook, securing him the morning gig at MSNBC and a syndicated talk show airing on WABC / New York and elsewhere.
OUCH! I don't know about you but I am already experience that strange tingling sensation... NURSE!
But in new data released late this week, Scarborough has struck out in every category: TV, radio and publishing. His widely-touted The Last Best Hope: Restoring Conservatism and America's Promise has bombed, selling just 6432 copies since its 9 June release, according to new Bookscan figures. At Amazon, it has already dropped out of the top 100, currently ranked 166.
No, you're wrong, Brian! And outdated. The most recent check at Amazon shows that Scarborough's book has now plunged to #189 in book sales despite seemingly endless promotion for it on MSNBC and the rest of the tube. 
By contrast, conservative author Mark Levin remained in first place after three full months, according to Bookscan, selling another 35,595 units to push closer to a possible one million sales mark in the weeks and months to come.
And that was with relatively little promotion. But tell us, Brian, how is Scarborough's radio show doing?
In radio and TV, the news for Scarborough wasn't any better: in newly-released Arbitron PPM data for the month of May, Joe's radio talk show generated a mere 1.6 share in the key 25-54 demographic. With that number including one hour of Don Imus's morning show, it reveals a huge gap between WABC's more liberal morning programming and its highly-successful conservative afternoon lineup featuring Limbaugh, Sean Hannity and Levin.
OUCH!
These numbers don't lie and the lesson for any budding Morning Joe-types out there is clear: the audience isn't stupid. They can sniff out a backstabbing weasel with remarkable speed, putting an early end to Scarborough's transparent get-rich-quick scheme.
NURSE! I am in need of that emergency medical attention...NOW!
Maloney's castigation of Scarborough is matched by many book review comments made by readers at Amazon. Here is a sampling:
...Joe's analysis is shallow and weak and his anecdotes are unconvincing if you give them any serious thought.

Exactly what in this book provokes thought?  I'll give it this. It works better than Ambien if you're trying to catch some Z's. 

When I think "conservative", Joe Scarborough's name comes up somewhere between David Brooks, and Lincoln Chafee. If this guy is the last best hope: good riddance!

If you are a conservative, or care about the only future that there can be for conservatives, read Levin. He can actually break the top 50 on the book list. And the Top 25, Top 10, Top 5 and the Top 2....... Joe lives in the basement, nobody cares what he has to say.
And after the shock of his pathetic book sales figures sink in, Scarborough will be requiring more medical assistance than a nurse can deliver. 
Paging Dr.William Castle! 
UPDATE: Scarborough's book has plunged even further since I posted this morning. As of 1900 EDT on June 20, his book has sunk to #255 on Amazon.
UPDATE #2:  The slippage continues. As of 1230 EDT on June 21, the book has slipped down to #295 on Amazon.
UPDATE #3: The book has now sunk to #351 on Amazon as of 0900 EDT on June 22.
UPDATE #4: The book just crashed below the 500 barrier at Amazon at #501 as of 1915 EDT on June 22.
Update #5 (17:41 EDT June 23): Brianna Buckley of Nielsen sent us the following:
Please remove Nielsen BookScan numbers from the article "Joe Scarborough
Conservative Bashing Book Tour Flops Bigtime". All numbers published in
media articles should be rounded to the nearest thousand; moreover, these
numbers were taken from another article which contained a typo, the figures
posted are inaccurate.