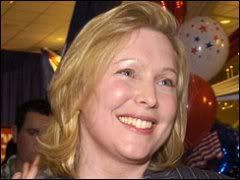 The decision by New York Governor David Paterson to name a somewhat conservative replacement (by that state's democrat standards), Kirsten Gillibrand, to Hillary Clinton's U.S. Senate seat has already sent some liberals into a tizzy. They are upset over Gillibrand's support for the National Rifle Association as well as for extending the Bush tax cuts among the issues that disturb them. So when will the mainstream media begin labeling Gillibrand as a "Maverick Democrat?" Or is the "maverick" label applied by the MSM only to Republicans who are liberals or "moderates" (really meaning liberal)?
If Gillibrand sticks to her current principles the "maverick" tag would surely apply. Here is how the New York Post describes the opposition to her:
Liberal Democrats have been wary of her because she ran for re-election with the backing of the National Rifle Association, opposed the federal TARP program to rescue banks, and has been less than enthusiastic about gay marriage.
The Moderate Voice notes that there is already a threatened 2010 primary challenge to Gillibrand because of her politically incorrect posture:
No sooner had the news hit the wires than talk began about a revolt in the New York Democratic Party over Gillibrand's blue dog credentials and support for 2nd Amendment rights.

Representative Carolyn McCarthy of Long Island, a staunch supporter of gun-control laws, said in an interview Thursday that she would challenge a fellow Democrat, Representative Kirsten E. Gillibrand, if Gov. David A. Paterson names Ms. Gillibrand to the Senate.
The big question now is if Gillibrand will be "educated" by Senate Democrats to change her views to become more liberal or will she continue to irk them by being a maverick? According to NewsDay, Gillibrand didn't "moderate" her views after she won her Congressional seat:
...But during her victorious House campaign and two years in office, Gillibrand (D-Hudson) has positioned herself as a centrist, with an "A" grade from the National Rifle Association as evidence of her willingness to break from Democratic orthodoxy. She also voted against the Wall Street bailout and was the only New York Democrat to vote to extend funding for the Iraq war in 2007.

"She had to shake the perception that she was a city liberal," said David Wasserman of the nonpartisan Cook Political Report. "Her voting record has indicated that she is different from a Charlie Rangel or a Carolyn Maloney or even a Nita Lowey."
Adding to this "apostasy" is the fact that Gillibrand one of only two members of the New York congressional delegation to be a member of the Blue Dog Coalition. If she holds to her views then she would definitely be qualified to be labeled as a "Maverick Democrat" although the MSM, as we have seen, are loathe to use that term. "Maverick Republican?" Yes. "Maverick Democrat?" Never!
Therefore, boys and girls, my extra credit homework assignment to you is to locate the first MSM outlet that actually labels Kirsten Gillibrand as a "Maverick Democrat." This could be an impossible task.