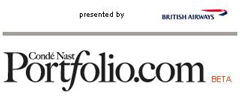 Joe Brancatelli's column at Conde-Nast's new Portfolio business magazine August 9 hit at the airline industry pretty hard, so hard, they forgot to remove their airline advertisement from the 'printer-friendly' page.
Brancatelli targeted the "perks and payoffs of airline C.E.O.'s", calling them "self-styled sky gods". This is a rather strange cause for a magazine that in its first issue targeted the "'C-suite' executive (i.e., CFO, CEO, or COO)".
You'd think that all of the service problems and financial weakness would make airline C.E.O.'s a humble and fiscally circumspect lot. But they're raking in colossal payouts.
The author also points to a multimedia feature on the Conde-Nast owned website regarding C.E.O. pay that features a cartoon businessman's head getting larger and larger:
Are you shocked by the Portfolio.com multimedia feature that shows U.S. chief executives making 465 times more than the average worker in 2005? That's child's play in the airline business.
Is attacking businessmen a good idea for a new magazine targeting businessmen? Well, it's not the first time it's happened at Portfolio. Conde-Nast is the publisher of Vogue, Vanity Fair, House & Garden, Domino, and The New Yorker.