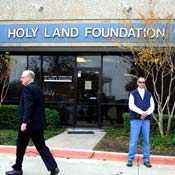 If you saw the headline "Muslim Charity Member Gets 65 Years In Prison," would you assume his crime was funding terrorist activities, or possibly something totally unrelated?
Given that this "charity member" was convicted last November on 108 charges surrounding the transfer of more than $12 million to the terrorist group Hamas, one would think a stronger, more direct and informative headline would be in order.
Apparently not to the Associated Press (h/t NBer DMartyr):
Muslim charity member gets 65 years in prison

DALLAS (AP) — A founding member of what was once the nation's largest Muslim charity was sentenced to 65 years in prison Wednesday for funneling millions of dollars to the Palestinian militant group Hamas.

Shukri Abu Baker, 50, of Garland, Texas, was the first of five members of the Holy Land Foundation for Relief and Development to be sentenced. Mohammad El-Mezain, 55, was later sentenced to 180 months for one count of conspiracy to support a terrorist organization.

After a jury failed to reach a verdict in 2007, the men were convicted in a second trial last November on 108 charges stemming from allegations the charity sent more than $12 million to Hamas. It's illegal to give support to Hamas, which has been listed by the U.S. as a terror group since 1995 and is blamed for hundreds of suicide bombings targeting Israeli civilians.

The charity leaders were convicted on charges ranging from supporting a terrorist organization to money laundering and tax fraud. The three men still to be sentenced — Ghassan Elashi, Mufid Abdulqader and Abdulrahman Odeh — were convicted of conspiracy.
Other news organizations were less, shall we say, charitable with their headlines:
Amazingly, even Aljazeera was more accurate with its headline, "US jails men in Hamas aid case."
The AP should be so proud of themselves.