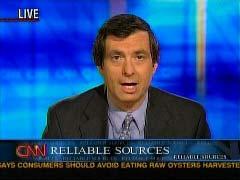 In the '90s, many conservatives referred to CNN as "The Clinton News Network" due to its obvious biases towards the 42nd president.
Years later, just days after the inauguration of the 44th president, one of that network's on-air hosts officially labeled MSNBC "The Obama Network."
You gotta love it.
During Sunday's "Reliable Sources," when the subject of MSNBC came up, Kurtz said:
Since he mentioned MSNBC, let's play a clip from Inauguration Day, Chris Matthews getting a little excited over the festivities and talking about the role of his network, which as you know has been accused of being favorable at least in its opinion shows toward Obama. 
Kurtz showed viewers the clip that my colleague Matthew Balan shared with readers Tuesday:
After some discussion, Kurtz hammered home the point:
Wasn't he really saying, "If you like Barack Obama, this is the network to watch?"
Guest Amanda Carpenter of TownHall.com nodded her head, smiled, and said, "Right."
Kurtz replied: "Okay, well then I just want to be clear about it, because MSNBC denies that it has moved to the left, and I think the evidence is pretty strong."
So do we, Howard. So do we.