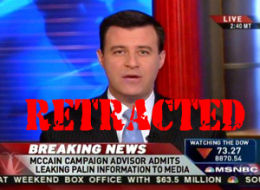 MSNBC's David Shuster was duped Monday by someone erroneously claiming to be the McCain campaign adviser who leaked derogatory information to the press about Sarah Palin.
In his rush to report a scoop, Shuster and his producers failed to recognize that the leaker was actually a fictional creation as was the think tank he supposedly worked for.
This somehow got past that crack, investigative journalism crew so populated by America's most atrocious cable news network as reported by the Associated Press Thursday (emphasis added):
David Shuster, an anchor for the cable news network, said on air Monday that Martin Eisenstadt, a McCain policy adviser, had come forth and identified himself as the source of a Fox News Channel story saying Palin had mistakenly believed Africa was a country instead of a continent.

Eisenstadt identifies himself on a blog as a senior fellow at the Harding Institute for Freedom and Democracy. Yet neither he nor the institute exist; each is part of a hoax dreamed up by a filmmaker named Eitan Gorlin and his partner, Dan Mirvish, the New York Times reported Wednesday.

The Eisenstadt claim had mistakenly been delivered to Shuster by a producer and was used in a political discussion Monday afternoon, MSNBC said.

"The story was not properly vetted and should not have made air," said Jeremy Gaines, network spokesman. "We recognized the error almost immediately and ran a correction on air within minutes."
The folks at NBC and General Electric must be so proud.