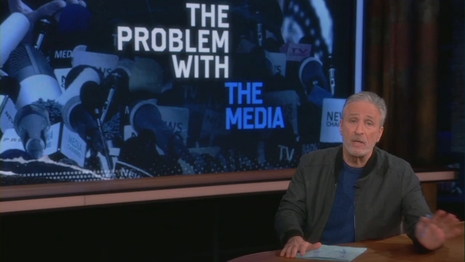 WARNING: Jon Stewart used explicit language in his comedy.
On March 17's edition of The Problem With Jon Stewart, the comedian set his sights on the media as he spelled out how their outdated use of ratings coupled with perverse incentives were driving them into oblivion. And to make this point, Stewart focused on how the media was addicted to the largest story of the Trump presidency: Special Counsel Robert Mueller's investigation into the 2016 election, aka the Russia collusion hoax.
Now, Stewart did begin with some shots at Fox News and accusations that they were the source of the outrage at Critical Race Theory and hinted it was an AstroTurf movement. But the bulk of his criticism was for the clowns in the rest of the media who portrayed themselves as the saviors of the world.
"[T]he fourth estate has claimed that they stand ready betwixt America and peril, a bulwark to creeping fascism. Our media, they are the watchers on the wall," he sarcastically declared. But after playing a clip of CNN's Don Lemon busting out of a cake on New Year's Eve (possibly drunk), he lamented: "Well America, it's been a pleasure. We're fucked."
Stewart felt if our media, as it currently stands, was what stood "between America and chaos, we are in trouble." He deduced that the media was an "institution" that has a massive "distance between its aspirations and its execution."
"The media keeps informing us how incredibly important they are to our survival," he said. "But when given crucial informational tasks, they instead build us prisons of what the fuck are you people talking about?"
And to highlight how divorced from reality the media was, he broke down how they covered the Mueller investigation.
After showing clips of the media treating Mueller like a "child of prophecy," as Stewart described it, he decried how they were "overblowing and elevating the stakes of every moment!" This inevitably devolved into every little thing becoming a "bombshell" development. "Bombshell, hungry people like food. Bombshell. I also have a question: do you think we are fucking stupid," he demanded to know.
"That's the responsible, measured way they handled something they actually knew. And then it started getting weird," he said as the torrent of "if true" speculation began to flow. "There were so many 'if trues' in there it was like a high-stakes tarot reading."
Adding: "But ultimately after two years of speculation and innuendo and flat-out bullshit, they were sure of one thing," the walls were closing in.
Keeping things in the gutter, Stewart described how the media spent "two years of just edging themselves to a Mueller climax" before the report was released. And he proclaimed the only winner in the investigation was "Satan":
You motherfuckers spent two years filled with breaking bombshells and urgent explosions and teed up a season finale for the ages. A noose-tightened, closed-walled, family-style jail-gasm. And all we got was a fucking book report that we had to print ourselves. I owe the producers of Lost an apology. This was the worst finale ever.
"And the craziest part is, throughout the entire time, great reporters were doing impressive work, but you wouldn't know it because it was all smothered in so much news cum," he sneered. "And if anything is going to kill our democracy, it's gonna be news cum."
And before going to his panel discussion, which included Chris Stirewalt, Sean McLaughlin, and Soledad O'Brien, Stewart used some stitched-together clips to show why the media do what they do in their own words (see tweet):
He also included this little piece of truth about the media's motives. pic.twitter.com/yEPdJW3jAu

— Nicholas Fondacaro (@NickFondacaro) March 24, 2022
The transcript is below, click "expand" to read:
Apple TV+'s The Problem With Jon Stewart
March 17, 2022

(…)

[Washington Post Democracy Dies in Darkness ad]

JON STEWART: I mean, seriously. But in an age of weaponized mis- and disinformation, secrecy and political polarization the one group that stands at the ready to shine light in to that darkness so the good ship America needn't stub its toe on the post-midnight snack of fascism—I'm mixing metaphors.

But the point is this: the fourth estate has claimed that they stand ready betwixt America and peril, a bulwark to creeping fascism. Our media, they are the watchers on the wall.

[Game of Thrones image]

No, that's the – Okay. That's the wrong watcher and the wrong wall.

[CNN's Wolf Blitzer in front of their TV wall]

That's the wall. That's the watcher. Yes, thank you.

To the ramparts heroes!

[CNN's Don Lemon jumping out of cake on New Year's Eve]

STEWART: Well America, it's been a pleasure. We're fucked.

Yes. Unfortunately, if they are the one thing that stand between America and chaos, we are in trouble. Because rarely has there been an institution that has such a distance between its aspirations and its execution. And thus, the problem with the media.

The media keeps informing us how incredibly important they are to our survival. Because knowing keeps us free. But when given crucial informational tasks, they instead build us prisons of: what the fuck are you people talking about?

For instance, a few years back, there was concern that the president of these United States may have out sourced out electoral integrity to a foreign power. Not of the allied persuasion. And had fired his top cop rather than risk the subterfuge being exposed.

Journey back with me to 2017!

[Announcement of the Muller investigation]

(…)

[Muller runs a tight ship clips]

STEWART: Once again, I'm sorry. I congratulate you. Well done. The special counsel works in secret, That's factual. Bob Muller is tight-lipped. That's slightly subjective. But still, this segment leaves out democracy's pulse oximeter at a healthy 97-98.

COMMENTER: Bobby Muller. Bobby Three Sticks as agents called him. Robert Swan Muller III.

STEWART: And slowly the oxygen drops. And thus began the turn to darkness.

Let the over playing of the media's hand commence!

[Muller is going to investigate everything and he's America's hero clips]

STEWART: We're not of fucking Tatooine! We're not looking for a child of prophecy. We need a competent prosecutor working diligently to find the facts and we don't need you narrating and over blowing and elevating the stakes of every moment!

[Comparisons to Watergate]

STEWART: Well, you know Bernstein, certainly the coverage of it will be.

Even though it was already explained very clearly: the special counsel operates in secret, Bob Mueller plays it close to the vest; it did not the public from being dead center in the information blast zone.

[Bombshells clips]

STEWART: Bombshell. Bombshell, detective has questions. Bombshell, hungry people like food. Bombshell. I also have a question: do you think we are fucking stupid?

That's the responsible, measured way they handled something they actually knew. And then it started getting weird.

["If true" clips]

(…)

STEWART: There were so many "if trues" in there it was like a high-stakes tarot reading. But you know what? It's not like any other important news happened in 2019. That's why they had the resources to do things like this.

[CNN freaking out over Mueller not getting lunch]

STEWART: My God! No lunch? Could he have packed a sammie from home?

But ultimately after two years of speculation and innuendo and flat-out bullshit, they were sure of one thing.

[The walls are closing in clips]

STEWART: That actually didn't appear like they were getting closer. That last one seemed like there was a big gap that he could get out – he looked like he could get out the top on that one. The other ones, I thought yes.

And the news media promised, promised that it was going to be a finale to remember.

[Predicting indictments for President Trump and his family]

STEWART: If true.

And then after two years of just edging themselves to a Mueller climax—interesting audience of fetishists. That's kind of a bombshell in and of itself. These a lot of knowing edging joke people in here.

Dirty, dirty motherfuckers.

(…)

After two years of just edging themselves to a Mueller climax, the day finally arrived.

[Release of the Mueller report coverage, print it yourself]

STEWART: We have to print it ourselves? NBC doesn't have a Kinko's you're telling me? You finally have real breaking news and I have to get it myself?

(…)

[Journalists reading the report on-air]

STEWART: He [CBS anchor Jeff Glor] said at the end, "it's 400 pages, who can declare victory here?" I believe Satan can.

You motherfucker's spent two years filled with breaking bombshells and urgent explosions and teed up a season finale for the ages. A noose-tightened, closed-walled, family-style jail-gasm. And all we got was a fucking book report that we had to print ourselves.

I owe the producers of Lost an apology. This was the worst finale ever. And maybe it would have landed more dramatically if you hadn't already reported on Trump AG Bill Barr's Mueller Report Sparks Notes a month earlier.

[Announcements of Barr's summary]

STEWART: And the craziest part is, throughout the entire time, great reporters were doing impressive work, but you wouldn't know it because it was all smothered in so much news cum. And if anything is going to kill our democracy, it's gonna be news cum.

Take a quick look at this.

EDITED TOGETHER SOUNDBITES OF MEDIA FOLKS: Good evening, we start with breaking news. Breaking news. Breaking news. We make money when you watch the news. So, our only goal is to try to keep you watching.

We the media want you afraid and angry at one another. We want to stir up trouble. We did that through stories promoting fear and outrage every night. This is what we do.

Plus, we have some snazzy graphics for you with all the bells and whistles so we can convince you that every story is urgent, even if it isn't true because it helps make sure that our ratings are higher than ever. Right? I mean, it's been easy money for so long.

(…)