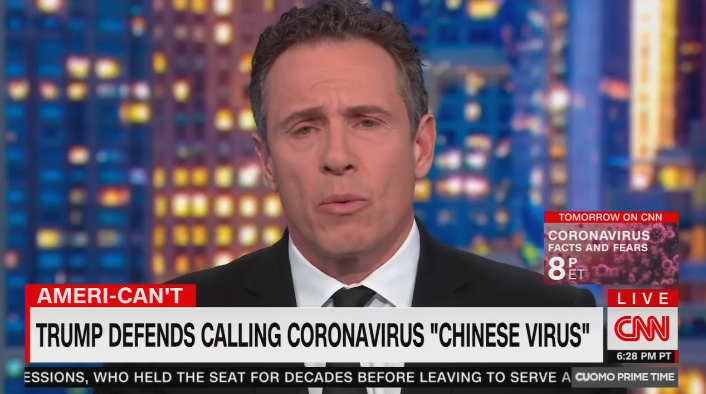 While the communist Chinese government was busy cranking out deceitful propaganda claiming the coronavirus had originated in the United States, CNN's Chris Cuomo spent part of his Wednesday night show scolding President Trump for calling it the "Chinese Virus." He even suggested that top health officials don't call it that "because it could have come from anywhere."
"Calling it the Chinese Virus or the Wuhan Virus or the Kung Flu. Listen, you may think it's clever but it's hurting," Cuomo proclaimed. "The idea, 'well it did come from China.' Then why doesn't Fauci and other top health officials, why don't they call it that? You know why? Because it could have come from anywhere."
To dismantle Cuomo's strawman argument, Dr. Anthony Fauci and the rest of the coronavirus task force were busy dealing with the crisis and it wasn't their job. They're not the ones that need to tackle the geopolitical jockeying or play the international game of chess between the U.S. and China right now. That's the President's job. Calling it out as the "Chinese Virus" or "Wuhan Virus" cut through the propaganda campaign.
Cuomo followed the strawman up with an erroneous liberal media claim that "attacks against the Asian community are on the rise." He then played a clip of PBS NewsHour correspondent Yamiche Alcindor asking about a White House staffer who allegedly called the virus "Kung Flu," an accusation with zero evidence to back it up and the accuser (CBS White House correspondent Weijia Jiang) has refused to give up a name.
"It's not about where it started. All right? This doesn't help. Calling it a 'foreign virus.' We're all in the fight together. Stop it," Cuomo whined.
Someone should tell that to China or more easily, inform Fredo that China couldn't care less about lives in the rest of the world. They don't even care about the lives of their own people.
Reality check! A more honest journalist would tell their audience how China had tried to cover-up the spread of the virus for months before it got out of hand. In the beginning, they spent more resources trying to silence those who were trying to warn the world than trying to stop the virus. People like Dr. Li Wenliang, who tried to warn his colleagues to protect themselves, before the Chinese government went after him.
In addition to being told to lie about having the virus, which eventually killed him, Dr. Li "was summoned to the Public Security Bureau where he was told to sign a letter. In the letter, he was accused of 'making false comments' that had 'severely disturbed the social order,'" according to a BBC report from February 6.
Are those the actions of a country looking to join the rest of the world in fighting the Wuhan Virus, Cuomo? No.
Several minutes later, when Cuomo was handing things off, CNN Tonight host Don Lemon accused the President of not wanting to have Americans tested for the virus because it could have good signs. "He doesn't want the actual testing numbers in many ways. So, I think that even if the testing shows that it is a high number of people have it and many get over it. He just doesn't want that to come out because it may actually be good," he asserted. 
This is CNN.
The transcript is below, click "expand" to read:
CNN's Cuomo Prime Time
March 18, 2020
9:27:51 p.m. Eastern

(…)

CHRIS CUOMO: Calling it the Chinese Virus or the Wuhan Virus or the Kung Flu. Listen, you may think it's clever but it's hurting. The idea, "well it did come from China." Then why doesn't Fauci and other top health officials, why don't they call it that? You know why? Because it could have come from anywhere. All right?

Attacks against the Asian community are on the rise. The President was asked about it. He said this.

PRESIDENT DONALD TRUMP: It's not racist at all, no. Not at all. It comes from China.

[Transition]

YAMICHE ALCINDOR: A person at the White House used the term "Kung Flu." My question is, do you think that's wrong?

TRUMP: "Kung Flu"?

ALCINDOR: "Kung Flu." And do you think using the term "Chinese virus," that puts Asian-Americans at risk, that people might target them?

TRUMP: No, not at all. I think they would probably agree with it a 100 percent. It comes from China.

CUOMO: It's not about where it started. All right? This doesn't help. Calling it a "foreign virus." We're all in the fight together. Stop it.

(…)