After being caught on Monday August 15 selectively editing video from the Milwaukee riots, by MRC's Kristine Marsh, CNN was at it again a full week to the day later. This time they deceptively edited Trump Campaign Manager Kellyanne Conway speaking on ABC's This Week with George Stephanopoulos. In CNN Correspondent Jessica Schneider's report on The Lead she claimed Conway promised Donald Trump would refrain from personal attacks, even though she said no such thing.
In the interview, Stephanopoulos showed Conway clips of herself criticizing Trump for using personal attacks in the past, and asked if she still feels the same way. "I do. And the reason is I don't like when people hurl personal insults that will never change," Conway responded. "You think Mr. Trump is going to change on that," Stephanopoulos inquired further.
"Well, but he doesn't hurl personal insu—" Conway started to say before cutting herself off. From there she immediately started talking about Trump's efforts to reach out to the African-American community. No promise of Trump steering away from personal insults in the future was made here. But that's not what happened according to Schneider.
During her report on CNN Monday afternoon Schneider reported on Conway's appearance on This Week like so:
JESSICA SCHNEIDER: So, has Trump really reset his approach? His campaign manager made this promise Sunday.

[Clip of Kellyanne Conway]

KELLYANNE CONWAY: He doesn't hurl personal insu—[Hard cut by Schneider speaking]

SCHNEIDER: But first thing Monday Trump went back on the personal twitter attack against the host of MSNBC's Morning Joe.
Not only did Schneider take Conway's comments completely out of context, but she also clearly claims Conway said something she didn't. It seems as though CNN tried to invent a Trump pivot and then claim he went against it.
Transcripts below:
<<<Click on the image below to help us with your tax-deductible gift>>>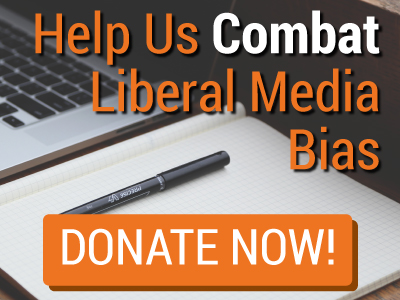 <<<Thank you for your support!>>>
ABC
This Week
August 21, 2016
9:06:24 AM Eastern

…

GEORGE STEPHANOPOULOS: So, what changed for you, and do you stand by those comments.

KELLEYANNE CONWAY: I do. And the reason is I don't like when people hurl personal insults that will never change. That's not my style. I'm the mother of four small children. That would be a terrible example for me to feel otherwise.

STEPHANOPOULOS: You think Mr. Trump is going to change on that?

CONWAY: Well, but he doesn't hurl personal insu— [cuts herself off]. In other words he just this week— look what he talked about. He's bringing the case right to communities of color in Michigan. And he's speaking to all Americans when he does that, George. And what he's doing is challenging the Democratic Party. He's challenging Hillary Clinton and President Obama legacy, and Democratic mayors all across this country, and he's saying, "Look, how in the world can we abide a 58 percent unemployment rate among African-American youth? How can we stand over a million more African-Americans in poverty since 2009. The Hillary people what it all to be about tone and temperament. We also what it to be about facts and figures.

…
CNN
The Lead
August 22, 2016
4:04:20 PM

…

JESSICA SCHNEIDER: Donald Trump launching a new set of TV ads over the weekend but he's still being outspent by Hillary Clinton. Her campaign announcing $80 million in ad buys in eight states through the general election. Trump's campaign so far spending $4.8 million in ten-day ad blitz. So, has Trump really reset his approach? His campaign manager made this promise Sunday.

[Clip of Kellyanne Conway]

KELLYANNE CONWAY: He doesn't hurl personal insu—[Hard cut by Schneider speaking]

SCHNEIDER: But first thing Monday Trump went back on the personal twitter attack against the host of MSNBC's Morning Joe, but Mike pence defends Trump's style.

MIKE PENCE: Donald Trump is not a experienced politician who carefully selects his words. He speaks from his heart, right from his mouth.

…