By NB Staff | December 5, 2011 12:15 PM EST
Later this month, running up to the Iowa caucus, Newsmax is hosting a debate in the Hawkeye State to be moderated by businessman, former potential candidate, and reality TV star Donald Trump. However, two candidates have already turned down the debate -- Rep. Ron Paul and Gov. Jon Huntsman. According to the Paul campaign, "The selection of a reality television personality to host a presidential debate that voters nationwide will be watching is beneath the office of the Presidency and flies in the face of that office's history and dignity," and "will distract from questions and answers concerning important issues."
What do you think of the selection of Trump as moderator? Let us know your thoughts in the comments.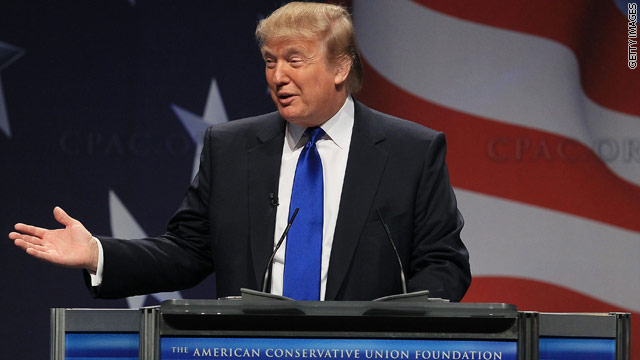 While Trump's business side could bring an interesting perspective to the debate on economic questions, National Review's editorial this morning suggests that Paul and Huntsman made the right move to turn down the invitation to the debate.
...Michele Bachmann, Rick Santorum, and Newt Gingrich can, at least in this instance, be said to lack the good sense of Paul and Huntsman, as the three have RSVPed in the affirmative. The first two responses are perhaps understandable, if unfortunate, political moves — Bachmann is an avowed Trump fan, and Santorum's poll numbers make it difficult for him to be selective. Gingrich's decision is something worse. Sure, we see the angle: Gingrich excels in debates and he knows it, and in light of his threat to Romney in Iowa, his participation all but dares the yet-uncommitted Mitt to irk the pro-Trump rump of GOP voters by refusing. As a serious contender running a campaign with maximal pride in its own seriousness, Gingrich lowers himself by association with this consummately unserious man. Romney should refuse to follow suit.

We had hoped that after the brief and frivolous publicity stunt Trump branded as exploration of a presidential run, there would be no further occasion to rehearse the many ways in which his sometime association with the Republican party hurts the conservative cause. So we'll keep it brief: Trump is a tax-hike-supporting, missile-defense-opposing, universal-health-care-advocating, eminent-domain abusing, Schumer-Weiner-Rangel-Reid-donating, long-time-pro-choice economic protectionist who in 2008 called George W. Bush "evil" and lauded president-elect Barack Obama as a potentially "great president" who would "lead by consensus."
Do you think former Gov. Mitt Romney and Gov. Rick Perry should and will participate?