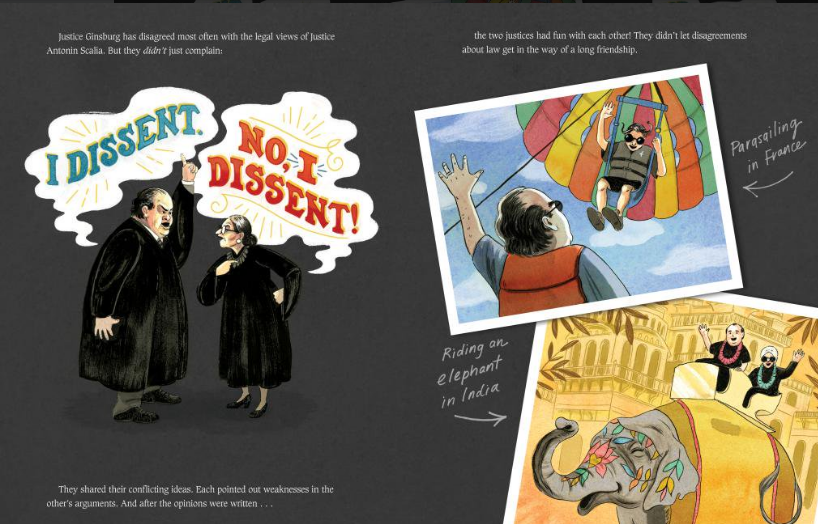 Just in time for the upcoming presidential election, popular book publisher Simon & Schuster has just released a new book for children aged 4-8 years old about Supreme Court Justice Ruth Bader Ginsburg. She, of course, most recently made headlines for speaking out critically against presidential candidate Donald Trump, an action that was blasted by even liberals for stepping outside her impartial role as a Supreme Court Justice.
Nevermind that though. The Washington Post has hailed the book as one of their "best kids books" featuring another "strong-willed young heroine" which will win "the notorious RBG" "even younger" fans.
The book entitled, I dissent, introduces young kids to the liberal judge in a flattering light, presenting her record of defending left-wing causes on the court as "doing the right thing" instead of ideological.
According to a review from Tablet Magazine, it starts with Ginsburg's early life, where she challenged women's roles while in school and in her own marriage, arguing against women being the primary homemakers.
Getting into her adult life, the book presents Ginsburg as a moral leader among her peers on the Court:
"As a Supreme Court Justice, she dissented when her colleagues ruled that the court wouldn't help immigrants, women, and African-Americans who'd been treated unfairly at work, and she dissented when the court rejected a law protecting all citizens' voting rights."
One can only imagine how a children's book from Simon & Schuster on the late Antonin Scalia would portray him, if they say in this one that he was against "helping" immigrants, women and African-Americans.